The Best Day Trips to Hot Springs Near San Francisco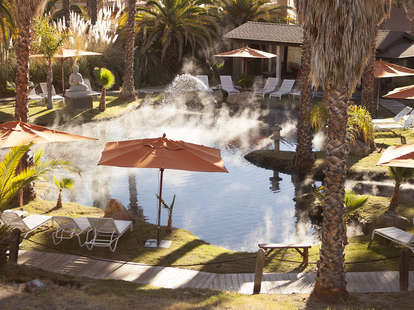 <strong>Indian Springs I</strong> Courtesy of&nbsp;Paul Dyer Photography
A weekend getaway to local hot springs is a rite of passage for every Northern California resident. Whether you want to soak in style at a resort or bare it all with the hippies, the region has an endless array of hot, mineral pools to help your troubles float away. Go ahead, let loose and lose your trunks (or not), get pampered with spa treatments and mud baths, and bathe under the stars at these breathtaking, rejuvenating natural hot springs.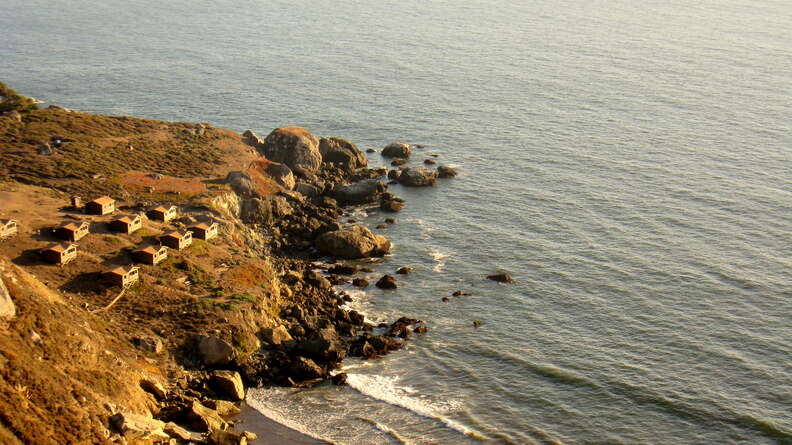 Marin
Distance from SF: 21 miles; 45 minute drive
Attire: There are no rules here, so you'll find most people au naturel.
The rundown: Just across the Golden Gate Bridge, these are the closest hot springs you'll find to the city, but not necessarily the most reliable (or the easiest to find). Also known as Marin Tidal Hot Springs or Rocky Point Hot Springs, the natural hot pools are only revealed at low tide, so you'll have to do research before hiking to these hidden coves. During negative tides, a rocky pool near Stinson Beach fills with sulfur mineral water, and out come the adventurous nature buffs... usually in the buff. The easiest way to get here is to walk through the Steep Ravine cabins, continue north along Steep Ravine Beach, climb over the rocks, and continue for about 500ft to the "grotto."
Extras: None, you'll have about two hours at low tide when these springs are revealed, so act fast.
Overnight options: Camping is available on Mt. Tam and Steep Ravine, or cabins at the Steep Ravine Cabins, but this can easily be made as a day outing for SF folks.
Day pass price: Free.
Carmel Valley
Distance from SF: 153 miles; 3.5 hour drive
Attire: Clothing optional.
The rundown: Although the hot springs are not the focal point of Tassajara, you'll find beautiful Japanese hot springs in a serene and contemplative setting. In 1967, the space became the first Zen monastery outside of Japan. Already home to hot springs, the San Francisco Zen Center took over the space, which is now closed most of the year for monastic study. From May to September, however, you can come for the day to enjoy a delicious vegetarian lunch and a dip in the springs, or you can stay overnight in a minimalist, lantern-lit cabin. The Japanese-style bathhouse  includes indoor and outdoor hot plunges, a steam room, communal showers, and sundeck  separated by gender until after 8:30pm.
Extras: Overnight guests at Tassajara can enjoy three vegetarian meals a day. Guest speakers and residents offer public talks and small group discussions on Buddhism, and guests are invited to join in daily meditation, chanting, and workshops.
Overnight options: Tassajara offers electricity-free cabins and dorms (this means no internet).
Day pass price: $30

Ukiah
Distance from SF: 128 miles; 3 hour drive
Attire: Clothing optional in the bathhouse.
The rundown: Orr Hot Springs is a tranquil retreat tucked away in the rolling hills of the Mendocino Coastal Range, perfect for the free-spirited crowd. Founded on a former hippie commune, Orr encourages nudity in the bathhouse area and limits reservations so you can enjoy a quiet, peaceful weekend (they also have pretty strict rules about kids). They don't offer any food here, so bring your own to cook in the communal kitchen (don't worry -- guests are required to wear clothes in the kitchen). Enjoy your meal and a bottle of wine at picnic tables around the property. The bathhouse is equipped with two main communal hot tubs (between 104 and 108 degrees), a cold plunge, individual tubs, a sauna, and a steam room. The mineral waters come to the tubs hot from the earth and are filled with sulphur (don't be alarmed by the smell), calcium, potassium, boron, and other naturally occurring minerals.
Extras: Orr offers traditional massages and spa treatments like hot stone, mud, and sea salt scrubs. The pools stay open all night long (they close for an hour at 7am for cleaning), so you can enjoy a romantic dip under the stars.
Overnight options: The 27-acre property offers yurts, cottages, rooms, and camping.
Day pass price: $30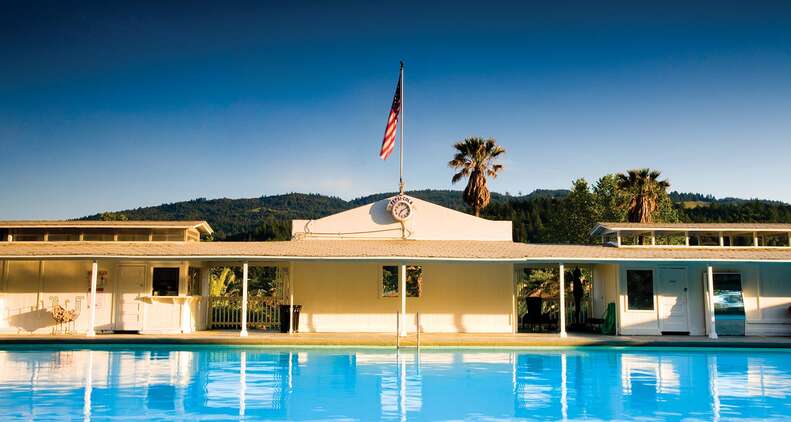 Calistoga
Distance from SF: 75 miles; 1.5 hour drive
Attire: Bathing suits required.
The rundown: Indian Springs is the state's oldest continuously running spa and pool facility, and was frequented by old Hollywood celebrities like Lucille Ball. Enter the long driveway dotted with palm and olive trees, and feel like you've stepped back in time. Since 1861, this place has offered a retro oasis in wine country, complete with 17 acres of hills and ponds. Grab a public bike on the premises to get from your room to the pools, then strike up a game of cricket or shuffleboard by one of the fire pits. The Springs are located on four thermal geysers that supply the Olympic-sized swimming pool with its mineral water (temperatures reach 83 to 102 degrees) and features a poolside steam room. The resort is family-friendly, so be prepared for some (hopefully not super loud) children. You can always escape to the smaller "Adult Pool" that's more private, with non-mineral water that's about ten degrees cooler.
Extras: Don't miss the luxurious spa, which offers mud baths (made from volcanic ash), massage and bodywork, and facial treatments, provided in a historic building. Afterward, relax by the spring-fed Buddha Pond and Gardens. There's also a full-service restaurant on the property, Sam's Social Club, where you can enjoy your meals (and wine -- it is wine country, after all) in front of a fire pit and underneath twinkling lights. You can order food and drinks to enjoy while relaxing by the pool, which stays open until midnight for a relaxing evening soak.
Overnight options: The property offers a varied selection of cottages, bungalows, and Mission Revival buildings to rent for overnight trips.
Day pass price: You can only use the pool if you're an overnight guest or if you book a spa treatment. On weekends and holidays, spa guests who want to use the pools must also purchase a pool pass for $30.
Ukiah
Distance from SF: 117 miles; 2.5 hour drive
Attire: Bathing suits are required.
The rundown: Vichy Hot Springs is part country inn, part hot springs resort, with the only naturally carbonated warm mineral baths in North America. Established in 1854, Vichy offers those 90-degree "champagne" mineral baths, a 104-degree in-ground hot soaking pool, an Olympic-size swimming pool, and 700 private acres for walking and hiking (with an additional natural pool at the end of a 30-minute hike). The resort really emphasizes the "healing" benefits of these tubs, which they propose as treatments for psoriasis, eczema, poison oak, arthritis, rheumatism, and nervous conditions. In the heart of Mendocino Wine Country, the historic landmark has hosted presidents, famous authors, and actors.
Extras: Treat yourself to a Swedish massage, hot stone massage, herbal facial, and reflexology at the spa. Overnight guests get a free breakfast spread, too.
Overnight options: Vichy features 26 rooms and cottages (three of which were built in 1852) for accommodations.
Day pass price: $60 all day; $33 for two hours.
Big Sur
Distance from SF: 149 miles; 3 hour drive (plus a 10-mile hike)
Attire: This is a public hot spring with (basically) no rules, so you'll likely encounter some nudity.
The rundown: If you're not the high-end spa type, skip the manicured hot springs and get back to nature at Sykes in Big Sur. Be prepared for a very strenuous 10-11 mile hike to reach the beautiful stone-lined natural tubs. These hot springs may take a bit more effort and planning, but it'll be worth it once you reach the lush, forested area, set up camp, and plunge into the 102-degree pools.
Extras: You'll get absolutely zero extras at these hot springs -- don't forget to bring water, camping gear, food, and all the essentials, and check trail conditions before heading out.
Overnight options: You'll be going au naturel at these springs, which means bring your camping gear and be prepared to sleep under the stars. There are three major campsites along the trail -- Terrace Creek, Barlow Flat, and finally Sykes camp, the location of the hot springs. Fill out a free campsite permit before heading out.
Day pass price: Free; $5 parking permit.
Big Sur
Distance from SF: 168 miles; 3 hour drive
Attire: Clothing optional (nudity is encouraged).
The rundown: Esalen's cliff-side, ocean-facing hot springs are some of the most visually striking and wow-inducing. The tri-level structure is home to individual and group tubs that are perfect for relaxing under the stars as you listen to the crashing waves below. The public can gain access to the baths every night from 1 to 3am, so this is for the late-night crowd that doesn't mind a whole lot of birthday suits and new aginess.
Extras: Esalen is so much more than hot springs: the space offers over 300 workshops and classes in meditation, massage, writing, yoga, dance, mindfulness, and more. You'll book a room (for a weekend, five days, or longer) and then gain access to meals, workshops, and use of the facilities.
Overnight options: Accommodations range from sleeping bags in communal living spaces to private rooms to complete houses with kitchens.
Day pass price: Free bathing is open to the public only from 1am to 3am nightly, by reservation only. Otherwise, you'll have to be a part of the workshops and rent a room to use the facilities.

Calistoga
Distance from SF: 75 miles; 1.5 hour drive
Attire: Bathing suits are required at the outdoor pools but optional in the spas.
The rundown: Calistoga has a surprising number of mineral spring resorts, from dirt cheap to four star hotels, and we can't include them all. You can spend hundreds of dollars at fancy spas, but we prefer the off-the-radar, quirky spots, like Dr. Wilkinson's. A wine country mainstay since 1946, this retro motel may be unassuming, but it's got everything you need in hot springs. It's been run by the same family since 1952, and still boasts its original '50s neon sign out front. It's the grandaddy of mud bath resorts, where you can also soak in public indoor or outdoor pools, or in private whirlpool baths.
Extras: Doc Wilkinson's original combination "The Works," a combination of a mud bath, followed by a mineral bath, steam room, blanket wrap, and massage, is a treat you can still get to this day.
Overnight options: Dr. Wilkinson's is essentially an upscale motel, so you'll get the usual lodging options you'd find at a hotel.
Day pass price: Day pass use is not available. You must book a room or be a guest of someone with a room, which will set you back $25.
Sign up here for our daily San Francisco email and be the first to get all the food/drink/fun SF has to offer.
Eloise Porter is a Thrillist contributor who had a thoroughly awesome time researching this article, except for the mud baths. Find out why she thinks they are terrifying on Twitter @eloisepporter.