The Essential Guide to Having a Perfect Summer in San Francisco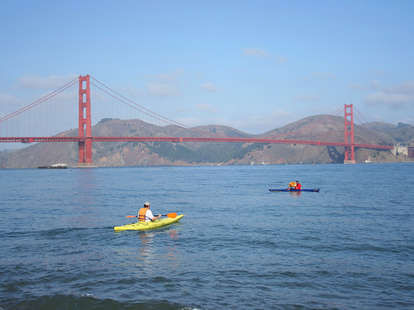 Stephen Finn / Shutterstock
Stephen Finn / Shutterstock
Summer in San Francisco isn't like summer anywhere else in the United States. That's because while July is technically our hottest month of the year, the average temperature is still only 57 degrees. But we don't let chilly weather or fog get in the way of our fun. After all, the awesome weather is why we live in San Francisco… It's perfectly temperate and we get to feel smug when everyone else hems and haws about the heat and humidity. Plus, as long as you bring your puffy jacket, it's where this fun stuff is happening, all of which is essential to having the most San Francisco summer possible.
KAYAK AROUND THE BAY
You can rent a kayak or stand-up paddle board at City Kayak, which is located right by McCovey Cove and Mission Creek (where the cool houseboats are), two locations where the water is relatively calm in case braving the open water is a little intimidating. No worries if you don't know how to kayak or SUP; this outfitter also offers lessons for all skill levels. If you want to skip the lesson and fare on your own, you'll be best off if you get there in the morning before the wind picks up.
HIT UP ALL OF THE STREET FAIRS
SF goes a little nuts with street fairs in the summer, and that's a good thing because who doesn't love live music, food trucks, and pop-up beer gardens? Make it your goal to hit up at least one, if not all, of the parties. If you have to choose, here's how they break down from the most fun to still a good time, but you won't die if you miss it: Fillmore Street Jazz Festival, Gay Pride Parade & Celebration, North Beach Festival, Union Street Festival, Haight Street Fair, and bringing up the rear: Polk Street Blues Festival. Sorry, Polk Street Blues Festival... someone has to be last.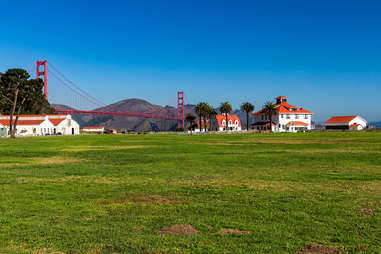 BRING A PICNIC TO AN OUTDOOR CONCERT
There's nothing more quintessentially "Summer in SF" than the Stern Grove Festival, a series of free Sunday afternoon concerts that have featured acts like Kool & the Gang, Huey Lewis, the San Francisco Opera, and Talib Kweli. The concerts start at 2pm, but you'll need to arrive much earlier if you want to sit in a prime location. Bring a blanket, a picnic basket, and whatever boozy beverage you're in the mood for because, yup, alcohol is permitted. Also, be sure to bring cash for the donation collectors as donations cover almost all of the costs of the festival.
PEDAL BOAT AROUND STOW LAKE
When's the last time you hung out at Golden Gate Park's donut-shaped lake? Not recently enough, most likely. Start your afternoon with a "hike" up to Strawberry Hill's summit (the highest point in the park), and then head to the Stow Lake Boathouse and rent a row boat or a pedal boat. (There are also electric boats available, but you're better than that and you know it.) Glide by the 110-foot artificial waterfall, under the 125-year-old Stone Bridge, and say hey to the ducks and turtles. Afterwards, grab a burger and a beer at the cafe, and probably definitely order an It's-It, the iconic SF ice cream sandwich experience.
GO TO A GIANTS GAME
Summer isn't summer without a baseball game. Head to AT&T Park to watch the Giants in action, and be sure to go hungry, so you can chow down on the Crazy Crab'z Dungeness crab sandwich, Irish nachos (so... fries but with delicious nacho toppings) from Murphy's Pub, pizza from Tony Gemignani's Slice House, and all of the other delicious food available at the most beautiful ballpark in America.
SEE ALL FOUR OF ANDY GOLDSWORTHY'S ART PIECES IN THE PRESIDIO
It's fun to hike in beautiful places and it's fun to see amazing art, so why not combine the two? Andy Goldsworthy is a renowned artist known for making art in rural and urban environments and working with natural materials, and we're lucky enough to have four of his installations ("Spire," "Wood Line," "Tree Fall," and "Earth Wall") in the Presidio, all within walking distance (a three-mile hike) of each other. Plus, not only will you get to see really cool art, the hike will take you down Lover's Lane, inside the Presidio Officers' Club, and right by Inspiration Point, which has one of the best views in the city.
CLIMB THE 16TH AVENUE TILE STEPS
San Francisco has some pretty beautiful public stairways throughout the city, but the 16th Avenue Tiled Steps would be the winner if they all entered a stairway beauty pageant. If you've never walked up them, this is the summer to change that. The 163-step stairway is embellished with a sea-to-stars themed mosaic created by artists and neighbors in Golden Gate Heights. The steps lead to Grandview Park, which, yes, has grand views, and are just a few blocks from the Hidden Garden Steps, another mosaic tile staircase, in case one set of gorgeous steps doesn't do the job.
TAKE A FERRY TO TIBURON
San Francisco can be pretty foggy during the summer, but all you have to do to escape to warmer weather is hop on the Golden Gate Ferry or Blue & Gold Fleet Ferry, and you'll be in sunny Tiburon in around 45 minutes. (FYI: Both ferries have a full bar, but the Golden Gate Ferry doesn't have service on the weekends.) Once you arrive in the former railroad town, head to Sam's Anchor Cafe, ask to be seated on the deck, and indulge in seafood and Sam's pink lemonade that is very much for adults. Then, check out Tiburon's art galleries and boutiques, take a walk along the water, and stop in the Candy Store on Main Street for homemade fudge and ice cream cones.
HIKE LANDS END
Lands End is one of the city's most well-traveled trails for a reason: spectacular views at every turn. Plus, it's pretty mellow and dog-friendly. Our favorite way to approach this hike is to start at Eagle's Point Overlook (right on the northern edge of Seacliff) and check out some of the lesser-known attractions on the way. There's the hard-to-find labyrinth (Hint: If you head down to the beach below Eagle's Point Overlook, you're on the right track), Mile Rock Beach, the shipwrecks that can be seen at low tide near Sutro Baths, the Octagon House hidden in the forest, the remnants from the railroad that once ran along the coast, and the gun blocks from WWII. We can't give away all of the secrets, but with a little sleuthing, you'll be able to find most of these. Just be very careful, as the sheer, rocky cliffs are no joke. Pro tips: At the end of your hike, grab a drink or lunch at the Cliff House, and go during the week when it's much less crowded if possible.
HOST A BBQ AT CRISSY FIELD
Not only does Crissy Field have some of the best views of the Golden Gate Bridge you'll ever see, but it also has a couple spots with picnic tables and grills. Skip the one at East Beach, which is close to the biggest parking lot and gets really crowded, and head to the West Bluffs instead. (There's parking near there as well, it's just not visible from the picnic spot, so there's nothing to spoil your view.) Not all of the picnic tables have grills, so you'll want to get there early to secure your spot. If you're feeling adventurous, head to Torpedo Wharf and go crabbing or fishing off of the pier. You don't need a license; just be sure to look for posted regulations.
GO TO A FOOD TRUCK PICNIC
The Presidio Picnic is one of the best Off the Grid events simply because it takes place on the Presidio's Main Parade Ground, which has amazing views of the park, city, and San Francisco Bay. Plus, it's always super easy to find a spot to put down a blanket. Every summer Sunday from 11am to 4pm, you'll find 25-plus food trucks and tents, music, lawn games, and, if you're feeling bendy: yoga. There is also a full bar with wine, beer, and craft cocktails, but feel free to bring your own as long as it's not in glass bottles.
SPEND THE NIGHT ON ANGEL ISLAND
Did you know that you can camp out on SF Bay's largest natural island? All you have to do is reserve your spot and you can spend the night (or multiple nights) on this island that was home to the Coastal Miwok, and was once a cattle ranch, as well as a US Immigration Station and detention center in WWII (look for the poetry on the barrack walls). Spend the day hiking (the 5.5-mile loop around the island is the most popular, but the views at the top of Mt. Livermore are unlike anything you've ever seen) and exploring, listen to live music at the cafe with outdoor seating, or take a tram or Segway tour to learn about the island's history. One thing is for sure: Camping at Angel Island is unlike camping anywhere else in the entire world 'cause you're "away from it all," but "all" is still the skyline.
SIT AROUND THE CAMPFIRE AT OCEAN BEACH
Summer nights are all about sitting around the campfire, telling stories, and roasting marshmallows. And while you could do that at a campsite outside of the city, you could also do it at Ocean Beach, which is just as much fun and means you can sleep in your own bed that night. OB has 16 fire rings and the nearby Safeway is the perfect spot to pick up everything you'll need (firewood, fire starters, hot dogs, hot dog buns, s'mores supplies, and beverages). A couple of things to know: The fire rings go fast on the weekends, you're not technically allowed to drink alcohol, and Safeway is always sold out of the metal skewers you need for roasting hot dogs and marshmallows. Also, do not, under any circumstances, walk away from your food. The seagulls are savvy and scary and will pull your hot dog package out of the grocery bag, peck through the plastic, and run away with all of your weiners, not that we know from experience or anything. Okay, fine: We know from experience.