Here's How to Volunteer in San Francisco to Help Save the Earth
Lend a hand this Earth Day.
Earth Day is an excellent annual reminder that we must protect our planet. It's no secret we're doing a really horrible job at that right now, and it seems like sometimes we forget this is the only planet we have. If we destroy it, we don't get a do-over. We have one chance. And we're blowing it. That's why we can't just focus on protecting our planet on April 22. Things are truly getting dire. We must think about how we can help and take action constantly.
There are the little things we are all hopefully doing, like following the "reduce, reuse, and recycle" mantra. It also helps to shop sustainably, avoid single-use plastic as much as possible, bring your own reusable bags to the grocery store, buy locally-grown food, and so much more. We are lucky that San Francisco is one of the most innovative cities in the country when it comes to environmental legislation and initiatives. (Did you know that we are required to compost? 'Cause we are.) But if following the rules and doing the small day-to-day things isn't enough for you, there are lots of other ways you can help. Whether it's your time, your money, or both, here are some organizations that will be happy to receive whatever you can give.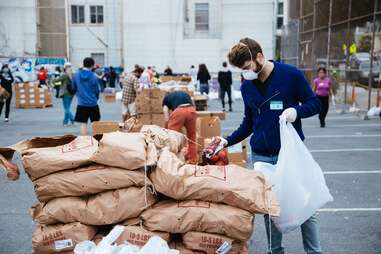 For those who want to help our unhoused and food-insecure neighbors
The climate crisis directly impacts the unhoused community. They don't have protection from record-breaking heat or torrential rain. Or the smoke from the wildfires. Or the pollution and everything that comes with it. Many of them don't even have regular access to clean drinking water.
San Francisco's homeless crisis is one of the worst in the country and it is only being made worse by COVID. Not only do we have the third largest population of homeless people in the United States, the percentage of those without shelter (somewhere around 67%) is abominable. Additionally, about 870,000 people in the Bay Area are food-insecure and hunger is more persuasive than ever. Needless to say, anything you can to do help out will be appreciated by those who have to go with a lot less.
GLIDE has been helping all kinds of San Franciscans for over 50 years and is on the forefront of addressing some of our biggest issues, including poverty, housing and homelessness, and racial and social justice. GLIDE has lots of volunteer opportunities, including serving meals, fundraising, and collecting items for care packages. Because of COVID, holiday volunteerism is a little different this year. If you're interested, contact volteam@glide.org or call 415-674-8081.
The SF-Marin Food Bank works to make sure people get the food they need. They are in "dire need" of volunteers right now to staff their pop-up food pantries and to deliver meals to homes.
CityTeam helps to restore lives and communities and offers programs dedicated to helping the homeless, providing economic empowerment, and helping people "restore their lives from the grips of homelessness and addiction." Their goal is to address immediate needs, but also enable lasting solutions. Learn more about how you can help by volunteering.
Bay Area Rescue Mission helps the unhoused starting with their basic needs and then turns the focus to their long-term recovery, including teaching skills to break substance addictions, job training, counseling, job placement, and more. There are all kinds of volunteer opportunities available from serving a meal to tutoring, and whether you want to volunteer once, regularly, or with a group, there are lots of ways for you to get involved.
For those who want to help those affected by wildfires
California's wildfire season is starting earlier and ending later every year. And, after experiencing the worst season ever last year, we're poised for another devastating one due to the drought, a longer and more intense dry season, and recording-breaking high temperatures.
If and when disaster strikes, the American Red Cross needs thousands of volunteers to help support emergency shelters, including everything from registering people to feeding them. If you train now, you'll be able to help immediately when your community needs it.
California Community Foundation's Wildfire Relief Fund supports intermediate and long-term recovery efforts, as well as preparedness efforts. It's helped to rebuild homes, get firefighters updated safety equipment, support people who lost their homes, and so much more. Donations are appreciated.
You can also donate money to the California Fire Foundation's Supplying Aid to Victims of Emergency (SAVE) program. This gets money into the hands of victims of fire so that they can purchase basic necessities.
Donate to the United Way of Northern California's Wildfire Recovery & Disaster Relief. It helps put much-needed money into the hands of survivors, which is needed immediately, but also long-term.
If you want to help out the next time a wildfire strikes, check with local animal shelters, food banks, shelters, and evacuation centers to see what you can do.
For

those who want to save the Bay
Save the Bay protects, restores, and celebrates the San Francisco Bay. They do this in all kinds of ways, like restoring tidal marshes, working with local cities to clean up roads or ban harmful products, educating and engaging the public, and getting involved with legislation and policies that combat the dangerous effects of climate change.
They also share stories and updates on their blog, throw an annual Bay Day celebration, and organize programs to get students involved.
If you'd like to contribute, you can volunteer at a restoration program—a long-term commitment isn't required and all you need to do is show up and help. Note: Most programs are on Saturday mornings, but they have been suspended because of COVID. We're including this because we are hopeful that as San Francisco and California get closer to completely reopening, these opportunities will resume. Donations also help.
For those who want to save the redwoods
Save the Redwoods League has been working to help protect and restore California's redwood forests since 1918. The only place that redwoods grow naturally is along the coast of California and southern Oregon and the forests full of the largest and tallest trees on the planet store more carbon than any other known ecosystems. Plus, they're just really magical.
Save the Redwood League helps protect and nurture the forests and surrounding lands by restoring young, damaged, and neglected redwood forests, stewardship and educational programs, creating parks and reserves, supporting research about redwoods, and more.
They also put together free resources to make it easy for anyone to incorporate coastal redwoods and giant sequoias into their next NorCal road trip.
If you want to help support the organization, you can check out the volunteer opportunities, send birthday, holiday, celebration, and "just because" e-cards to help spread the word, eee if your kids want to sign a pledge, dedicate a tree or, if you're a big spender, an entire grove, donate money (you'll receive the biannual Redwoods magazine and other updates), or any of these things, including becoming a member and/or donating your car.
For those who want to help save Mount Diablo
Thanks to its 3,849-foot peak, Mount Diablo is visible from all over the Bay Area. And on a clear day, from the peak, you can see the Sierra Nevadas and/or Sentinel Dome in Yosemite (it has one of the largest viewsheds in the western U.S). Save Mount Diablo has worked tirelessly to expand and protect the public lands surrounding Mount Diablo, as well as ensure that it remains connected to the 150-mile Diablo Range.
There are all kinds of ways to help this group, including joining the Stewardship Committee and helping to care for the land that is acquired, as well as lead hikes; become a Friend of the Mountain via a membership package; working on public outreach and education, offering your marketing/communication skills, helping with events and fundraising, or even just helping in the office with filing, stuffing envelopes, and other admin stuff; and of course, by making a donation.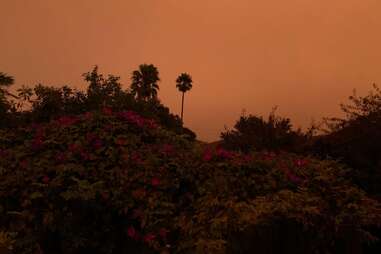 For those who want to enjoy and protect all of the Bay Area's wild places
Sierra Club San Francisco Bay is a volunteer-driven chapter of the Sierra Club focused on achieving "a healthy and sustainable natural and urban environment that is an inspiration for communities everywhere." They tackle all kinds of local environmental issues and offer a ton of different ways to contribute to their efforts, including volunteering for anything from responding to immediate environmental threats to becoming an activity leader. There are a range of opportunities, so you can focus on the issue you're most passionate about; signing up to get "action alerts" about campaigns in your area (and then taking actual action by sending messages to decision-makers); becoming a member; or donating money and all sorts of other things, like a vehicle or something from their Amazon wishlist.
For those who enjoy gardening and want to share that joy with others in urban spaces
Climate Action Now! believes that all people—regardless of class privilege, ethnicity, gender, ability, or age—deserve "access to clean drinking water, safe open spaces, nutritious organic food, and healthy meaningful work." One of their biggest focuses is removing pavement and putting organic gardens in Bayview and the Richmond District. They help residents create sidewalk gardens, community gardens, and work with schools to educate children through hands-on activities. You can get involved by volunteering to plant and water native trees and plants, or by making a donation.
For those who want to make sure food insecure communities don't go hungry
Extra Food is a Marin-based organization that "rescues" nutritious and fresh food that would otherwise go into the garbage from grocery stores, schools, farmers markets, and more, and helps get it to nonprofit partners who distribute it where it is needed most. Marin certainly has a stereotype of being wealthy, but, in fact, one out of every five residents worries about how they'll get their next meal.
Food waste has one of the biggest impacts on the climate crisis, so reducing food waste by making sure it goes to hungry people is helping out on both a granular and community level.
You can get involved by donating food from your Marin-based business or school, volunteering to pick up and deliver food donations (or other opportunities like fundraising, keeping the website updated, etc.), or support the organization with a monetary donation.
For people who want to protect our coastlines and oceans
The San Francisco Surfrider Foundation is passionate about protecting our diverse coastlines and our ocean and waterways. It's volunteer-run and hosts educational events and social gatherings where people can learn more about overdevelopment, pollution, and other initiatives, and also organizes beach cleanups for communities.
The main focus is on Ocean Beach, Baker Beach, and China Beach, all of which are picturesque and beloved by San Franciscans, and all of which need our love and attention. If that feels like a thing you want to support, you can partake in one of several volunteer opportunities, including installing cigarette receptacles (buttcans) throughout SF, joining a beach cleanup, or hosting your own beach cleanup event; attend a chapter meeting to talk with other ocean advocates; or donate and become a member.
For those who want to focus on helping to reduce CO2 emissions
350 Bay Area is a grassroots movement that wants to eliminate carbon pollution in the Bay Area and beyond to "achieve a clean energy future with racial, economic, and social justice." The group relies on hundreds of volunteers (and a very small, but passionate staff) to raise awareness and urgency surrounding the climate crisis, mobilize and demand action, support the voices of young environmental activists, and dig into policy options.
The organization focuses on many aspects of the climate crisis, including clean air, energy, and transportation, fossil fuel resistance, legislative issues, and a goal towards "electrifying everything."
There are also local groups for five regional communities, many of which have monthly meetings to make sure that the people in charge are creating action plans. You can take action by joining the mailing list to keep up with actions and events, signing up to volunteer occasionally or apply for a leadership role (ten hours a week), or support their work by making a donation.
Daisy Barringer is a freelance writer who grew up in San Francisco and would love to hear about more ways to give back to the community. Tell her on Twitter @daisy.