Travel
Sponsored by

10 Ways to Explore San Francisco You've Never Tried Before
Sponsored by

San Francisco is one of the country's top tourist destinations for a reason. It's beautiful, it has amazing food, and there's a ton to do. But we don't just mean Alcatraz and the Golden Gate Bridge. We're talking tasting menus, dancing at a science museum, and secret shows in major hotels (you'll see). After all, isn't adventure the best part of seeing a new city? We think so, which is why the next time you're looking for an unforgettable experience everyone isn't talking about, look no further than these 10 adventures you'll only find in the City by the Bay.
This historic North Beach saloon that is known for a decadent brunch never disappoints. But our favorite way to dine there is the (somewhat) secret tasting menu that's only offered Monday, Tuesday, and Wednesday nights. The $55 eight-course menu changes daily, but always includes beautiful and inventive dishes, as well as lots of interaction with the chef who comes out to explain them. In a town with an abundance of pricey tasting menus, it's nice that at least one of them doesn't cost a year's rent to experience.
Experience a sound sculpture at Audium
If a "sound sculpture" sounds weird, that's because it is. But for those who embrace the journey, it can also be transformative. Picture a live sound performance, but instead of just hearing it through Audium's 176 speakers, you're also seeing it and feeling it course through your body from the comfort of your seat. The experience lasts for an hour and though there's no way to know what you'll take away from it, you can expect it to be meditative, surreal, calming, or just really, really trippy.
On Thursday evenings, two of San Francisco's best museums, the California Academy of Sciences and the Exploratorium, turn into adults-only venues compete with DJs, dance parties, and -- perhaps most importantly -- cocktails. Each night has a theme, which ranges from "beer" to "lasers" and there are always demonstrations and talks to go along with the theme. The tickets grant you full access to both museums, so it's a fun chance to explore and learn with friends or a date.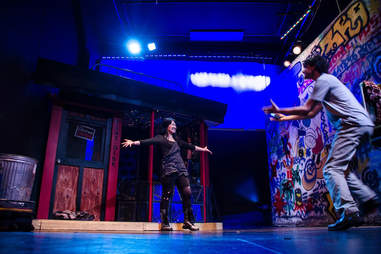 Piano Fight
Experience indie entertainment at PianoFight
Every show at this community-driven venue with two small theaters and a cabaret stage is worth going to, but here's our shortlist: Missed Connections, a weekly comedy show based on the hilarious and heartbreaking personal ads posted on Craigslist; The Infinite Wrench, an hour-long performance where an ensemble attempts to act out 30 bite-sized plays; and Drunk Theater, where an inebriated comedian tries to perform improv with sober comedians. PianoFight also has a full restaurant and bar and the shows are around $10 to $20 -- and sometimes free.
This Outer Sunset ice cream parlor has been serving scoops and delighting children and adults since 1955. There are 50 rotating flavors (of 500 total), which range from the classics to weirder stuff like watermelon, Star Wars (blue mint with marshmallows), and durian. You can choose the flavor you want, or let fate decide and have a staffer spin the wheel to make your choice for you. Don't worry: If you really can't stand the flavor it lands on, you're allowed to choose from the flavors to the right and the left.
Kelly Puleio
Take a cocktail class at The Alembic
The Alembic was one of San Francisco's original craft cocktail bars and though it's been open for over 10 years, it still has some of the city's best bartenders serving up creative and delicious drinks. That's why it makes perfect sense that the bar and restaurant hosts weekly "Monday Night Mixology" classes designed to turn everyone, no matter how much experience they have mixing drinks, into the ultimate host. The class lasts two hours, during which time you'll learn a little history and make four full-sized cocktails to enjoy. (Pro tip: Stay for dinner after. The Alembic has a great menu of very elevated bar fare.)
Brunch, lunch, drink, or dance at The Ramp
This casual bar and restaurant in San Francisco's Dogpatch neighborhood is popular with the locals for a few reasons, not least of which is an outdoor patio right on the water in a part of town where the sun is often shining despite fog almost everywhere else. On the weekend there's usually live music, so secure your seats early by ordering burgers and Bloody Marys, and get ready to dance when the afternoon rolls around.
Hernan Btesh
See a secret show at a Hyatt Centric hotel
Thanks to a collaboration with music event company Sofar Sounds, Hyatt Centric hotels around the globe have begun hosting secret intimate shows. So of course, it only makes sense that San Francisco, with its hotbed of great local music, would get the same treatment at its Hyatt Centric Fisherman's Wharf location. But even if you don't catch a show in the hotel, Hyatt Centric hotels are right in the middle of the action -- meaning there's a city of art and adventure right outside.
Learn about SF's most historic and colorful neighborhood by taking a walking tour led by someone who lives and works there. You'll find out about the Tenderloin's storied past, including how it came by its name and how it was the site of the first LGBT riot in the United States. You'll also hear about how the city is working to improve the neighborhood while still providing affordable housing for its many residents, as well as discover a few secrets, like a tiny garden that's home to a redwood tree and the neighborhood's only single-family home. The tour is mostly outside, but you'll also pop into a couple of bars, including Aunt Charlie's Lounge, a gay dive bar that's the last of its kind in the TL.
Drink beer in the grass at Park Chalet
While most tourists go to Park Chalet's second-story restaurant, Beach Chalet, locals skip the steps and head straight to the back of the building. That's where you can enjoy a beer -- brewed in-house -- on the spacious lawn that's technically part of Golden Gate Park. This laid-back bar and restaurant is great even on foggier days because the open-air dining room has glass doors and a glass ceiling, as well as a huge fireplace. But the time to go is really on a sunny afternoon when you can sit at a table or on the grass outside and have your burgers and beers delivered right to you. Plus, if you're there in the summer, you're bound to catch live music.

Daisy Barringer is an SF-based writer who, on a sunny day, you can often find sitting on the lawn at Park Chalet with her giant Saint Bernard. Follow her on Instagram to see his adorable face.