Perfect Fall Road Trips for When You Need to Escape San Francisco
Marvel at fall foliage and winter weather with these weekend road trips that span charming mountain towns, coastal escapes, and more.
Fall is when San Francisco really shines—in that, the fog dissipates enough for you to actually feel the shining sun on your skin. Even as our days get shorter and the nights become a touch brisker, there's plenty to do between eating at our amazing restaurants, imbibing at our fabulous bars, exploring our wealth of cultural capital, or even just finding a peaceful corner to appreciate everything that makes this city so great.
But variety is the spice of life, and sometimes we crave a change of scenery. Thankfully, when those moments strike, we've got plenty of charming mountain towns, captivating national parks, and coastal oases that are perfect for a day or weekend trip. Whether you want to sip wine, guzzle beer, hike along an oceanside bluff, relax in a spa, kayak with sea otters, or something else, you're sure to find it on this list.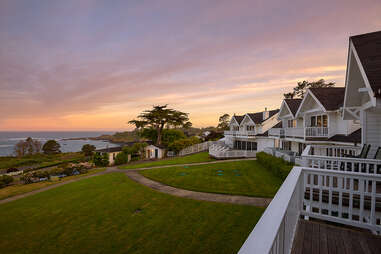 Distance from SF: Three-hour drive
Mendocino is 3,800 square miles of redwood forests, beaches, and hiking trails, plus wineries, breweries, and amazing restaurants, making it a quintessential NorCal road trip. Go in early to mid-November for the Harvest Mendocino Festival, when the area comes alive with fun things to do like mushroom exploration hikes, art walks, harvest dinners, and more. Overlapping with the Harvest Festival is Taste Mendocino, which invites you to spend your Saturday afternoon sipping fine wines from across Mendocino County and eating delicious, farm-fresh food. There's also the famous Skunk Train, which offers the Pumpkin Express during the fall, taking riders to a magical pumpkin patch in the heart of the redwoods.
While you're there, you'll obviously want to check out some of Mendocino's famous breweries, including Anderson Valley Brewing Company in Boonville with disc golf, live music, and food trucks; North Coast Brewing Co in Fort Bragg that's best known for its Old Rasputin Russian imperial stout; and Ukiah Brewing Company where you'll find all-natural unfiltered beers, plus local wines and spirits, live music, and good food.
Mendocino is also home to some fantastic wine—cool-climate pinots and chardonnays live their best lives in this region. Roederer Estate is a must not just because the sparkling wine is excellent but because the picnic tables are the perfect place to enjoy views and a sandwich from nearby Lemon's Market in Philo.
Nothing says fall like apple orchards, so be sure to stop by Philo Apple Farm's self-service Farm Stand for apple juice, apple cider (hard and not), jams, jellies, chutneys, fresh apples and pears, and more.
Where to stay: Find a great Airbnb in Mendocino. If you're lucky, you can snag a room in one of the cottages at Philo Apple Farm, which sit among the apple trees. If a cottage in an apple orchard isn't your dream place to spend a night or three, book a room at Little River Inn, where you'll eat the best Swedish pancakes of your life. If you want something slightly fancier, at The Madrones is an Italian-style enclave with gorgeous accommodations, three tasting rooms, a fabulous restaurant, and—on the first weekend in November—several cannabis events.
Distance from SF: 90-minute drive
Tomales is a tiny little town (literally, the population is under 200 people) that runs along the east side of Tomales Bay and is truly the place to go if you legitimately want to get away from it all. You'll want to call the William Tell House home for the weekend mostly because it's Marin County's oldest saloon and inn but also because the recently renovated rooms are both rustic and charming, and there's an excellent restaurant and bar right downstairs. You'll also be right down the block from the Tomales Bakery, where you'll find sweet and savory delights to give you plenty of energy for the day's adventures, whether that be hanging out on Dillon Beach, paddling on the water during a kayaking tour from Blue Waters Kayaking, or hiking along coastal bluffs.
Of course, when in Tomales, one must eat freshly plucked and shucked oysters at Hog Island Oyster Co., which is just a few miles down the road in Marshall, and dinner and drinks at Nick's Cove, which also has the most adorable themed seaside cottages, is always a guaranteed hit.
Where to stay: Opt for lodging at the William Tell House or one of Nick's Cove cottages, or you can find a great Airbnb in Tomales.
Distance from SF: One-hour drive
The locals in this unincorporated coastal town are a bit tourism-averse, but Bolinas is too quirky and adorable, and its beach too inviting to leave off this list—make sure you're on your best behavior so as not to draw the local's ire. The beach is great for lounging (as long as you wear lots of layers), but if you've been wanting to learn how to surf and aren't afraid of cold water, Bolinas is an excellent and mellow spot to paddle out. The waves are the most beginner-friendly from April to September when there are lots of south swells, but can also be good in the winter when bigger swells from the north and west mellow out because of the curve of the beach. Rent your wetsuit and board at 2 Mile Surf Shop (where you can also book a lesson). If you prefer your adventures to occur on land, head to the Palomarin Trailhead and set off on the 13-mile round-trip hike to Alamere Falls, one of only two tide falls in California.
For dining, head to Eleven, a sister-owned restaurant and wine bar, for natural wine and fancy pizza. Coast Cafe is ideal for a leisurely lunch (oysters, fish tacos, and carrot cake for dessert), and Smiley's Saloon, a 170-year-old bar that claims to be the oldest in California, is your evening destination for live music, strong drinks, and Mexican food.
There's really no reason to leave Bolinas for the weekend, but if you do get antsy or want other food options, Stinson Beach is six miles away by car. There you'll find a much more spacious, gorgeous white sand beach, the trailhead to the famous 14-mile round-trip Dipsea Trail, which has some of the best views you'll ever get on a hike, art galleries, and a handful of restaurants, including the Parkside Cafe (sit in the garden and definitely order the Oysters Au Gratin) and Breakers Cafe (perfect for cocktails and tacos on the patio).
Where to stay: Smiley's Saloon is one of two options for staying overnight in Bolinas, along with The Grand Hotel, an old house-turned-antique shop. You can also find a great Airbnb in Bolinas.
Distance from SF: 3.5-hour drive
Fall is an excellent time to visit Yosemite Valley because the crowds thin out quite a bit, but if you want almost complete solitude, it's an even better time to check out the least-visited parts of Yosemite: Hetch Hetchy Valley and Wapama Falls. These happened to be John Muir's favorite parts of the park and look like a miniature version of the famous valley. Plus, you'll get an up-close look at the (controversial) dam that's the source of SF's amazingly clean water.
Hetch Hetchy isn't the only reason to make Groveland, a historic Gold Rush town, your home base. A stay at Rush Creek Lodge, Yosemite's first new lodge in over 25 years, which has so much fun stuff you won't want to leave the property, is another one. There are several dining options, including a lively tavern; a general store where you can get snacks, gear, and souvenirs; a huge pool that's heated year-round; two hot tubs (including one that's just for adults); the best spa you'll find anywhere around Yosemite with warm waterfall coves, a Himalayan salt sauna, skin care, massage treatments, and more; all kinds of activities like ping-pong, s'mores by the firepits, hammocks, cornhole, and fitness classes; and guided trips to the park.
If you prefer slightly more rustic accommodations, the Evergreen Lodge, which celebrated its 100th birthday last year, is just down the road. Originally built to house the workers who were building the dam, it has been transformed into a resort (think Kellerman's Resort from Dirty Dancing only in Northern California), with cabins scattered among pine trees, a lodge, tavern, and general store, a year-round swimming pool and hot tub, live music, massage treatments, and more. Other places to visit in Yosemite that are close to Groveland and don't get as many tourists include the Tuolumne Grove, which has two dozen mature giant sequoias, and Tuolumne Meadows.
Where to stay: If Rush Creek Lodge and Evergreen Lodge don't do the trick, you can always find a great Airbnb in Groveland.
Distance from SF: 90-minute drive
We love Calistoga because you can find everything you love about Napa—amazing wine, gourmet food, and gorgeous scenery—but with fewer tourists, more relaxed vibes, and often a lower price point. Plus, you also get the option to relax and rejuvenate in the area's famous geothermal hot springs and mud baths. Our faves include the Calistoga Motor Lodge & Spa, which has a traditional spa with mud baths, three mineral pools that are fed directly from hot springs, adult swim hours, and a fantastic on-site restaurant, Fleetwood, which is all about wood-fired cuisine and excellent cocktails. The recently renovated and full-of-retro-vibes Dr. Wilkinson's Backyard Resort & Mineral Springs is also an excellent option (as is its restaurant, House of Better, which serves Southwestern fare and crazy good Green Chile Apple Pie), and you can never go wrong with Indian Springs, which has enormous pools (including one that is adults-only), a great spa, and one of the town's most popular restaurants, Sam's Social Club.
Other restaurants to check out include Evangeline, a cozy French bistro; Solbar, a classic, elevated wine country restaurant; Lovina, a woman-owned, casual fine dining restaurant that's great for brunch; and Sam's General Store, a charming coffee and sandwich shop inside of the last-standing cottage in its original location built by the legendary founder of Calistoga, Samuel Brannan.
For a wine tasting experience you'll never forget, make a reservation at Davis Estates, a recently restored family-owned winery where you'll find ambitious wines and out-of-this-world food pairings. This is truly a special property, and it is well worth adding a tour to your experience, as the cave system and cutting-edge technology will be unlike anything you've seen before.
Other wineries that are definitely worth a visit include Tamber Bey Vineyards, part-winery, part-equestrian facility; Chateau Montelena, a historic property styled after an English Gothic castle; Theorem Vineyards, which has breathtaking views and historic buildings; and Tank Garage Winery, known for being housed in a 1930s-era gas station and serving limited-release blends.
Where to stay: Go all out with Calistoga Motor Lodge or Dr. Wilkinson's Backyard Resort, but there are also plenty of great Airbnb options in Calistoga.
Distance from SF: 2.5-hour drive

If you like being at the forefront of outdoor adventuring, then get yourself to California's newest national park at Pinnacles, which many people still don't know about. Pinnacles had previously been a national monument prior to getting official national park status in 2013. The park is divided into mountainous East and West areas, all connected by foot trails. The distinctive rocky spires are a result of ancient volcanic activity, as the park is located near the San Andreas fault. There are also three caves to explore, though check the status before going, as flooding, rockfalls, and sensitive Townsend's big-eared bat populations can cause closures. Pinnacles also houses a California Condor reestablishment program, so bring your binoculars for some majestic bird-watching.

There are campgrounds in the park, but no hotels, so if you need something more than a sleeping bag and tent to snooze, check out the luxury bed-and-breakfast on a vineyard with soaking tubs and gas fireplaces at the Inn at the Pinnacles in Soledad, just a six-minute drive south of the West Pinnacles visitor station. For a hearty dinner near the Inn after a day of hiking, try Cocuyo's, a cute family-run Mexican joint in a bright turquoise house, where sizzling shrimp fajitas and vibrant homemade salsas fill your belly with warmth. If you exit from the east side visitors entrance, The Inn Tres Pinos in San Benito County, half an hour's drive north, offers grilled wild salmon and roast rack of lamb in a casual country ambiance.
Where to stay:Find a great Airbnb near Pinnacles National Park.
Distance from SF: Two-hour drive
You'll have a bodacious ball in Bodega Bay, and it's not just because of the alliterative possibilities. The chill vibes of Northern California beaches never get old, and what Bodega Bay brings to the (quiet) party is serene isolation, film history, and a plethora of fresh seafood. If you're a fan of Alfred Hitchcock's avian horror film The Birds, get on over to multiple sites that Hitchcock's crew either filmed on location or replicated for the movie set. The Potter Schoolhouse, five miles south in Bodega, is Instagrammable from the outside only, as it has become a private residence since filming took place in 1963. However, The Tides Wharf & Restaurant, at The Inn at the Tides, is a real eatery from the movie where you can scarf down a whole local Dungeness crab or zesty cioppino and snap as many photos as you like. Turns out Bodega Bay is actually great for bird-watching in real life, too, so get ready to see tons of pelicans, herons, and hawks. Aside from the Inn at the Tides, with its bay views and sauna, also consider staying at the Bodega Bay Lodge, which has outdoor fire pits, a bocce ball court, and complimentary beach cruiser bike rentals.
If you're looking for a little more action, rent a kayak from Bodega Bay Kayak to paddle around the Bay. Bodega Head is excellent for those looking for a super mellow hike, and Pomo Canyon Trail to Shell Beach is slightly more challenging at seven miles round-trip. Whichever you choose, reward yourself with a flight of wine at Gourmet au Bay, which is right on the water and has a cozy deck with awesome views.
Where to stay:Find a great Airbnb to stay near Bodega Bay.
Distance from SF: 75- to 90-minute drive
This vibrant town in Sonoma County is close to San Francisco, so you can spend less time in the car and more time eating and drinking some of the best things that wine country has to offer. Healdsburg is nestled among three of Sonoma County's best-known wine-growing regions, including Dry Creek, Alexander, and Russian River valleys, guaranteeing a great spread of wine tasting. Start your trip with lunch just outside of the town center at either Jordan Winery, where you can experience vineyard tours followed by wine tastings (paired with food, if desired) under the shade of oak trees (or indoors if you prefer), or Bricoleur Vineyards, an idyllic, off-the-beaten-path winery where you can enjoy all kinds of tastings (including a six-course pairing menu) and enjoy the 40-acre park-like estate.
Once in town, it's all about eating and drinking, which you'll want to do on the Bravas Bar de Tapas patio with a pitcher of sangria; at Barndiva, which has two gardens in which to enjoy farm-fresh American fare and creative cocktails; and at Healdsburg's hottest new dining destination, The Matheson, a multi-level eating and drinking mecca from chef/owner Dustin Valette that's rolls a restaurant, sushi kitchen, wine lounge, and rooftop cocktail lounge into one epic experience. Be sure to start (or finish) in the wine lounge, where you can take a self-guided tour of Sonoma wines via the pour-it-yourself wine wall. Valette's namesake restaurant is also very much worth a visit.
Where to stay: We love staying at Hotel Healdsburg in the town square, because of its tranquil and sizable garden pool area, stylish rooms, and spa, but if you're looking for something slightly more budget-friendly, h2hotel is a great option. If you want a truly special experience and don't mind being a short drive outside of town, book a room at the sibling-owned Farmhouse Inn. It's a splurge, but once you see the charming property and all of the indulgent details (from soaking tubs to steam showers to a relaxing swimming pool surrounded by lush greenery), you'll forget all about your credit card bill. There are also plenty of Airbnb options near Healdsburg.
Distance from SF: One-hour drive
The charming village of Glen Ellen may be tiny, but it has everything one could need for a pandemic getaway, including luxurious accommodations, delicious food, wine tasting, and outdoor adventures. Regarding the former, you'll want to book a room at the recently renovated Olea Hotel. First, the guest rooms are secluded and romantic (all of the rooms are fantastic, but get a garden cottage if you can afford the splurge). Next, there's a pool and hot tub area that's open 24 hours a day. And, last, but most important: Olea Hotel has one of the best breakfasts you will ever eat. The complimentary two-course gourmet breakfast changes and is delicious. The breakfast buffet reopened this past spring, so you can also add granola, yogurt, and fresh fruit to your already-filling two-course meal.
At least one dinner (if not two) must be eaten on the heated patio of the Glen Ellen Star, which is right down the road from the Olea Hotel and specializes in wood-fired dishes. It's a lot of carbs, but you should order both the house-baked bread and a pizza. Also some vegetables (try the cauliflower with tahini, almonds, and sumac). As far as wine tasting goes, make a reservation (required) at Benziger Family Winery for the Tribute Estate Tour, a private tour of the biodynamic farm with tastings along the way, as well as a seated al fresco tasting at the end. Imagery Estate Winery, known for crafting rare wines, is also open for both indoor and outdoor tastings, and picnics on the lawn. Finally, if you're looking to get some exercise paired with a history lesson, Jack London State Historic Park, where the writer lived, worked, and is buried, is two miles away. The museum is open again, and don't forget to also enjoy the trails and picnic areas.
Where to stay: Find a great Airbnb in Glen Ellen.
Distance from SF: 3.5-hour drive
SLO was once named the happiest city in America, no doubt thanks to the SLO lifestyle that encourages a chill pace to enjoy all of life's pleasures. Find joy in the awesome craft brewery scene, with standouts like Oak and Otter Brewing, Central Coast Brewing, and Liquid Gravity Brewing, all of which offer stomach-lining, beer-friendly food such as bready pretzels and fried chicken sandwiches.
If you're more of a wine-drinker, you absolutely cannot skip Chamisal Vineyards, a gorgeous estate where you can enjoy a two-for-one wine-tasting experience, first on the patio overlooking the estate vineyards and then at its sister winery, Malene, which has the most adorable mobile tasting room right next door and is dedicated to producing rosé with a Provençal flair. Best of all, you can feel good about drinking these wines because of Chamisal's legit commitment to sustainability, which you should ask about when you're there because the winery is truly at the forefront of these efforts, and what they're doing is incredibly impressive.
Hang out on the beach with a good book or check out Bishop's Peak—the most popular hike in SLO, and only an hour-and-a-half hike to the top. As far as bites go, head to Big Sky Cafe for farm-to-table fare across an assortment of cuisines or indulge in Baja-inspired cuisine and tequila cocktails at Pequín Coastal Cantina at the Vespera Resort on Pismo Beach, just a few miles south in Pismo Beach. (The hotel is also a fun place to stay if you want to extend your trip for a night or two.)
Book your stay at the Madonna Inn and take your pick from 110 themed rooms (Antique Cars, Jungle Rock, and Caveman are three of many). You'll also enjoy world-famous cakes, a pool with a bar on a stunning hilltop, and perhaps the most compelling—a urinal that activates a waterfall when you break a beam of light with your pee.
Where to stay: Outside of Madonna Inn and Vespera Resort, Hotel San Luis Obispo has great rooms, a rooftop bar, restaurants, and it's right in the middle of downtown. There are also plenty of great Airbnb options in San Luis Obispo.
Daisy Barringer is an SF-based freelance writer who recently braved leaving the house during the pandemic for a mini-holiday in Healdsburg. 10/10. Would do again. Follow her on Instagram to see where the open road takes her next.
Margot Seeto is a Bay Area freelance writer and a contributor for Thrillist.