A guide to the city's best digs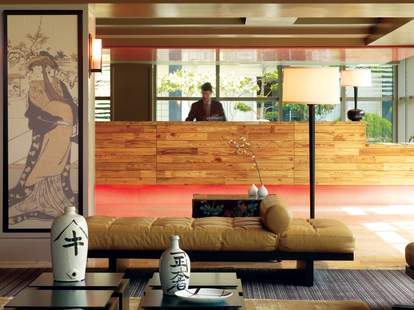 The City by the Bay boasts about as many neighborhoods as hotels. Luckily for you, we've taken it upon ourselves to round up the cream of the crop, whether you want to vacation like a rockstar, or just think you're Turning Japanese. Here are our picks
Hotel Adagio550 Geary Street; Downtown; 415.775.5000Proudly mounted in the Theatre District amidst the burgeoning heart of downtown, Adagio hides its contempo-upscale aesthetic (spread out across 171 rooms and a hip lounge dubbed Mortimer Bar) inside a Spanish colonial revival building originally erected in 1929. Read the full review...
Grand Hyatt San Francisco345 Stockton Street; Union Square; 415.398.1234 The jack of all trades of SF lodging, the Grand Hyatt's a 660-room mega-hotel catering to both the business & recreational set with its cocktail lounge, American bistro, and shloads of amenities.Read the full review...
Mystic Hotel417 Stockton Street; Union Square; 415.400.0500You'd think a hotel owned by renowned chef Charlie Palmer would serve superlative cuisine... and you'd be right! Witness Mystic Hotel, a modernized, Union Square-adjacent home away from home offering dapper accommodations, top-notch vittles, and one of the San Fran's hottest speakeasies.Read the full review...
The Fairmont 950 Mason Street; Nob Hill; 415.772.5000Located at the most important locus in SF (where all of the cable car lines meet!), Fairmont offers almost-too-easy access to Downtown, FiDi, Union Square, and Fisherman's Wharf, not to mention unobstructed panoramic views of the city, and a restaurant with a freaking pool in the middle of it.Read the full review...
Serrano Hotel405 Taylor Street; Downtown; 415.885.2500Just like the famed pepper found in the mountainous regions of the Mexican states of Puebla and Hidalgo, Serrano's a spicy-hot, four-star boutique hotel located just blocks away from Union Square that features in-room spa services and a Yoga channel on every TV, making the painstaking task of finding your chi easier than ever.Read the full review...
Sir Francis Drake Hotel450 Powell Street; Union Square; 415.392.7755 Not the 16th-century sea captain & navigator, but certainly worthy of housing him, Sir Francis Drake is a Union Square hotel decidedly dripping with class and sophistication. With food plated by Top Cheftestants Jennifer Biesty & Tim Nugent and the speakeasy known as Bar Drake, you'll have plenty of exploring to do yourself.Read the full review...
Phoenix Hotel601 Eddy Street; Tenderloin; 415.413.0900Planted on the edge of the Tenderloin, Phoenix Hotel prides itself on its atmosphere, knowledgeable staff, and rockin' guest list that has included such talent as The Shins, Little Richard, and Pearl Jam.Read the full review...
Hotel Kabuki1625 Post Street; Japantown; 415.922.3200Established in the heart of Japantown, Kabuki brings together Eastern and Western influences to create a relaxing environment that North and South just wouldn't understand. Read the full review...