The Best Neighborhoods in San Francisco to Spend a Weekend
From hippie havens to waterfront wharfs and more.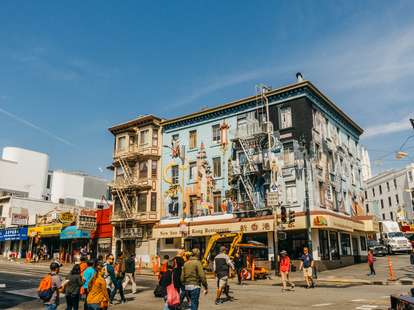 San Francisco may technically be a small city, measuring in at just under 47 square miles, but it's also home to at least 43 neighborhoods, depending on who you ask (which should not be a realtor as they really get off on making up new 'hoods).
So if you're coming to visit, how on earth are you supposed to figure out where to stay? Most of the internet would have you think that the spot to be is Fisherman's Wharf—and even though we love itfor bowls of clam chowder in sourdough bread bowls and visiting the sea lions, it's full of cheesy souvenir shops and slews of tourists who didn't pack a jacket and are now dressed head-to-toe in "San Francisco" gear from those cheesy souvenir shops. Luckily, we're not "most of the internet," which means we're going to give you the real low-down on the best places to stay, actual fun things to do, and most importantly: where to eat and drink. After all, you may not be from San Francisco, but as long as you've got a local friend in tow (that's us), you'll totally seem like you are. Especially if you remember to pack that jacket and never ever call it "San Fran."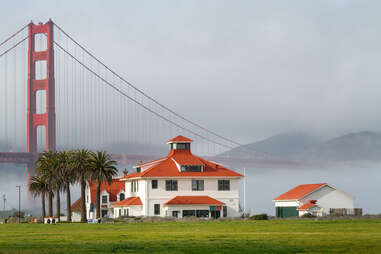 Cow Hollow/Marina
People tend to conflate Cow Hollow and the Marina, which are actually divided by the major thoroughfare of Lombard Street (Cow Hollow is to the north; the Marina to the south), but for the purposes of a fun weekend, that works just fine. These affluent neighborhoods are snubbed by some for being home to a lot of young professionals, fitness studios, and athleisure wear shops ("Marina Bros" even have a nickname of their very own), but it's also a gorgeous part of the city with outdoor spaces, waterfront views, and top-tier bars, restaurants, and shopping.
Where to stay: This is a pretty residential area, and though there are a smattering of old school motels along Lombard Street, that street is a thoroughfare to lots of traffic and not even a little aesthetically appealing, so we recommend staying elsewhere. For a one-of-a-kind experience, stay at the Inn at the Presidio, a historic hotel that was once a home for bachelor officers when the Presidio was a U.S. Army post and is the perfect destination for those who want to enjoy nature while still being within walking distance of everything fun. Its sister property, Lodge at the Presidio, is also fantastic though the location is a little less "hidden" away since it's right on the Main Post. This can be a great thing or a not-so-great thing depending on what you like. The building used to be barracks that housed six artillery companies, a cavalry troop, and two infantry companies, but now the rooms are clean and modern with views of the forest or the Bay. Finally, if you're looking for an elegant splurge, you can't go wrong with the Hotel Drisco up the hill in Pacific Heights. The 1903 Edwardian was recently remodeled and is away from the hustle and bustle of the neighborhoods down the hill but within easy walking distance.
Breakfast and lunch: The hardest part about hanging out in this neighborhood is choosing where to eat. For a boozy brunch, sit on the back patio (weather permitting) of The Tipsy Pig. and order a Strawberry Fields cocktail or three. For something a little less raucous, Rose's Cafe is a great choice, especially if you love a breakfast pizza (theirs comes with smoked ham, fontina, and sunny side-up eggs). Another option is to grab what may be the best toasted deli sandwich in all of San Francisco at Marina Submarine and walk down to Crissy Field to enjoy your lunch on the beach with views of Alcatraz, Angel Island, and the Golden Gate Bridge. There's also the Presidio Social Club Exchange, a casual restaurant in former military barracks with a big (often) sunshine-filled patio, great cocktails, and pineapple upside down cake.
Things to do: Explore the Presidio, a former military fort that's now a 1,491-acre national park home to tons of hikes with scenic overlooks, four installations from artist Andy Goldsworthy, Fort Point, a masonry seacoast fortification that sits right below the Golden Gate Bridge, the San Francisco National Cemetery (which has a very peaceful overlook that's easily accessible), the Walt Disney Family Museum, several great restaurants, and much more.
If you're into architecture, you'll want to visit the Palace of Fine Arts, a stunning structure built for the 1915 Panama-Pacific exhibition, the McElroy Octagon House, which, yes, is a house with literally eight sides that was built in 1861, and the Haas-Lilienthal House, a Queen Anne-style home constructed in 1886 that shows off the opulence and grandeur of a time long gone. If you're in the mood to shop, eat, and drink, all you need to do is walk down Union Street, Fillmore Street, and Chestnut Street, and you'll find plenty of all three.
Dining out: It's not a successful visit to Cow Hollow if you don't stop by The Black Horse London Pub, the smallest bar in San Francisco (7 feet wide by 19 feet deep) where the beer is kept in a clawfoot tub filled with ice. If you're more of a wine drinker, West Coast Wine Cheese and California Wine Merchant both have a great selection and friendly service. Eventually, you'll need to eat. There's the classic Balboa Cafe, which remains as popular now as it was when it opened in 1913 (order the burger); A16, one of the best Italian spots in town (note: it gets loud); and Causwells, which is known for its burger but also excels in cocktails and Southern-inspired fare with a California sensibility. For a vegetarian or vegan meal that you won't even realize is vegetarian or vegan (in a good way), try Greens, a vegetarian restaurant on the water with panoramic views, and Wildseed, a vegan spot on Union Street.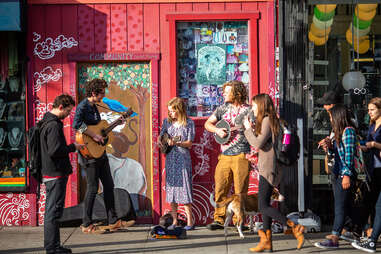 Cole Valley/Upper Haight/Golden Gate Park
These three places could not be more different from each other, and yet, are all within close proximity, making for the perfect weekend adventure. Cole Valley is a little village that you'll mostly venture into for food and drink. The Upper Haight, or "Haight-Ashbury" as the tourists call it, gave us the Summer of Love and the Grateful Dead and still represents all of that 50+ years later. And at the end of Haight Street is where the iconic Golden Gate Park begins, spanning over 1,000 acres of museums, gardens, lakes, and history.
Where to stay: Like so much of San Francisco, this area is very residential, but there are a few good options, starting with the Stanyan Park Hotel, a boutique Victorian hotel with San Francisco charm. In the Upper Haight, family-owned Metro Hotel is an affordable and cozy option with vintage decor and a relaxing garden patio.
Breakfast and lunch: Haight Street is full of quick, counter-service options; our favorites are Slice House for great pizza, Street Taco for a stellar tostada salad, and What the Cluck for Thai chicken and rice. If you're looking for a breakfast to cure last night's adventures, try the Pork Store Cafe, a no-frills diner with food that is both hearty and tasty— their Eggs in a Tasty Nest dish includes two eggs in a bed of hash browns with a choice of meat, plus green bell peppers, tomatoes, onions, garlic, and cheddar cheese, and is a crowd favorite. For a more leisurely brunch, the romantic back garden at Zazie, an adorable French-inspired bistro, is the best choice, though the wait can sometimes be a bit long.
Things to do: You can't go to Haight Street without spending a little time exploring the shops. Whether you're looking for vintage clothing, expensive sneakers, a new bong, or something tie-dye, Haight Street has it all—including a cannabis dispensary if that's your vibe. And since you're there, you should also take a picture in front of the Grateful Dead House at 710 Ashbury Street where Jerry Garcia and other band members lived from 1965 to 1968.
The other must-explore area is Golden Gate Park. You could spend a week wandering around this urban park that was once just sand dunes and still not see everything, but highlights include the California Academy of Sciences, which is among the largest museums of natural history in the world (go on a Thursday night for the 21+ party with cocktails and DJs); the de Young Museum, a fine arts museum that usually has great special exhibitions (the Harmon Observation Tower, which has 360 degree panoramic views of the city is free, as is the sculpture garden—be sure to find the Turrell Skyspace, a walk-through meditation space); the Japanese Tea Garden, the oldest public Japanese garden in the U.S.; and the Conservatory of Flowers. Walking around Stow Lake and up Strawberry Hill (the highest point in the park) is a fun, mellow hike, and you can also rent rowboats and pedal boats, an experience we find is even better enjoyed if followed by a beer at the Boat House.
Dining out: There are two bars that are must-visits on Haight Street: The Alembic, which pioneered the craft cocktail movement in San Francisco, and Aub Zam Zam, a dimly lit Persian-inspired bar that's been around since 1941 and is famous for its martinis. If you're a beer drinker, you'll also want to check out Magnolia Brewing, a cozy pub with a brewery in the basement. For dinner, if you didn't hit Zazie for brunch, then be sure to go now (the coq au vin is divine), or if you're in the mood for delicious, upscale Mexican, Padrecito is the spot.
Mission
The Mission is one of SF's most popular neighborhoods thanks to its warmer and sunnier climate, copious amount of diverse eating and drinking establishments, its arts and music scene, and Dolores Park (one of the city's most frequented parks). Historically a Latino neighborhood, the Mission has been a victim of gentrification, but local activists are doing their best to make sure the heart of this vibrant neighborhood keeps beating despite the changes that are occurring.
Where to stay: Since this is a residential neighborhood—despite an abundance of shops, bars, and restaurants—there aren't a lot of hotels (the redundancy of this statement isn't lost on us). Union Square is not too far, but if you're determined to stay in the area, there are a few options. We've got the Inn San Francisco, a bed and breakfast in an 1872 Victorian mansion; Nineteen 06 Mission, an affordable, no-frills, but clean and comfortable hotel with shared bathrooms; or this modern one bedroom with city views on AirBnB.
Breakfast/Lunch: In a neighborhood with so many fantastic restaurants, it'll be hard to pick a dining destination. But a few can't-go-wrong spots include Tartine Manufactory, a huge bakery/restaurant/bar/coffee shop where breads and pastries are the stars (a morning bun is a must); Foreign Cinema, a favorite with locals for its charming outdoor courtyard, oyster selection, and its take on Pop-Tarts; and Monk's Kettle, a fancy pub with one of the best beer selections in the city. Of course, you can't go to the Mission without getting a burrito. The world will never agree on which taqueria has the best one, but El Farolito, La Taqueria, and Taqueria Cancun will all leave you very happy and very full.
Things to do: One of the most beloved parts of the Mission is Dolores Park. Consider taking your burrito or ice cream from Bi-Rite Creamery there to enjoy while sitting on the hill, people watching, and taking in the views. Misión San Francisco de Asís (Mission Dolores), the oldest surviving structure in San Francisco (1791), is just a couple of blocks away; stop in to learn about its unique history and architecture, as well as to spend some time in the cemetery and gardens. The Mission is also home to two mural projects: the Clarion Alley Mural Project (CAMP), where the murals support "political, economic, and social justice messaging," and Precita Eyes Muralists, dedicated to building community around the art of mural-making.
Dining out: If we're forced to play favorites, we'll say ABV, Trick Dog, and The Beehive for cocktails, El Techo for rooftop margaritas, True Laurel for excellent cocktails and food (get the patty melt). For dinner, Delfina, a classic Italian spot responsible for helping make the Mission a dining destination, is excellent. If you want something more laidback, head to Zeitgeist for burgers, beer, and gruff service in a (sometimes) sunny beer garden.
North Beach
No one in San Francisco calls North Beach "Little Italy," but it's probably the best way to describe this touristy part of town that is known for its Italian roots, being the epicenter of the Beat Generation, bumping up against Chintoan, and well, innovating the strip club industry (the Condor Club, which opened in 1964, was the first topless bar in the U.S.).
Stay: North Beach is within walking distance of Fisherman's Wharf, which, as one of San Francisco's most popular tourist destinations, has tons of hotels. Our favorite boutique hotels are the Argonaut Hotel, a nautical-themed hotel in a historic exposed brick building, Hotel Zephyr, a waterfront hotel with an outdoor lounge with fire pits, shuffleboard, and other games, and Hotel Zoe, a recently remodeled hotel with high-tech touches in relaxing and contemporary rooms.
Breakfast and lunch: You will very likely have to wait in line to get into Mama's on Washington Square, a cozy breakfast spot with gigantic fluffy omelets, indulgent French toast options, and tasty baked goods, but most will concede it's worth the wait. Another line worth the wait? The one at Liguria Bakery, where the only thing on the menu is ten different types of focaccia (if you have to pick one, pick the pizza, and be sure to bring cash as they don't take cards). Craving actual pizza? The hardest thing will be picking what kind to get at Tony's Pizza Napoletana, home of 13-time World Pizza Champion, Tony Gemignani. The restaurant has seven different pizza ovens and offers 12 styles, including Napoletana, Detroit, and coal-fired.
Things to do: Get a workout by climbing the Filbert Street Steps to the top of Telegraph Hill. On your way, you'll get unique views of the city and might catch a glimpse of the famous wild parrots who live there. Once at the top, play tourist and go up Coit Tower, a 210-foot Deco fluted tower built in 1933 with some of the best 360-degree views of the San Francisco Bay you'll find. Be sure to check out the murals at the bottom as well, which were commissioned in 1933 and many of which express ideas of racial equality and Marxist views.
You'll also want to stop by City Lights Bookstore, which was founded in 1953, and whose original owner is famous for publishing Allen Ginsberg's Howl and Other Poems and was, as a result, tried for obscenity.
When the sun goes down, the neighborhood is all about eating and drinking, but if you're in the mood for an activity, there are the previously mentioned strip clubs, and also Cobb's Comedy Club, the best comedy club in SF.
Dining out: There are lots of excellent places to get a drink in North Beach, including Tony Nik's, an old school bar with great cocktails and a mix of locals and tourists, 15 Romolo, a back-alley bar with a jukebox that will make you want to stay all night, Vesuvio Cafe, a go-to spot for Jack Kerouac and Allen Ginsberg back in the day, Specs' Twelve Adler Museum Cafe, a bar with cheap drinks that is also part museum with things like historic mugshots, postcards from around the world, and even a whale penis bone, and The Devil's Acre, a cocktail "apothecary" with cocktails to cure everything that ails you.
As far as dinner goes, you need to do Italian at least once. Fior d'Italia serves mounds of pasta and has an authentic Italian vibe. Sotto Mare is the best combo of Italian and seafood you'll find in SF and has always-fresh oysters, as well as a killer cioppino. A more casual, but just as fun option (that is not Italian) is Red Window, a Spanish tapas spot with outdoor seating and creative low ABV cocktails, including several that arrive via a tableside bar cart. North Beach is adjacent to Chinatown, which has some excellent Chinese restaurants including Empress by Boon, which serves upscale Cantonese cuisine in a stunning space, and Z & Y Restaurant, where you'll find award-winning Chinese dishes.
SoMa
SoMa (South of Market) is a more recently developed area that used to be home to warehouses, but is now where you'll find lots of SF's tech companies, some great museums, and Oracle Park, where the San Francisco Giants play ball.
Where to stay: There's a Marriott and InterContinental in SoMa, but those are for the tech-centric conference-goers. Instead, try The Palace Hotel, which is technically a Marriott, but not like a Marriott at all in that it's a hotel and a history lesson all wrapped up in one. It's over 100 years old, completely decadent, and, fun fact, it's where green goddess dressing was invented. Hotel Zelos is much more modern (not that hard when you're comparing it to a hotel built in the early 1900s) and also has a rooftop bar, which is always a good thing.
Breakfast and lunch: Dottie's True Blue Cafe is a favorite with locals who don't mind waiting in line for heaping plates of American breakfast food, including homemade baked goods. (The grilled chili-cheddar cornbread with jalapeno jelly is life-changing). Zero Zero serves up wood-fired thin crust pizzas that are perfect to share and also has stellar cocktails in case drinking at lunch is a thing you're looking to do. Don't skip dessert—the soft serve ice cream is heaven. If you're a sandwich fanatic, then a visit to the Deli Board is a must. There you will find massive sandwiches with a creative flair.
Do: SoMa has some of SF's best art museums. See contemporary art at SFMOMA, one of the largest modern art museums in the world. Celebrate the global impact of pan-African cultures at the Museum of African Diaspora (MOAD). Learn about the range and diversity of Jewish experiences at the Contemporary Jewish Museum. And, just a few blocks north of the SoMa boundary, take in one of the finest collections of Asian art in the world at the Asian Art Museum.
After museum hopping, catch a Giants game at Oracle Stadium (dress warmly if you go to a night game, it gets very cold, especially in the middle of summer, and definitely get the Crazy Crab'z sandwich—two toasty, butter sourdough bread slices and a load of crab. It's not quite SoMa, but just a hop, skip, and Uber or short walk away in Mission Bay, you can play miniature golf on a course that's all about California history at Stagecoach Greens, snack on food from around the world (and enjoy adult beverages) at Spark Social SF, a food truck park and beer garden, and catch a Golden State Warriors game at the Chase Center.
Dinner/drinks: A meal at 1601 Bar & Kitchen, an under-the-radar, contemporary Sri Lankan restaurant is a meal you will never forget (especially the egg hopper). The restaurant is a bit off of the beaten path, but is worth the mini trek. You'll find flavorful Moroccan fare at Mourad, a gorgeous Michelin-starred restaurant with food and cocktails to match. A low-key option is Cellarmaker Brewing Company, home to local beer and non-local, Detroit-style pizza. Settle in for a glass or three of wine (or whiskey) at District, a wine bar and lounge close to the ballpark, and end the night at Bloodhound, where you can play pool while sipping on cocktails in a hunting lodge-inspired setting.
Sign up here for our daily San Francisco email and be the first to get all the food/drink/fun SF has to offer.
Daisy Barringer is a freelance writer who grew up in San Francisco and has spent her life exploring all of these neighborhoods. If you're hanging around Cole Valley, you might spot here with her 150-pound Saint Bernard. Follow her on Instagram @daisysf to see where she's eating and drinking.