When, Where, and How to See Wildflower Fields Near San Francisco
Hike through these wildflower fields near San Francisco bursting with blooms.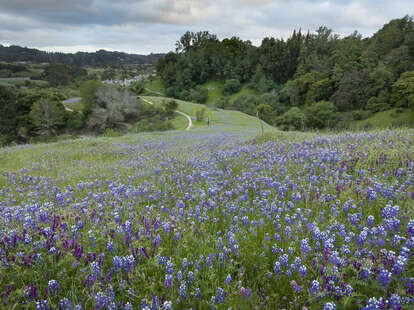 Photo by Paul Zaretsky, courtesy of Visit Santa Cruz
The saying usually goes, April showers bring May flowers, but in California — which just experienced one of the rainiest months of March on record — the super bloom is already here.
Since California is enormous and its geography is exceptionally diverse, there are a variety of flowers dusting the hillsides with their colorful beauty. Common types of flora include the bright yellow tones of mustard plants and the golden glow of California's state flower, the California Poppy. On the coast you'll find purple-hued ice plants, white lilies, daffodils, and daisies, among dozens of other vibrant blossoms.
But before you get out and explore the best wildflower fields near San Francisco, remember to be respectful of the flowers and their natural habitats. Follow "leave no trace" principles and be cautious not to trample the blooms in their home. Take photos without disturbing the plants, and never pick them –no matter how pretty they are!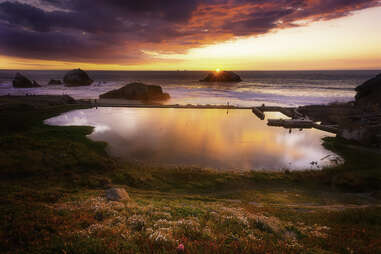 San Francisco County
Drive to the top of Twin Peaks –which already offers some of the most gorgeous views of the SF skyline –to look for California buttercups, California coastal poppies, and California lilacs. For those who want to get more active, trek on foot along the Bay Area Ridge Trail from Portola Avenue to the Golden Gate Bridge or try the The Lands End Trail for blooms among the historic Sutro Baths and glimpses of the Golden Gate Bridge in the distance. Finally, the Batteries to Bluffs Trail, which hugs the western coastline and borders the majestic cliffs above the Pacific, offers stunning views and vibrant spring colors.
Marin County
At Chimney Rock, located at the easternmost point of the Point Reyes Headlands, you'll have the unique opportunity to see northern elephant seals and migrating whales, as well as wildflowers. To reach the furthest point out at the end of the trail, it's an easy, flat, 1.9-mile out-and-back trek that's well worth the effort. Another must-see spot is Mount Tamalpais State Park, where the diverse geography grows a wide variety of bursting wildflowers including lupines, California poppies, and more. To get a workout in, trek out on the Dipsea Trail — one of the region's most famous pathways due to the iconic Dipsea Race, the oldest trail run in America. The Tomales Point Trail, a 9.4-mile hike that leads visitors through the Tule Elk Reserve and along the National Seashore offers sweeping sights of the Ocean, Tomales Bay, and lots of historic farm land — all overflowing with flowers.
Santa Cruz County
Along the coast of Santa Cruz County, wildflower seekers will be treated to sights of Gold Fields, Beach Strawberries, California Poppies, Blue-Eyed Grass Lindley-Varied Lupine, California Buttercups, Sun Cups, Seaside Daisy, Wallflower, Phacelia and Douglas Iris among other scenic blooms. Visit Big Basin Redwoods State Park to see Ceanothus, Star Flowers, and Redwood Violets. This park hosts an annual Wildflower Weekend in May, showcasing the 80 local plants in bloom on botanist-led wildflower walks (be sure to sign up for hiking slots –they fill up quickly). At the Glenwood Preserve Open Space in Scotts Valley, the trails are overflowing with lupine, vetch, and owl's clover blooms. For those who'd rather drive than explore on foot, there are some beautiful urban wildflower viewing opportunities on the ocean side of East Cliff Drive in Pleasure Point, or on West Cliff Drive in Santa Cruz.
Sonoma County
The road from SF to Sonoma is surrounded by fields of yellow and white running between the vineyards and overtaking the local hills. Sonoma County Regional Parks offers great guided spring wildflower walks, and for those who want to explore on their own, there's a nifty downloadable wildflower guide with flowers organized by color and peak timing. Visit Jack London State Historic Park for an easy trek to admire the blooms, or check out Crane Creek Regional Park, which is known for its abundance of poppies. There's also the 160-acre Van Hoosear Wildflower Preserve, where there are multiple types of flora in full bloom and the chance to sign up for a guided walk. (In fact, Sonoma offers tons of opportunities to embark on a wildflower walk across the county — see them all here.) Those who are into wine and wildflowers, will love the free, self-guided vineyard walks at the St. Francis Winery & Vineyards, Balletto Vineyards, and Francis Ford Coppola Winery.
Modesto
In Modesto, about a 90-minute drive inland from San Francisco, visit The Knights Ferry Recreation Area to trek along the Stanislaus River Trail From Knights Ferry and be sure to hike beyond the covered bridge to experience maximum flower viewing opportunities. A more urban spot to see wildflowers and California Poppies is along the Virginia Corridor Trailway, a gentle and flat paved trail which runs along the route of what used to be the old Tidewater Southern Railway line. By car, cruise from Knights Ferry to Roberts Ferry by taking Willms Road to Crabtree Road (mapped here) for a backroads exploration of the colorful hillsides — but be aware this is a windy drive with limited cell reception that's best explored in a car that can handle the one lane roads and rougher terrain.