Courtesy of Pacific Science Center and Seattle Met
Maybe it's out of comfort, convenience, or a combination of both, but whether you're a longtime local or new transplant to Seattle, it's easy to fall into routines during the holiday season. But your social calendar needn't be as predictable as the grey skies, packed parking lots, and proclivity for the indoors in Seattle this time of year. We did the legwork so that now you have no excuse not to shake things up and re-invigorate your holiday season with these 10 inspiring alternatives to tried-and-true Seattle traditions.
Instead of: Displaying a sad fake tree
Now until the trees sell out
It's hard to think of what could be more Pacific Northwest than cutting down your own Christmas tree. So skip the plastic tree this year, hop in the car, and make your way to Carnation Tree Farm (located about 25 miles east of Seattle) to take things into your own hands. Not only will you get the experience of cutting down your own tree, but the scent of pine filling your living room is truly the gift that will keep on giving all season. There are 16 acres of trees for you to choose from, including Douglas & Fraser Firs and Norway & Blue Spruces, as well as wreaths, holly, mistletoe, and cedar garlands available for purchase. Pop by on a weekend for holiday activities like photos with Santa, bake sales, and complimentary hot cider that can warm your hands as you wander through rows of trees.
Drink artisanal aged eggnog (or make your own)
Instead of: Drinking store-bought eggnog
Ongoing
Don't you dare go another year without trying the eggnog at Sol Liquor Lounge. As it has for the past 13 years, the Summit Avenue bar will be serving its hugely popular aged eggnog by the glass starting around Christmastime. For those that can't make it to the bar during that limited window, their sister brand Sun Liquor Distillery is selling bottles of a holiday spirit blend -- made of barrel-aged bourbon, American single malt whiskey, aged rum, and apple brandy -- at Met Market locations throughout the city, which you can pour into eggnog at home to make your own version of the festive, boozy drink. For even more aged eggnog, you can also find it at Ballard restaurant Brimmer & Heeltap, which has been aging its batch since the end of the summer. They'll even host an eggnog pop-up with holiday carolers on December 5 -- stop by soon as supplies are limited.
Instead of: Participating in Santacon
December 6-7
Avoid the throngs of rowdy Santas swarming all your usual haunts by sampling everything from piney IPAs to gingerbread-y stouts at the Winter Beer Fest at Hangar 30 in Magnuson Park. The annual two-day event will feature offerings from over 50 local breweries plus food truck vendors; choose from three sessions -- Friday night, Saturday afternoon, and Saturday night. A $35 advance ticket (or $40 at the door) includes eight 5-ounce tastings to bring about the holiday cheer… all without getting mobbed by Santa's alter egos.
Do some hyper-local gift shopping on Ballard Way
Instead of: Shopping at Northgate/Southcenter/Bellevue Square
Ongoing
Whether you're shopping for an audiophile (Bop Street Records has got you covered) or a lover of vintage (Lucky Vintage and Trove Vintage Boutique are great go-tos), Ballard is the perfect neighborhood to embark on your Christmas shopping. Its lively thoroughfare is chock full of unique, Pacific Northwest shops including Lucca for your offbeat and quirky sibling, Filson for the rugged outdoors-y type in your life, and Prism and Gold Dogs for your super-stylish friend. Plus, there are plenty of bars, cafes, and restaurants around offering holiday-inspired cocktails to liven the mood and keep you warm as you cruise the historic neighborhood.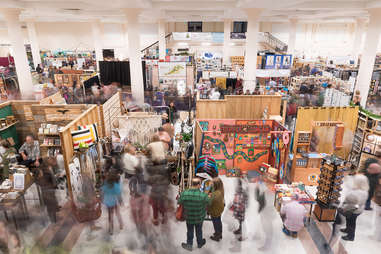 Instead of: Hitting the big-box stores
December 7-8
There's a time and a place for grabbing the cheapest ornaments you can find, but to truly get in the holiday spirit, nothing beats supporting local artists. Now in its 15th year, Seattle's biggest indie craft event, Urban Craft Uprising's winter show, is the place to go for one-of-a-kind items that will light up your home for years to come. Ooh and ahh at trinkets, tschotskes, and bric-a-brac galore that can adorn your apartment, house, or tree with some good old-fashioned holiday flair, from adorable ceramics, to winter-inspired candles, to decorative ornaments. Admission to the Seattle Center Exhibition Hall is free on Friday and Saturday, or if you want first dibs at this year's vendors, you can purchase tickets to Friday's preview event.
Instead of: Shelling out $50 for a dog photo with Santa at Paws 'N' Claus at Enchant
Tuesday, December 10
Skip shivering in a long line for doggie photos with Santa and hit the 5th Annual Howlidays in the Square to put a little cheer into your daily routine with Fido. After all, nothing will get you quite in the holiday spirit like poofy pomeranians donning their Christmas finery. At this day-long event in Pioneer Quare's Occidental Square, take advantage of the pop-up dog park and catch an eyeful of cuteness at the doggy costume parade. Barket Market will also be open and selling canine stocking stuffers and other goodies for your very good boy (or girl). Oh, and the best part is it's all free.
Instead of: The prim-and-proper Pacific Northwest Ballet rendition of The Nutcracker
December 12-29
Land of the Sweets is ballet meets burlesque meet vaudeville, all in one incredibly irreverent package. Since 2006, Verlaine & McCann's Burlesque Nutcracker dancers and musicians have been spicing up the timeless Tchaikovsky classic with this saucy version at The Triple Door. Pricing and showtimes vary by day, as does the time the venue opens prior to showtime for dinner service. Yes, Triple Door serves food and cocktails from their adjacent sister restaurant, Wild Ginger, so you can enjoy a steamy plate of Shu Mai dumplings or Mongolian triple chops while you watch the bawdy Sugar Plum Fairy.
Hit the mountains for a fresh adventure
Instead of: Fighting though traffic and parking to skate at Winterfest Ice Rink in the city
Ongoing
About 1.5 hours east of Seattle, those really ready to commit to winter are rewarded handsomely at Suncadia Resort. Their outdoor ice rink is open Friday to Sunday (skate rentals provided), but that's only the beginning of the winter wonderland activities available to you. Hurl yourself down a snowy hill on an inner tube, go on a sleigh ride pulled by a Percheron horse, or take a guided snowmobile tour to explore the pristine backcountry scenery.
Instead of: A typical house-bound ugly sweater party
Saturday, December 21
Round up the gang and hit the sea donning your finest ugly sweater at a holiday party for the books. A $62 ticket includes a 2.5 hour cruise around Lake Union and Lake Washington, one drink ticket (more are available to purchase), small bites and sweets, a live DJ, plus sweeping views of the city at night. If you can gather a group of six or more, you'll get a 10% discount on the ticket price, and when it comes to the sweater, the uglier, the better -- there will be prizes.
Instead of: Stuffy, overpriced New Year's Eve parties
Tuesday, December 31
For a swanky metropolitan New Year's Eve party vibe -- without completely breaking the bank -- Spectra is the ticket. The theme of this year's PacSci event is the Roaring Twenties because congratulations, we've just about made it to 2020! With DJ Kemyst of KUBE 93.3 and DJ Native Havoc behind the turntables, you'll be groovin' away to electro-swing beats within killer view of the Space Needle and the midnight fireworks show. General admission tickets are $125 for non-members, which includes your first drink, a champagne toast at midnight, after-hours access to the exhibits, laser shows, and more. (After midnight, the real fun starts with laser karaoke.) If you spring for the VIP experience, the $225 ticket includes all your drinks, access to VIP line at the bar, an exclusive lounge, and special fireworks viewing area in the courtyard. Consider this your heads up to get your tickets soon -- Spectra sells out every year.