You could probably use a change of scenery after the year we've all had. Luckily, in a region as diverse and beautiful as the Pacific Northwest, you don't have to drive far to find yourself in new surroundings. Across Washington State, the opportunities for a little seasonal R&R—whether you're the outdoors-y type, a brewery devotee, or a beach bum simply searching for the perfect place to get a tan—are practically endless. Ahead, 10 Airbnbs appropriate for almost every type of springtime vacation you can think of.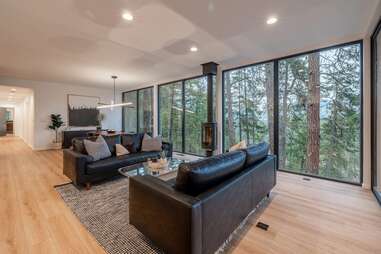 Leavenworth, Washington
1 - 6 guests, $408 per night
Distance from Seattle: ~2.5 hours
If you've ever fantasized about upgrading Grandma's cabin, consider this the result: an ultra-stylish, uber-modern cliffhanger overlooking the Wenatchee River. With a retractable wall to optimize on the duality of indoor/outdoor living, a grill for summer BBQs, and every modern amenity you could dream of, this retreat gives whole new meaning to the phrase "cabin camping."
Things to do nearby: From here, you'll be perfectly positioned to walk the historic streets of Leavenworth, which is a real-life Bavarian village, home to the likes of Icicle Brewing Company and München Haus.
Stevenson, Washington
1 - 2 guests, $235 per night
Distance from Seattle: ~3.5 hours by car
This 20-foot Octagon-shaped treehouse is built around a single Douglas fir, right on the edge of the Columbia River. Need we say more? OK, we will: the house, which sleeps 1-2 people, is the ideal romantic getaway (or solo retreat). Fall asleep on the lofted queen bed and wake up in the clouds.
Things to do nearby: Spend an afternoon at the Carson Hot Springs, then grab a pint at nearby Walking Man Brewing in Stevenson (a mere mile from the treehouse).
Ashford, Washington
1 - 2 guests, $179 per night
Distance from Seattle: ~2 hours by car
If you've ever dreamt of waking up and strolling over to Mt. Rainier after your morning coffee, this one's for you. This little a-frame cabin, tucked away in the woods, was built in 1956 and remodeled in 2016. Thus, it has just the right combination of old school charm and new school modernity for the perfect weekend away.
Things to do nearby: If you're the hiking type, don't miss Paradise, a flower-filled meadow with stunning views of Mt. Rainier National Park.
Sequim, Washington
1 - 12 guests, $256 per night
Distance from Seattle: ~2.5 hours by car
Themed, medieval, and possibly haunted, this lavender castle is precisely as unique as it sounds. Make the drive over to Sequim for a very themed weekend getaway that will "make your fairytale dreams come true."
Things to do nearby: Take a stroll down the Olympic Discovery Trail, grab coffee at Adagio Bean & Leaf, or do the 15-minute walk to downtown Sequim for even more exploring.
Whidbey Island
1 - 4 guests, $104 per night
Distance from Seattle: ~1.5 hours by car
Whidbey Island is barely an hour outside of Seattle, but this forest yurt feels worlds away. Ideal for the reader who likes to: dabble in glamping, sleep surrounded by nature, and is impressed by a 24-acre organic farmstead (who isn't?).
Things to do nearby: Though this yurt is definitely a retreat from city living, it's actually only a 5-minute drive to downtown Langley, one of the island's cutest coastal towns. Do a little sight-seeing at this "village by the sea," then head to the beach at Seawall Park.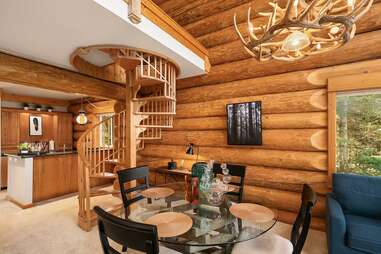 Snoqualmie Pass, Washington
1 - 2 guests,$149 per night
Distance from Seattle: ~1.5 hours by car
This little studio cabin has all the perks of a beachfront property, smack dab in the middle of Central Washington wilderness. Relax on your private patio overlooking the river, cozy up near the fire pit at night, and enjoy all of the 1950s charm this vintage getaway has to offer.
Things to do nearby: Lace up your hiking boots and spend the day in the Alpine Lakes Wilderness Area, a stunning 394,000-acre region spanning the Central Cascades.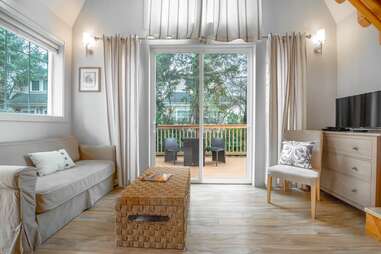 Ocean Shores, Washington
1 - 4 guests, $102 per night
Distance from Seattle: ~2.5 hours
Imagine long walks on the beach accompanied by drinks with an ocean view. This could be anyone's fantasy, but it's your for the taking: just book this Ocean Shores cottage and, voila! Paradise.
Things to do nearby: Work up an appetite with a nature walk at the Oyhut Wildlife Recreation Area (a self-proclaimed birder's paradise), then grab some grub at Bennett's Fish Shack.
Port Angeles, Washington
1 - 3 guests, $240 per night
Distance from Seattle: ~2.5 hours
Another treehouse, you ask? Yes reader, and here's why: This cedar retreat, which sores 20 feet above ground and overlooks the Strait of Juan De Fuca, is not to be missed. Watch the sunset with a bird's eye view and cozy up for a weekend of idyllic R&R.
Things to do nearby: You'll need a car at this Airbnb, which is about 10 miles away from the nearby town of Port Angeles. In town, while away the afternoon with a walk around the historic downtown area. Otherwise, if you're up for a longer drive, Olympic National Park is only an hour away.