It's the dead of winter here in Seattle, and, as you probably already know, that also means it's peak ski season. That's right: The snowpack is deep, the forecast is (sometimes) clear, and the groomers are calling your name. But where does one start, when one is—as all Pacific Northwesterners are—spoiled for choice? Ahead, the 11 best ski resorts near Seattle, all within a short (or short-ish) drive of the Emerald City.
Naches, WA
Distance from Seattle: 146 miles; 3 hours
White Pass is a good destination for both beginners and experts alike; whatever your skill level, you'll want to soak up the stunning views of Mt. Rainier, because the park is just 12 miles away. There's also a mid-mountain lodge called The High Camp, and lodging at the White Pass Village Inn, which is as cute as the name suggests. Grab your lift ticket here, and check their snow report here.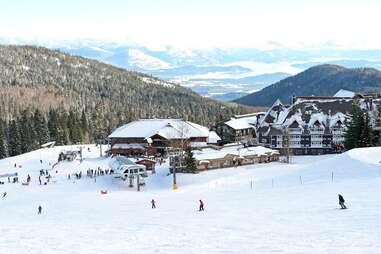 Sandpoint, ID
Distance from Seattle: 6 hours
Schweitzer is both Idaho's largest ski resort and one of the most family-friendly resorts in the PNW. Thus, we can't recommend it enough. With 2,900 acres to its name, it's worth the six-hour drive from Seattle (or, if you prefer flying, the 80-mile drive from the Spokane airport). Schweitzer is on the Ikon Pass, which you might already have if you ski regularly at Crystal and/or Snoqualmie—if not, grab a lift ticket here. It also has a number of lodging options, restaurants, and winter activities, like tubing, Nordic skiing, scenic lift rides, and more.
Mead, WA
Distance from Seattle: 312 miles; 5 hours
Nestled inside Mount Spokane State Park is Mt. Spokane Ski & Snowboard Camp, which opened for skiing season on December 17. Like almost every other mountain, season passes are sold out; however, you can grab a lift ticket here, which will set you back $54 on weekdays or $70 on weekends and holidays. Lastly, if you're into night skiing, go ahead and snag a night ski ticket for only $32.
Snoqualmie Pass, WA
Distance from Seattle: 52 miles; 50 minutes
Summit at Snoqualmie is so close to Seattle you can practically see it from your backyard (depending on where you live, of course). At this point, all variations of the season pass are sold out for the season, so if you want to visit, you'll have to purchase a lift ticket (prices range but those start at $38 for beginners and can only be purchased online).
Unfortunately, this season has been pretty up and down for Snoqualmie, with the pass getting shut down from time to time and frequent power outages that sometimes last days. Thus, it's super important to check conditions before you go.
Enumclaw, WA
Distance from Seattle: 83 miles; 1 hour, 45 minutes
Crystal is a favorite among locals, fairly close to the city, and does not disappoint in terms of impressive slopes. It's so popular, in fact, that parking reservations for weekends and holidays had to be instituted this year after a rocky start to the season; get yours here. There's also a shuttle that leaves from Enumclaw—it's free and does not require a reservation.
Other things to note: You can rent ski and snowboard equipment online, buy tickets and passes, check out their daily mountain report, and watch a live stream of what's going on at the slopes via their webcams.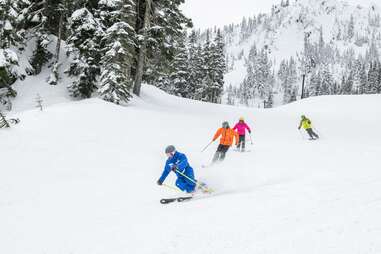 Skykomish, WA
Distance from Seattle: 82 miles; 1 hour, 40 minutes
Another excellent option that's relatively close to the city? Stevens Pass, the ski resort right near Leavenworth, aka, Washington State's very own Bavarian village. Spend the day skiing on one of 49 trails, then stay overnight in town for an incredibly quaint (and, obviously, historic) weekend. Season passes are sold out, so if you're visiting (and don't have an Epic Pass), you'll have to buy a lift ticket.
Deming, WA
Distance from Seattle: 133 miles; 2 hours, 35 minutes
Ten miles south of the US-Canadian border sits Mt. Baker Ski Area, a 38-trail park with views of North Cascades National Park. The ski area is open for the season, but, unfortunately, season passes are no longer available, so you'll have to get a lift ticket (which can only be purchased on-site). Sign up here for email alerts, and check the daily snow report here.
Wenatchee, WA
Distance from Seattle: 161 miles; 3 hours
Mission Ridge opened for day skiing on November 26 and operates seven days a week, typically until mid-April. Check out their pass and ticket options here; if you don't have your own gear, daily rentals are available, too. Lastly, take a look at their trail map before you go or just see what strikes your fancy—with 36 ski runs and 2,000 skiable acres, you'll be spoiled for choice.
Dayton, WA
Distance from Seattle: 291 miles; 5 hours
Bluewood is a bit of a drive from Seattle, and that's because it's in the southeastern corner of the state, on the doorstep of both Oregon and Idaho. This is a family-friendly park, with a good mix of easy-medium-difficult runs and dry, powdery snow. For a full list of lift ticket prices, check here; unfortunately, season pass sales ended on October 31, 2021. Notably, Bluewood operates in partnership with some other ski resorts on this list—like White Pass and Mission Ridge—so a season pass at one resort will grant you free or discounted lift tickets at the other participating spots too.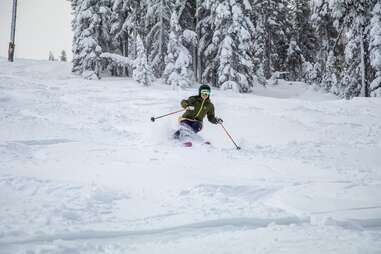 Chewelah, WA
Distance from Seattle: 331 miles; 5 hours, 20 minutes
49° opened on December 17 of last year, and season passes are still available for purchase (get yours here). If you're not ready to commit, single day tickets can be found here. Either way, you'll want to take a look at the trail map and conditions report pre-ski; they also have a full Ski & Snowboard School, if you're interested in upping your game this season.
Government Camp, OR
Distance from Seattle: 224 miles; 4 hours
With 960 total skiable acres and the largest night ski area in the United States, Mt. Hood Skibowl is one ski park that should be on everyone's bucket list. Season pass sales are closed, but daily lift tickets are available here. Lastly, Mt. Hood is notably a little short-staffed this season—so much so that they're looking for volunteers in exchange for free lift tickets. Every four-hour shift will earn you one free lift ticket; sign up here.