This Off-the-Grid Cabin Outside Seattle Offers Unbeatable Panoramic Views
A quick hike will get you to (what feels like) the top of the world.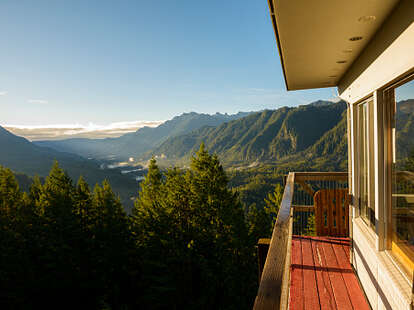 Climb the 89 steps to Heybrook Lookout just an hour outside of Seattle.

| Cavan Images/Cavan/Getty Images
Climb the 89 steps to Heybrook Lookout just an hour outside of Seattle.

| Cavan Images/Cavan/Getty Images
We all desire a quaint escape—a reprieve from blaring traffic, Slack notifications, overcrowded streets, and the other tenets of modern life. While the trials and tribulations of living in a city may make disconnecting from the chaos seem virtually impossible, there are a multitude of options, from spas and sanctuaries made for sleeping, to, unexpectedly, remote fire lookout towers.
In the Mount Baker-Snoqualmie National Forest, atop Heybrook Ridge sits Heybrook Lookout, one of the 93 remaining fire lookout towers in the state of Washington (there were formerly 600). Built in 1964, the 67-foot oasis makes you feel completely severed from society (that is, with the exception of the other visitors at the tower). While there are still many fire lookout towers today throughout the country, Heybrook Lookout remains one of the most popular due to its accessibility and its availability for renting year-round.
The trail to the lookout itself is only a slightly steep 1.3 miles, ideal for those who may not be prepared for a strenuous workout. Just make your way through the vibrant ferns and moss until you reach what will be the only infrastructure sticking out amongst the trees.
Once you get to the lookout, climb the 89 steps to the observation deck for unbeatable, panoramic views of Mount Index, Mount Persis, Skykomish River Valley, and more. Most people like to stay awhile (you didn't hike for nothing), so consider bringing a snack and lingering amidst the picturesque backdrop.
And remember, per the National Park Service's Leave No Trace philosophy, to yield to fellow hikers, respect wildlife, and always be prepared.
Drive time:
1 hour, 20 minutes from Seattle.
4 hours from Portland.
More things to do in the area:
If you're looking to extend the 2.6-mile round-trip hike, about five miles south is the Lake Serene trailhead. The alpine lake, in the Cascade Mountains, lives up to its name, with its clear blue water and bucolic landscape featuring various valleys and peaks. Sunbathe on the lake's Lunch Rock, and when you're ready, dive in. Just keep in mind, the water is pretty chilly year round.
Flowing out of Lake Serene on the same trailhead is Bridal Veil Falls, which pours directly into the South Fork Skykomish River. Climb amongst the rocks of the 1,328-foot natural wonder and feel its refreshing mist, or take a walk up the adjacent wooden staircase.
Starting in September 2023 and until August 2024, the Outdoor Adventure Center is holding whitewater rafting trips along the Skykomish River on the weekends, if you're looking for a more organized but still adventurous time.
Where to stay near Heybrook Lookout:
Above the observation deck of Heybrook Lookout is a backcountry cabin, which visitors can book for two consecutive nights at a time from May to November. The lookout cabin is the closest you can get to being off the grid within an hour of Seattle – it's stocked with only a propane stove to cook with and a primitive vault toilet several hundred feet down the Heybrook Ridge. It accommodates up to four people, and you have to supply your own water, as well as toilet paper, flashlights, first aid kits, and more. Because of the firehouse's one-of-a-kind views, it typically books up to six months in advance.
If you're unable to lock down the coveted spot but still want to stay in the area, there is the idyllic and recently restored Bush House Inn. The 125-year-old historic inn is located in Index, Washington, the nearest town to the Heybrook Lookout trail. While it's no remote fire tower, the inn's welcoming vibe and relaxing atmosphere are just as lovely.
Where to eat near Heybrook Lookout:
The Bush House Inn is home to North Fork Kitchen, a rustic New American restaurant led by chef Fabian Arana. The woodsy eatery, popular amongst locals and visitors, serves a variety of dishes, from housemade Beetroot Hummus to Coq Au Rhum with orange blossom rice.
Before heading out, make a stop at Espresso Chalet, a roadside coffee spot with a view nearly as jaw-dropping as the fire tower. You'll know you've made it when you see the giant Sasquatch statue named Harry. Grab a Blue Angel Mocha (Ghirardelli White Chocolate and Monin Blueberry) and a couple of their famous Bigfoot cookies.
Kelsey Allen is an Associate Editor on the local team at Thrillist.