Perfect Winter Road Trips for When You Need to Escape Seattle
From cozy towns to neighboring cities, there are plenty of good reasons to take a quick break from Seattle.
Diablo Lake

| Roman Khomlyak/Shutterstock
Diablo Lake

| Roman Khomlyak/Shutterstock
Road trips have long been associated with summer, and we get it—the sun is out, the weather is excellent, and if for some reason you're bold enough to own a convertible in Washington State, you finally get to take your car out of the garage, sans top. We'd be remiss, however, to limit the road trip to just one season alone. And now that we find ourselves in the dead of winter, bored, cold, and yearning for a change of scenery, what better time to hit the road?
The long and the short of it is that you truly can't go wrong at any of the scenic road trip destinations in Washington below, all within a few hours of Seattle. And, as the pandemic continues to drag on, it probably goes without saying at this point: Don't forget your mask.
Edison, Washington
Distance from Seattle: One hour, 15 minutes
Edison is the closest destination on this list, and probably the smallest-slash-cutest one too. But a quick morning jaunt up i-5 can (happily) be transformed into an entire day's rendezvous. On the tiny main street, aka Cains Court, start your day with a coffee from Tweets Bakery (which also happens to make the best chocolate cake in town). Next, grab lunch at Mariposa Taqueria, which recently reopened after a car crash forced their kitchen to close for a remodel (long story). Pop in shops like Hedgerow and The Lucky Dumpster for some post-lunch browsing, then make sure to grab shortbread to-go from Breadfarm, another excellent bakery in Edison. Oh, and beer lovers can't come to town without a trip to Terramar Brewstillery, which serves up beer (duh), cider, and a selection of spirits.
Lastly, if that's not enough booze for you, feel free to stop by Garden Path Fermentation on the way home, which is only a 10-minute drive from town and carries some of the best beer, cider, mead, and wine in the region.
Olympic National Park
Distance from Seattle: Two hours, 45 minutes
While we continue to weather the ongoing storm that is COVID-19, Olympic National Park has almost completely reopened, with the exception of Shi Shi Beach. Camping season is basically over, but if you're willing to brave the cold, Graves Creek, Heart O' the Hills, Kalaloch, Mora, North Fork, and Queets are still open (check the full list of campsites here).
Notably, there are no roads that cross through the park, so keep that in mind when you're planning your trip, and wear your hiking boots. You can consult the park's mileage chart to check distances between certain landmarks (most can be reached by Highway 101, which wraps around the Olympic Peninsula). Weather permitting, you should be able to spot some marine wildlife at Kalaloch or Ruby Beach, or take a scenic hike on the Peabody Creek Trail, which starts right at the Park Visitor Center (check out the map here).
Bellingham, Washington
Distance from Seattle: One hour, 30 minutes
Bellingham is sort of a no-brainer when it comes to Washington State road trips: From Seattle, it's a straight shot up the 5, and once you get there, you'll have a laundry list of things to see and do. For starters, kick off the day with a visit to Mount Bakery Cafe, which is open seven days a week in downtown Bellingham (if you want to sit indoors, you'll have to show proof of vaccination). After that, take some time to stroll around the nearby shops, or take a hike in Maritime Heritage Park, which has a number of trails and is mere blocks from the cafe.
Next, it wouldn't be right to visit Bellingham without experiencing its Historic Fairhaven District, which dates back to 1883 and is full of exactly the kind of charming shops, breweries, and restaurants you'd expect (like Stones Throw Brewery and Village Books). If you're up for more hiking, you may also want to make the drive to Larrabee State Park, then end the day with a sunset ride on Chuckanut Drive, a 24-mile scenic highway that never fails to deliver stunning views of the San Juan Islands and Samish Bay.
San Juan Island, Washington
Distance from Seattle: Three hours, 20 minutes
San Juan Island is home to one of the largest lavender farms in the country, which also means, come summertime, it's probably the best smelling destination on our list. And though there's not much to see on the farm during the winter, you can still visit the Pelindaba Farm Gift Shop in Friday Harbor, which is open year round. Westcott Bay Shellfish Company is also open (we suggest making reservations if you're hoping to eat lunch at The Net Shed Kitchen), as are the San Juan Islands Museum of Art, the Whale Museum (starting January 16), San Juan Island Brewing Co., and Krystal Acres Alpaca Farm.
Once you decide to take a trip out to the island, you might want to book a whale-watching tour ahead of time; the same goes for your ferry reservations (you can do so here). And don't forget to eat a meal (or at least take in the view) at Friday Harbor—the historic seaport right next door to the ferry landing. If you're looking for a rec, try Blue Water Bar & Grill for excellent views of the harbor from your dinner table.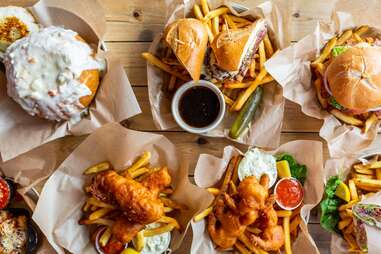 Westport, Washington
Distance from Seattle: Two hours, 20 minutes
Just south of Olympic National Park and perched on the very tippy-top of the south peninsula at the entrance to Grays Harbor is Westport, Washington. Westport is a small, quaint fishing town (with a population of just over 2,000), and it's got all the subsequent trappings: a scenic boardwalk overlooking the harbor (you can fish here or just watch the professionals at the marina), beautiful beaches (don't miss Westport Light State Park), and plenty of shops and restaurants. There's also a 2.2 mile dune trail that leads to the Grays Harbor Lighthouse as part of the Westport Maritime Museum's History Trail.
If you're hungry, check out these spots for some good beach-friendly takeout: Aloha Alabama BBQ & Bakery (probably the best Southern-style smoked meats in the PNW) or Bennett's Fish Shack (open for dine-in, too). Blackbeard's Brewing is also open, and has a great beer garden in which to while away the afternoon—pop by for a limited menu that features fried pickles, hand-tossed pizzas, and more.
Diablo Lake, Washington
Distance from Seattle: Two hours, 30 minutes
You know those picturesque photos people post on Instagram of crystal clear turquoise water and mountain views? Diablo Lake is the ideal Washington state destination to experience one for yourself IRL. Heads up: Most campsites are closed now for the season, so you probably want to make this a day trip. That said, top of your list should be the lake's namesake trail up to the Diablo Lake Vista Point; it's a must-see for the milelong views you'll get in every direction. There's also plenty of other trails in the area if you're up for extra exercise: the Ross Dam Trail, Pyramid Lake Trail, and Thunder Knob Trail are all within five miles of the lake.
Hanford Reach National Monument
Distance from Seattle: Two hours, 45 minutes
The Hanford Reach National Monument is just as scenic as any other Washington state destination, but not in the way you might expect; contrary to the 'Evergreen State' nickname, the climate here is dry, hot, and made up mostly of grasslands and desert. If you venture out in the evening, take a walk on the White Bluffs Trail; you'll get an epic sunset over the sand dunes on the Columbia River for a particularly stunning happy hour. You might spot a bald eagle or some red winged blackbirds in the marsh areas; once you're in the sands, look out for lizards and other small critters.
The Hanford Reach National Monument is unique for another reason that has nothing to do with its ecosystem: It was created out of the buffer zone surrounding an old nuclear testing site. Arguments over what to do with the land ended with it being federally protected by President Clinton in 2000. And while the Manhattan Project B Reactor National Historic Landmark is incredibly interesting -- and free! -- you'll have to come back another time to visit. It's unfortunately closed because of COVID-19.
Find an Airbnb near Hanford Ranch National Monument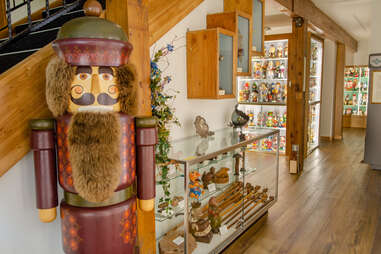 Leavenworth, Washington
Distance from Seattle: Two hours, 20 minutes
Tucked away in the Cascade Mountains is Washington state's very own bonafide Bavarian village: Leavenworth. An easy stopover for skiers going into the mountains, you don't need to be into winter sports in order to have a good time here; on the contrary, you'll find you can stay busy all day wandering through the Alpine-style buildings, sipping German beer, and snacking on food from Front Street. For some local (and centuries-old) flavor, visit the Leavenworth Nutcracker Museum—and don't forget to do a little shopping at their ultra quaint "Gift Shoppe".
Leavenworth is home to many festivals throughout the year, but Oktoberfest is probably its most famous (and worth marking your calendar for now, though it's many months away). Otherwise, permanent hints of Oktoberfest are around every corner: Just take a walk down Front Street and the surrounding side streets, where you can grab an authentically German bite from Andreas Keller Restaurant or the Leavenworth Sausage Garten.
For an experience a little more off the beaten path, check out Waterfront Park or Tumwater Canyon (the Tumwater Pipeline Trail is beautiful pretty much any time of the year).
Whidbey Island, Washington
Distance from Seattle: One hour, 15 minutes
Whidbey Island is so close to Seattle, and yet worlds away from urban living; a blissful departure from the city complete with beaches, rolling hills, and ample farmland. Once you're there, stop by Ebey's Landing in Coupeville for the seaside historical reserve or Double Bluff Beach in Freeland, where you're likely to spot Mt. Rainier on a clear day. Afterwards, visit the tasting room at Mutiny Bay Distillery for some blueberry liquor (there's a blueberry farm right next door). There's also a harborfront farm-to-table restaurant around the corner once you get hungry, appropriately named Gordon's On Blueberry Hill (by the way—they don't accept reservations, so be prepared to wait).
If you're up for a drive north, it's also worth going to the very tip of the island for Deception Pass State Park, which is shared between Whidbey and Fidalgo islands, and boasts almost 4,000 acres of ancient forest (as well as cliff top views and 38 miles of trails). Once you experience it for yourself, you won't be surprised to hear that this is Washington's most frequently visited state park. Finally, let's not forget Penn Cove mussels: Whidbey Island is famous for them, so don't leave without grabbing some to-go from Saltwater Fish House or local watering hole Toby's Tavern before you hit the road.