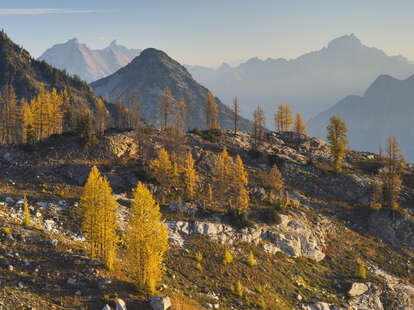 North Cascades National Park

| Alan Majchrowicz/Getty Images
North Cascades National Park

| Alan Majchrowicz/Getty Images
Every year in September, the alpine forests in Washington state transform into vivid shades of gold. During the fleeting season when late summer transitions into early fall, the deep green needles of larch trees turn yellow. Washington and the Pacific Northwest have forests full of coniferous trees like pines and evergreens. Among these coniferous trees are larches, which fall into a special class. These towering coniferous trees reach about 70 feet in height and have short pine needles and cones. Unlike other conifers, larches lose their needles every autumn and are classified accordingly as "deciduous conifers." In the weeks leading up to shedding season, the trees turn vibrant golden hues that light up forests and mountains in Washington state. Beyond the reaches of Washington, fall foliage of larches can also be found in parts of Oregon, Montana, Idaho, British Columbia, and Alberta.
Curious to catch a glimpse of these golden beauties? Both western and subalpine larches are particularly prominent in North Cascades National Park. They can also be found in the Central Cascades and in Mount Rainier National Park. As soon as larch season hits—typically around mid-to-late September—outdoor fanatics and hiking enthusiasts flock to the mountains to experience the larches in all of their golden glory, also known as the "larch march." Larch season is short but sweet, extending through about early-to-mid October. Lace up your hiking boots and get ready to experience these brilliant yellow-gold trees on some phenomenal trails.
Where to See Larch Trees Near Seattle
North Cascades National Park
Located about a three-hour drive east from Seattle along the incredibly picturesque North Cascades Scenic Byway, North Cascades National Park is home to some of the best trails for larch viewing. The trails vary from moderate to challenging, falling anywhere between about five to 10 miles. Heather-Maple Pass, Cutthroat Pass, Lake Ingalls, and Blue Lake are among the best hikes to experience the splendor of the golden larches. The yellow-pined trees line ridges of mountains against a backdrop of dramatic, snowy peaks in the Cascade Range and surround the blue waters of alpine lakes on some trails.
Drive time from Seattle: about three hours
Central Cascades
The Central Cascades are another prime area for larch viewing, about two-and-a-half hours' drive from Seattle. While the area doesn't have quite as many golden hikes as the North Cascades, some of Washington's favorites hikes are in this area, namely Colchuck Lake. And if you're feeling up for an incredibly long and challenging day of hiking— (we're talking hitting the trails around 5 or 6am early)— the through hike of The Enchantments is an absolute stunner. Beyond larch-filled meadows, you'll scramble up boulders, gaze at granite peaks, and take rest by vivid, icy blue lakes. Carne Mountain is another hike in the area that attracts fewer crowds than the others.
Drive time: two hours and 30 minutes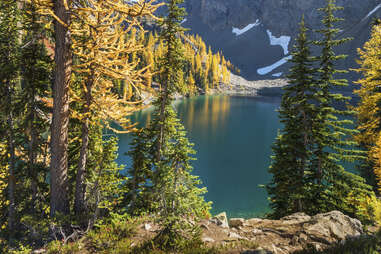 Mount Rainier National Park
Mount Rainier National Park is southwest of Seattle, about a two-to-two-and-a-half-hour drive from the city depending on which section of the park you're visiting. While the North and Central Cascades may get most of the buzz for larches, parts of the wilderness around Mount Rainier are still ablaze with golden pines in the early weeks of autumn. Naches Peak Loop and Goat Peak are sure to wow you with their golden forests. And the bonus? The meadows of huckleberry bushes turn fiery shades of orange and red, making for a vibrant display of fall foliage against the backdrop of the sloped glaciers of Rainier.
Drive time: about two hours
Seattle
While the most spectacular displays are in the remote reaches of the mountains and national parks, if you're short on time or not up for a more extended hike, you can still experience larch season in the city of Seattle. Spots like Washington Park Arboretum, Ravenna Park, and Woodland Park have larches and make for a perfect morning or afternoon stroll through the yellow-gold pines.
Drive time: five to 15 minutes
Alicia Erickson is a Seattle-based contributor for Thrillist.