Everyone knows that Seattle has unparalleled summers (or at least they should!), but you may not know the best place to spend The Town's surprisingly hot and sunny season is actually in your car... driving someplace other than Seattle. And before you bemoan me as a heretic, think about it: unlike everyplace else in Seattle, your car has air conditioning, and wheels and an engine... which can be used in conjunction with one another to take you on a road trip to one of the cool (both literally and figuratively) locations listed below. You can thank us later.
Recommended Video
This Chinese Festival Is Like 'Frozen' Come to Life
Cannon Beach, OR
Distance from Seattle: 199 miles; 4 hour drive
You've seen this quintessential Oregon beach town before (it was in Goonies, and it's where Johnny Utah said "Vaya Con Dios" to Bohdi), but it's worth the trip if only to see to the town's most famous attraction -- Haystack Rock -- thrusting up from the waves just offshore. And that's not to mention the charming assemblage of art galleries, shops, and even a distillery, along with can't miss bars/restaurants like Cannon Beach Hardware, where in addition to two floors of actual hardware, there's an array of bar food and an excellent beer collection. Or the venerable Castaway's Restaurant & Tiki Bar, which looks like someplace Jimmy Buffett would sing about if he ever left Florida.
Westport, WA
Distance from Seattle: 130 miles; 2 hour drive
A trip to Washington's best (only?) surf destination is way more laid back than most Olympic Peninsula excursions: Ocean Shores is too crowded, and the stunning beaches up the coast are too remote, etc. Westport, meanwhile, has a little of everything you'd want on a summer road trip, from the water sports, to the razor clams you can dig out of the sand, to the seriously good seafood spots like Bennett's Fish Shack. Oh, and if that's not enough, you can stop by Kurt Cobain's childhood home, or one of America's most out of the way bars on the way home.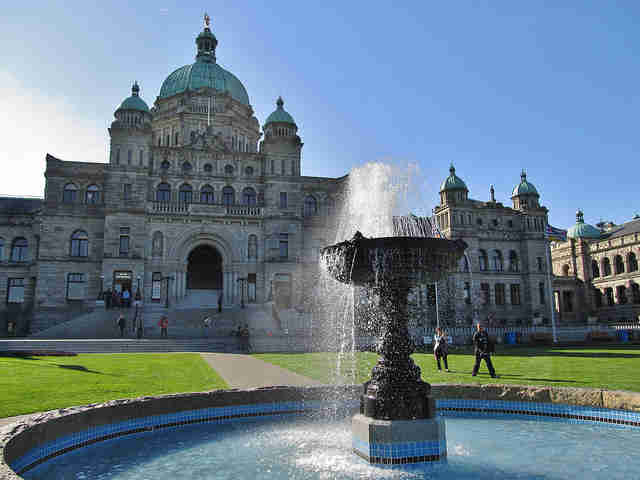 Victoria, B.C.
Distance from Seattle: 143 miles via Anacortes; 5.5 hour drive/boat ride
Technically, most of this "road" trip takes place on a boat, but the ferry ride is half the fun (pro tip: take one of the twice-daily summer sailings from Anacortes instead of heading to Port Angeles. The trip through the San Juans is spectacular). The other half of the fun is "discovering" one of the West Coast's most underrated cities: Victoria. British Columbia's provincial capital boasts an irresistible harbor where you can ride in glass bottom boats, score fish & chips from quayside seafood shacks, check out adorable tourist attractions (don't you dare miss Miniature World), and even have high tea in the stately Empress Hotel.
Langley, WA
Distance from Seattle: 131 miles by car; 2.5 hour drive
You could take the ferry from Mukilteo and get there quicker, but this is a list of road trips, so we'd advise taking the long way even if it didn't involve crossing the stunning Deception Pass Bridge (you've seen it in a ton of car commercials), and then winding your way down the wind-swept length of the second largest island in the contiguous United States, past a magnificent drive-in movie theater/go-kart track you should totally check out, to this charming artists community perched above Puget Sound. Once there wander through the quaint town's various shops and galleries (our favorite: Kalakala Mercantile), then post up at Double Bluff Brewing's purposefully ramshackle taproom for a local craft beer you probably haven't had before... at least until Langley's famed Dog House Tavern reopens, at which point all beers should be had there.
Bellingham, WA
Distance from Seattle: 89 miles; 1.5 hour drive
Maybe you've driven through this bustling college town before and thought, "Eh, that's nothing special." Big mistake. The pro-move here is to get off I-5 north of Mt. Vernon and take Washington's most scenic drive, Chuckanut, along the coast into Bellingham's Fairhaven neighborhood, which is full of shops, bars, and restaurants that are all stuffed into brick turn-of-the-century buildings. Then follow the shoreline into Bellingham's Downtown, where you'll find even more shops, bars, and restaurants including one of the state's best breweries. Oh, and if you have the time (and money), you might want to take the ferry just north of town to Lummi Island for dinner at one of the best restaurants in the state -- or on the West Coast -- The Willows Inn.
Seabrook, WA
Distance from Seattle: 138 miles; 2.5 hour drive
This planned community was created just over a decade ago with seemingly one goal in mind: for everything to be quaint as fuck. Well, the people in charge totally succeeded, as you'll see when you pedal a rented bike down main street, post up in one of the town's two restaurants (plus a bakery) eating catch-of-the-day fish & chips, or sprawl out on the town's... erm, sprawling white sand beaches.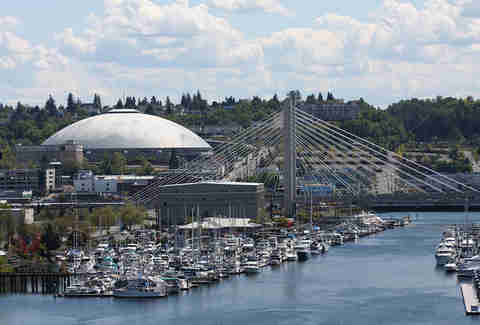 Tacoma, WA
Distance from Seattle: 34 miles; 37 minute drive
"Who put Tacoma on this list?!?!" You ask as you do a spit-take all over your morning newspaper. But wait, when's the last time you actually spent time in Seattle's much-maligned neighbor to the south? That's what we thought. And we've got news for you: Tacoma's Downtown is seriously blowing up; the whole city is packed with surprisingly good bars and restaurants, and the long drive along the waterfront to Point Defiance Zoo & Aquarium, past a strange mix of parkland, destination restaurants, and old industrial buildings makes you feel like you've left Seattle far behind. All without leaving civilization... or at least what passes for it in Tacoma. Boom! Still got it.
Hood River
Distance from Seattle: 228 miles; 3.5 hour drive
The fact that this tiny community on the banks of the mighty Columbia is one of the best small beer towns in the country should be enough to get you into your car, and then onto a bar stool at Full Sail, or Big Horse Brew Pub. But it's also surrounded by the Columbia River Gorge National Scenic Area, which means it's surrounded by waterfalls like the famed Multnomah Falls (which you should see), hiking trails (which will help you work off all that beer), and places to go kiteboarding (which you should attempt to do). And if that's not enough for you, Portland's only an hour away. And if you can't find something fun to do there this summer, you're clearly not trying hard enough.
Sign up here for our daily Seattle email and be the first to get all the food/drink/fun in town.