The 10 Most Exciting Suburbs Near Seattle
From Newcastle to Edmonds, these are the best Seattle suburbs to move to or just to visit for a quick weekend getaway.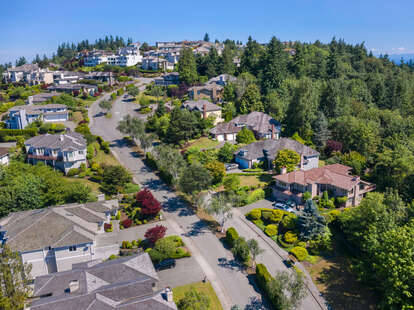 At this point in the pandemic, we've all heard about the urban exodus: Americans are leaving cities in large numbers, and suburbs are, apparently, the next hot thing. Housing is more affordable, (most) apartments come with dishwashers, and parks aren't confined by city blocks. And in Washington State, moving to the 'burbs could even mean that a waterfront property is suddenly within reach, or that a state park becomes your backyard. The new norm of remote work makes it all possible, and the ever-evolving natural landscape of the Pacific Northwest makes it all very, very appealing. That said, here are 10 suburbs you should definitely visit (and maybe move to) that are all within driving distance from the fun you're having in Seattle.
Kenmore
Distance from Seattle: 20 minutes
Kenmore is perched on the northernmost shore of Lake Washington and is a quick(ish) 12-mile bike ride from Seattle via the Burke-Gilman Trail (which also stretches to other burbs like Bothell, Woodinville, and Redmond). If you're eager for even more nature, you can also explore Saint Edward State Park, a 316-acre historic lakefront property that used to be a Catholic seminary (the building has since been transformed into an absolutely stunning 84-room lodge). For airborne sight-seeing, head over to Kenmore Air, where you can book a scenic seaplane tour of the entire region for $199 per person. Wrap up your visit with a mini brewery tour of three of Kenmore's best: Cairn Brewing, 192 Brewing Company, and Stoup Brewing Kenmore.
Kirkland
Distance from Seattle: 20 minutes
Just 12 miles east of Seattle, Kirkland is brimming with all of the things we know and love about Seattle (nature, food, wine, coffee, waterfront living, etc). In fact, this town actually has more beaches and waterfront parks than any other city in the Puget Sound. So—what to do once you get there? Definitely pay a visit to the golf-course-turned-wildlife-habitat that is Juanita Bay Park, where you can explore 110 acres of protected wetlands and waterfront. If you're game to actually go out onto the water, Northwest Paddle Surfers will rent you a kayak or paddle board. Explore the local art scene at the weekly market in Marina Park (open on Wednesdays), then have dinner al fresco at COMO (Italian), Hearth (New American), Bottle & Bull (inspired by Ernest Hemingway), or DERU (local, organic, seasonal food).
Bainbridge Island
Distance from Seattle: 1 hour
Bainbridge Island is just a hop and a skip away from Seattle's downtown ferry terminal, and it's possible you'll fall in love as soon as you step off the boat. That's because Bainbridge is akin to a Puget Sound paradise: it has everything you'd want out of a suburb—like beautiful, historic homes and mom & pop shops in Winslow—and some of the most beautiful camping and hiking opportunities you can find in the Seattle area. There are so many ways to spend a day on Bainbridge; why not start with a coffee to-go from Blackbird Bakery (cash only, mind you), then explore some shops on Winslow Way. Next, pay a visit to the Bainbridge Island Museum of Art, which specializes in art and craft from the Puget Sound region. After that, get a taste of nature at Fay Bainbridge Park or Rockaway Beach Park, or head down to Eagle Harbor for a tour of the Puget Sound courtesy of Sail Bainbridge, which is now open for the season (its seventh!). Regardless of how you spend your time on the island, this is one day trip you won't soon forget.
Issaquah
Distance from Seattle: 25 minutes
Tucked away in a valley just 25 minutes from Seattle, Issaquah is replete with opportunities to access Pacific Northwest nature at its best. Take a hike on the Tiger Mountain Trail for a winding trip through the forest, or head to Lake Sammamish State Park for a more relaxing afternoon on the water. Issaquah is also home to the Cougar Mountain Zoo (which is celebrating its 50th anniversary this year), Gilman Village, and Capri Cellars, the latter of which has an enormous list of PNW wines to choose from (which might just be the perfect way to round out your day).
Woodinville
Distance from Seattle: 25 minutes
If you're a wine lover (who isn't?), it's high time you schedule a visit to Woodinville. This northeast Seattle suburb is home to Chateau Ste. Michelle, which just so happens to be the oldest winery in the state of Washington. Spend the day between the tasting room and the historic chateau, or venture out and explore the wooded property, which spans over 100 acres. Woodinville has a number of other wineries worth visiting, too. If you're not sure where to start, try Columbia Winery, Patterson Cellars, Novelty Hill Januik, or JM Cellars, and plan on making a return visit—it's pretty much impossible to visit all of Woodinville's vineyards in a single day.
Edmonds
Distance from Seattle: 30 minutes
Just north of Seattle, Edmonds is the ideal spot for a scenic suburban getaway. Upon arrival I'd recommend heading straight to Marina Beach Park: there, you'll have excellent views of the Puget Sound and the Olympic Mountains, the combination of which already make this trip worthwhile. Supplement that with a visit to the Cascadia Art Museum, the Edmonds Fishing Pier (next to Olympic Beach), and Scratch Distillery, and you're in for a very good time courtesy of this small town.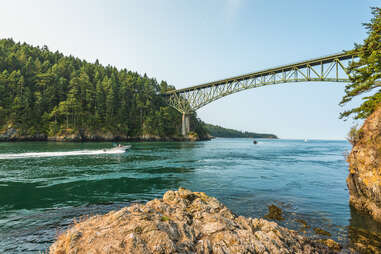 Whidbey Island
Distance from Seattle: 1 hour 10 minutes
First thing's first: a day trip is hardly enough time to take in all that Whidbey Island offers. If you take the ferry from Mukilteo, you'll land on the south end of the island—from here, check out the lighthouse at Fort Casey Historical State Park, an old army training facility built in the late 1800s. Importantly, the park is located in Coupeville, one of three incredibly quaint coastal towns that you shouldn't miss (the other two being Oak Harbor and Langley). Drive north across the island to end your day at Deception Pass State Park, which straddles Whidbey and Fidalgo Islands and is best traversed at daylight's end, during which time you'll catch what is arguably the most stunning sunset you can find in Washington State.
Mercer Island
Distance from Seattle: 10 minutes
Nestled between Seattle and Bellevue, Mercer Island is smack dab in the middle of Lake Washington. That's an almost unbeatable location; for this reason, you should spend your visit to the island outside, preferably on the shores of the lake at Luther Burbank Park. Here, you'll find 77 acres of mostly undisturbed waterfront, aka the perfect backdrop for an afternoon picnic and subsequent beach beers at sunset. Luther Burbank also has tennis courts, hiking trails, a dedicated dog zone, a fishing pier, and a boat dock, so there really is something for everyone. Lastly, if you're staying for dinner post-sunset, there's quite a few restaurants just west of the park—like Mioposto Pizza, Vivienne's Bistro, and the Roanoke Inn (an unfussy locals-only pub with homemade desserts).
Newcastle
Distance from Seattle: 20 minutes
For some more quality time in the Great Outdoors, try Newcastle on for size. Boasting both Lake Boren Park and Cougar Mountain Regional Wildland Park, this suburb is only a short drive over Lake Washington (and Mercer Island) from Seattle's city center. At the lake, you'll get some fairly stunning beachfront views of the Cascades; at Cougar Mountain, expect more views, and a seemingly endless list of hiking trails to choose from (the park is over 3,000 acres large).
Tacoma
Distance from Seattle: 40 minutes
Tacoma is most definitely a city unto itself, but it's also only a 40-minute drive from downtown Seattle, and it has a lot to brag about in the way of art and culture. Consider a day trip to the Museum of Glass, where you can watch glass-blowing happen right before your eyes, or the Tacoma Art Museum, which consistently features work made right here in the Pacific Northwest. Oh, and if you're in Tacoma on a Saturday, make sure to stop by the Proctor Farmers' Market. Then, if you're hankering for a very good cup of coffee, pay a visit to Bluebeard Coffee Roasters (or, alternatively, grab a drink next door at State Street). Field Bar & Bottle Shop will provide the perfect dinner date to finish off your evening, followed by a nightcap down the street at mid-century-themed cocktail bar The Boom Boom Room.