Underrated Washington Towns You Need to Visit Before Summer Ends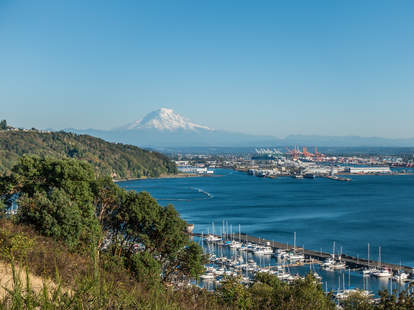 Whether you're looking to take a summer road trip, or perhaps relocate to a place where you can actually afford the rent, the last place you want to go is Bellevue, or Bainbridge Island, or Bellevue, or any of the other highly obvious well-known places, which is why we've assembled a list of eight underrated Washington towns where you should totally be spending more time… like Bellevue! (Kidding, kidding!)
Tacoma
Distance from Seattle: 34 miles
You've probably heard the jokes about the "Aroma of Tacoma." But you know what's not funny? How much you're missing out on if you look down sneeringly on T-Town. Tacoma -- 30 minutes south of Seattle -- has everything its larger neighbor does, but with none of the drawbacks: it's got the same (or more) natural beauty/access to the great outdoors; a burgeoning Downtown that you can actually get around in; and a charming waterfront that isn't constantly under construction. It comes complete with one of 15 American bridges you really should drive over. And it's got seriously great restaurants where you can get a table. Oh, and you can actually afford to live in Tacoma! And as for Tacoma's famous "aroma"? It's improved dramatically in the last 20 years. So next time you're thinking of making a joke about Washington's third-largest city, think about making one about Everett instead. Or maybe Spokane. Those places are hilarious.
Bellingham
Distance from Seattle: 88 miles
You've probably driven through Bellingham on your way to Whistler or Vancouver, gazed out at the usual strip malls, gas stations, and fast food spots visible from the freeway, and thought to yourself: "Meh." This totally explains why this quirky college town might be the most underrated place in the whole state. Seriously, once you get off I-5 -- we recommend taking the state's most scenic drive into town -- you'll discover a bustling little municipality that's wrapped around a picturesque bay and boasts one of the best breweries on the West Coast. There are also great places to hike/ski/do everything else outdoors-related; an incredibly charming historic district full of shops, restaurants, and bars on the south end of town; and, after a short ferry ride, what might be the best restaurant in the state. Or you know, you could just stay in your car.
La Conner
Distance from Seattle: 66 miles
La Conner has an utterly captivating location perched alongside the Swinomish Channel, and a quaint waterfront strip packed with a surprising number of enticing spots to eat and drink. There's also a solid brewery, winery, excellent seafood options (obviously), and even an ice cream tower(!). Plus there are more antique/curiosity shops than any town of 900 has any right to have. Pro move: after a day walking into almost every place along La Conner's 1st St, spend a night in one of the 12 rooms at the historic Hotel Planter, and save the drive home for morning.
Westport
Distance from Seattle: 129 miles
Across the bay (but thankfully over an hour's drive away) from Washington's most popular seaside destination, Ocean Shores, this surfing mecca (not joking!) attracts a more relaxed, slightly less family-friendly crowd than the town across the water... because who wants to take the kids surfing, or digging for razor clams, or on a visit to the Maritime Museum, or the town's historic lighthouse!? Sarcasm aside, Westport's got it all. Plus, you can stop by Kurt Cobain's childhood home in nearby Aberdeen -- or one of America's most out-of-the-way bars -- on your drive home.
Pomeroy
Distance from Seattle: 274 miles
Chances are you've never heard of this tiny town in the southeast corner of the state. And chances are even better that you've never actually been there. But you need to absolutely go, if only because few places will make you feel more like you're stepping into the past than Pomeroy. This is all thanks to a Main Street that's lined with storefronts and civic buildings straight out of yesteryear, and that winds away into the gently rolling hills surrounding the town. There you'll find a surprisingly stunning 9-hole golf course, as well as the Snake River, the Umatilla National Forest, and the Blue Mountains, which is way more nature than you'll know what to do with.  
Port Townsend
Distance from Seattle: 56 miles
More accessible by ferry than by car, this isolated town on the Olympic Peninsula knows a thing or two about being underrated (it's got the state's most underrated brewery, after all), especially when compared to Port Angeles. The latter is just an hour away, and somehow manages to make all sorts of small town lists in travel magazines despite not having so many of the things that make Port Townsend special: stunning Victorian architecture left over from when it was supposed to be the "New York of the West"; beautiful stretches of beach; and the impressive Fort Worden State Park, which only narrowly didn't make our list of the state's best abandoned places (what were we thinking?!).
Issaquah
Distance from Seattle: 17 miles
All those guys you know from college who went to business school? They probably live here now, which is likely why you haven't spent enough time in Seattle's easternmost suburb (we're calling Snoqualmie a "bedroom community") to know that it's actually got a small-town feel. That's thanks to 1,700 acres of park land, historic buildings, and even a creek running through the center of town, all of which combine to make you forget that you're still only a moment from I-90. Know what else will make you forget? Posting up at the redundant, but can't-miss, Triple XXX Rootbeer Drive-In and downing one of their XXX Burgers. It makes a trip across the floating bridge worth it all by itself.
Sequim
Distance from Seattle: 66 miles
Thanks to its location in the rain shadow of the Olympic Mountains, Sequim (OK, let's get this out of the way: it's pronounced "Skwim") gets about as much precipitation as Los Angeles, making it the sunniest town in Washington, and one the best small beach towns on the West Coast. However, the fact that the longest sand spit in the United States (at the Dungeness National Wildlife Refuge) and public oyster and clam beds (at Sequim Bay State Park) are nearby probably didn't hurt either. This increasingly popular escape from Seattle is also becoming one of the best food towns in the Northwest, thanks to old-school mainstays and modern operations like Nourish, which is posted up on what remains of a pioneer farm from the 1880s, and is literally a garden-to-table restaurant that turns all the stuff you can see growing while you walk to your table into amazing things to have for dinner.
Sign up here for our daily Seattle email and be the first to get all the food/drink/fun in town.
Bradley Foster is a former Thrillist editor who has actually been to all these towns. Except Pomeroy. Nobody's been to Pomeroy.