13 things Jamaica does better than anywhere else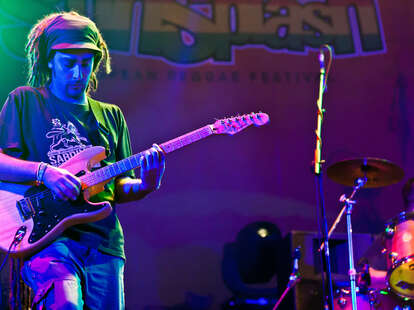 Reggae, beaches, and rum are so, so good. But if you think that's all there is to Jamaica, then you've got another thing coming. Actually, you have 10 other things coming.
Insanely Fast Sprinters
Asafa Powell, Shelly-Ann Fraser, Veronica Campbell-Brown, Yohan Blake, and, of course, Usain Bolt – these are but a few entries in Jamaica's long history of Olympic sprinters. It's amazing that such a small country with such limited access to cutting-edge training could pull this off; for his part, Bolt says the secret to his speed lies in the yellow yams of his home parish of Trelawny.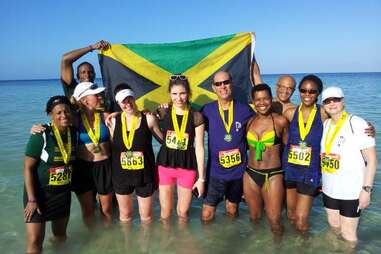 All Racing, Really
If it can be raced, they're likely racing it in Jamaica. Triathlons, marathons, sailing regattas, cycling events, swim meets, horse racing… rally cars? Yep, drivers fromeverywhere arrive each November to trade paint along the gravel back roads, ending in the heart of cosmopolitan downtown Kingston. Gear heads can also get their speed thrills at drag racing events put on by The National Drag Racing Circuit (NDRC) throughout the year.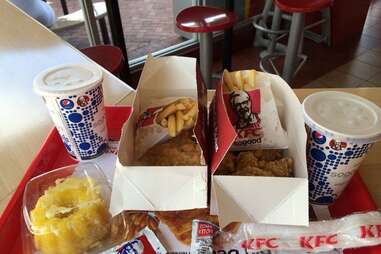 KFC
The Colonel's chicken may be finger-lickin' good everywhere else, but in Jamaica it's exceptionally finger- lickin' good. There are lots of theories as to why it's just plain better here (Jamaican-raised chickens are tastier, the formula is modified to Jamaican taste...), but ultimately no one's quite sure, which shouldn't stop you from bucketing up.
Tropical Dog Sledding
Jamaica's winter sports aren't limited to bobsledding. Chukka Caribbean Adventures has set up a dry- land dog sledding program in Ochos Rios using strays rescued from the island's streets, and in 2010, musher Newton Marshall became the first West Indian to complete the Iditarod. Jimmy Buffett's a major sponsor, and a major reason dog sledding might be changing its latitude. Ha ha, Jimmy Buffett tropical dog sledding jokes work every time.
All-inclusives
Club Med invented all-inclusive resorts, but Jamaica perfected 'em. Whether in MoBay, Negril, and Ochi (Ocho Rios), it's hard to find a hotel that doesn't jam everything together into one easy to manage bill. Sandals and SuperClubs lead the way, but even Hilton and Holiday Inn have all-inclusive properties here -- if you've never stashed your wallet in a room safe before, get ready to.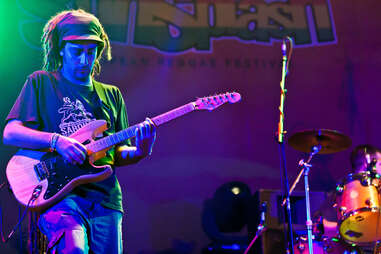 Music Festivals
The name Sunsplash is legendary in concert circles and everywhere reggae is enjoyed. The music stopped for this megashow back in '96, but the good vibes have continued with Jamaica Jazz & Blues, Rebel Salute, and Sumfest, which thankfully doesn't add up to 41.
Jamaican Hutias
Furry, small, and almost exclusively nocturnal, Jamaican hutias or coneys are one of only three endemic land mammals found in "The Land of Wood and Water." (People and bats are the others.) These rarely seen guys can be found scurrying about the island's most remote mountain regions... and nowhere else on earth. That's right, rest of the world: you don't have Jamaican hutias, and you never will.
Cliff Diving
Acapulco is so last century. Actually, so is cliff diving in Negril, but really, there can't be anyplace cooler to take a towering plunge than Rick's Café. The bar's been around since the mid-70s, and now features an in-house reggae band to inspire you to take the leap from 35 feet.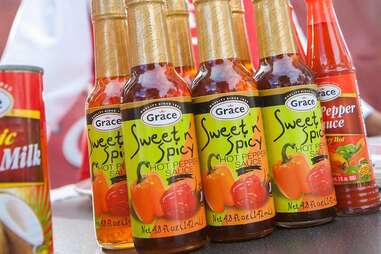 Condiments
Grace Jamaican Ketchup is so prized in Jamaica that Yellowman calls for it by name in his early 80's smash, Mad Over Me. Aged like rum for at least a year, Pickapeppa sauce is arguably even more popular; known locally as Jamaican ketchup, it's more like A1 than the red stuff; Run DMC was probably not singing about it, but Naomi Campbell reputedly keeps a bottle in her handbag wherever she goes.
Style
If New York Fashion Week were 100% less weird and 100% more fun, it would be the explosion of colors that is Caribbean Fashion Week. This pic is actually from an appearance by island-based Lubica at Toronto Fashion Week, proving Jamaican models can keep it festive even when they're stuck in Canada.
Sex Appeal
Sultry music. Miles and miles of secluded beaches. Laid back, rhythmic lengua. Tons of supermodels. Also the world's filled with tons of supermodels of Jamaican descent: Naomi Campbell is half Jamaican; so is Daria Pleggenkuhle, who of course you know from... well, she's very attractive. You should offer her some KFC.
Nicknames
Just about EVERYTHING in Jamaica carries a nickname, especially towns and places – MoBay is Montego Bay, Ochi is Ocho Rios, Town is Kingston, Country is anywhere rural outside of Town, funds refer to money, licking is actually hitting, tall means long, and bad is good, though badness is hooligan behavior. If someone calls you a bad bwai, take it as a compliment. Got it?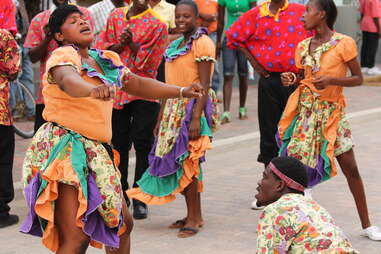 Dance Crazes
As the birthplace of some of the world's greatest music, it follows that many of the biggest dance crazes also originated here. Ska and easy skanking were hot long ago. Today the kids are all about the dutty wine and daggering. Before you hop on that bandwagon, you should know that daggering -- which is very naughty -- is also possibly dangerous. TheJamaican Star has even reported incidences of broken... we just don't want to go there.