Paid Content For

The Best New Hotels in the U.S. for Fall Group Travel
Whether you crave alpine magic or small-town coziness, here's the scoop on where to check in this fall and beyond.
Paid Content For

Clay Banks
Clay Banks
There's a certain thrill in checking into a new hotel — which is why we've scoured the country to curate an exciting lineup of the best resorts and boutique hotels that opened this fall (or whose grand opening is imminent). From laid-back coastal retreats to urban sanctuaries, keep reading for our hand-picked hot spots that are just waiting for you and your group to arrive.
If you and your nearest and dearest seek a mountain getaway this fall, we ask you to point your compass towards the bucolic Catskills in upstate New York. Especially when you consider the October 2023 debut of Hemlock Neversink. Spanning 230 acres, the newest concept from Foster Supply Hospitality is a wellness paradise. Fill your hours taking dance classes, culinary workshops, downward dogging your way through yoga, hiking, or pampering yourself with spa treatments. Before you arrive, everyone fills out a survey so the Hemlock team can create a personalized schedule based on everyone's goals and desires while still ensuring you have plenty of time for group hangouts. Now, if you'll excuse us, it's time to mosey on over to Bittersweet for ricotta dumplings followed by bittersweet chocolate mousse and a star-streaked upstate New York sky.
A California beach vacation is calling. Get blissed out with your favorite guys and gals at Spa Pendry, where the Pendry Signature Massage is a must, as is cryotherapy for the cold-therapy curious. New as of September 2023, it has 295 guest rooms, including 114 suites, many with ocean, harbor, and bay views. While in Newport Beach, look forward to neighborhood highlights like the Back Bay Loop Trail, Segerstrom Center for the Arts, and shopping 'til you drop at Fashion Island, a shopping, dining, and entertainment complex.
Did somebody say a slumber party for grown-ups? The Romer Waikiki at The Ambassador did, thanks to a range of accommodations at the 368-key property like lofted bunk bedrooms and spacious two-bedroom suites. The property opened this October 2023 — we love that guest rooms have private lanais, lounge spaces, and thoughtful amenities like locally sourced and roasted Big Island coffee. Since temperatures in Honolulu hover around the 80s in the fall, the Waikiki Swim & Social Club is the place for groups to be, and you can even reserve a cabana or daybed. Bonus: Guests can redeem credits included with their stay for surfboard rentals, and the hotel partners with a local cycling outfitter for daily bike rentals for guests. And we'd be remiss if we didn't tell you about the property's "Mayor of the Block," Ramona Sidlo, who serves as the in-house astrologer, if you want to schedule a reading.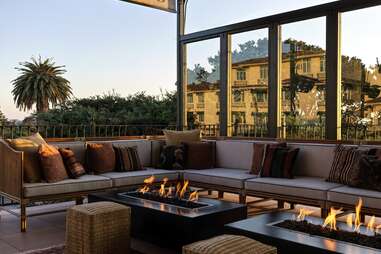 For those California dreamin', another beachy enclave we recommend is the timeless Carmel-by-the-Sea. Wanderers as of October 2023 will find another delightful renovation, a hotel at the one-time home of landscape painter Chris Jorgensen and his wife, chocolate heiress Angela Ghiradelli. With revamps to the tune of roughly $15 million, nature and high design shines through this serene space, and there's just nothing like grabbing a drink at the reimagined Bud's Bar, a local institution since the 1960s, where you can still snag drinks for a dime during "Dime Time." When you're ready to toast elsewhere, there are 20 wine tasting rooms to choose from in Carmel and superb dining haunts like La Bicyclette and Mulligan Public House.
The Grand Lodge at Nemacolin in Farmington, PA
Situated in Pennsylvania's Laurel Highlands on more than 2,200 acres, The Grand Lodge at this five-resort property hotel is scheduled to open November 2023. The all-suite hotel may be pricey, but it's worth the splurge. Enjoy two outdoor pools that are heated in the winter, bowling, ax-throwing, ropes courses, ski slopes, and more on Nemacolin's grounds. Coupled with two 18-hole golf courses, archery, sporting clays, and off-roading trails you can ensure there's never a dull moment during your stay. Use the property's Segways to cruise around the sprawling resort.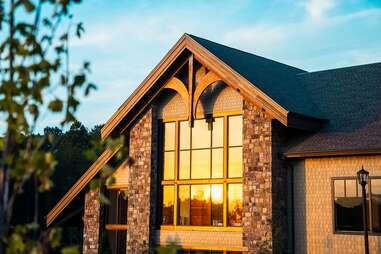 The Queen of Country's newest hotel opens November 1, 2023 and we're countin' down the 9-to-5s until we can make it to this Smoky Mountain oasis. Speaking of the Smokies, keep your eyes peeled for Smoky the Bear: Early fall is a great time to spot them in these parts, but be sure to keep at a safe distance. When traveling with a group, we recommend booking one of the many different types of suites that sleep up to six guests; many rooms and suites have balconies if watching a sunset with your BFFs al fresco is your thing. And once you've rallied up everyone to venture to Dollywood, hop on the complimentary trolley for resort guests and get your finest butterfly frocks on, folks.
Welcoming guests starting November 20, 2023, Durango Casino & Resort is well worth booking for your trip to Sin City. You'll likely want to plop down in the Bel-Aire Backyard, an upbeat pool space, or at one of the hotel's four restaurants. The "Eat Your Heart Out" food hall is particularly wonderful for quenching save-me-from-hangover hunger. Speaking of booze, you may want to consider journeying with your gang to the Wax Rabbit, a speakeasy tucked into Mijo Modern Mexican Restaurant. Along with partying, why not do something different this Vegas trip and carve out a day for some hiking at Red Rock Canyon, a conservation area about 15 minutes from the hotel?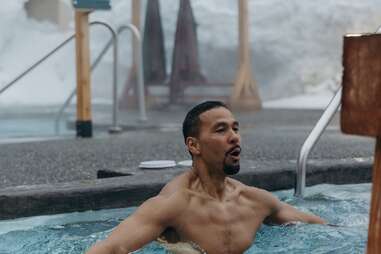 Ski bums, it's time to check Alaska off your list. Surprisingly accessible (Girdwood is about an hour's drive from the airport in Anchorage), you can ski or snowboard the gorgeous powder before hitting up the Nordic Spa for a massage and/or jumping into the series of outdoor hot and cold Hydrotherapy pools. When you're ready to rejuvenate your sore quads, post up in the Black Diamond Club, a hotel within a hotel taking over the eighth floor of the Alyeska Resort, opening December 1. The 36 rooms go from 325-square-foot clubrooms to a 1,971 square-foot-suite and all BDC guests have access to a lounge with stunning panoramas of the surrounding glaciers and Chugach mountains. You can also be hooked up to a private concierge to arrange daily activities for your gaggle, as well as a VIP Ski Valet. No trip to Alaska is complete without eating some snow, so do that, please, and then return to the Nordic Spa for the Twilight Soak. That treatment comprises cold water plunges and waterfalls, aromatherapy-infused steam rooms, a Halotherapy signature sauna, Finnish sauna, and an exfoliation cabin with Alaskan sea salt, all connected by a heated pathway, for some serious TLC.
Alright, this one is technically a renovation, but considering it cost $79 million to complete, we couldn't resist including this gorgeous hotel. Paying homage to its founder, railroad magnate Henry Flagler with elegant design, a 3,100-square-foot Flagler Ballroom, and a new oceanfront event lawn, this October 2023 unveiling is spectacular. During your stay, groups can partake in sand sculpting competitions, dolphin-watching, jet ski tours, or lessons on the island's storied past with the Key West Historical Society. Making a booking on behalf of the group for an activity? Have everyone reimburse you through Zelle® for fast and stress-free payment.
Another newcomer for October 2023, this hotel is calling all bookworms. The four-room boutique hotel brims with cozy allure and has some 5,000 books on-site. Housed in a one-time bookstore, the property sleeps up to 11 guests (if you'd like, you can book the entire hotel for your posse). Ideal for a book club getaway, readers will swoon for the welcoming book nook and front porch, as well as The Secret Garden Room, which has two bedrooms lined with bespoke bookshelves. The room actually takes its design inspiration from nearby Longwood Gardens, which you should definitely visit. Downtown Kennett Square, where the hotel is perched, also has plenty of restaurants and boutiques.
With
Zelle®
, money goes directly into your bank account. It's taken care of, so you can feel, enjoy, and savor every moment. It's delightfully seamless.