Advertiser Content From

The Traveling Food Lover's Map to Jamaica
Advertiser Content From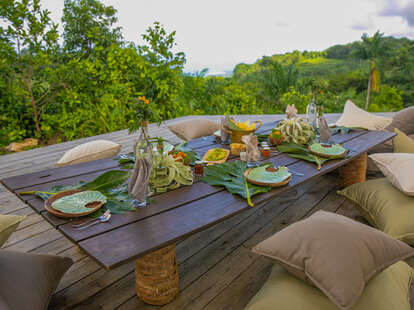 Stush In The Bush

| Courtesy of Visit Jamaica
Stush In The Bush

| Courtesy of Visit Jamaica
Jamaica is a paradise in more ways than one: picturesque beaches, lush jungles, and a food scene that celebrates living well. When these combine with the island's many farms and extensive seafood offerings, the result is world-class cuisine, served up in awe-inspiring locations. Basically, there's a wealth of good eating to explore if you're willing to travel. Check out the locations on the map and start creating your own list of must-hit spots when you visit Jamaica:
Island cuisine is dominated by seafood dishes, and Pier 1 has those covered. Lobster, Jamaican land crab, and jerk sausage pasta are some of the favorites here, but the menu is extensive enough to cover all tastes. (The restaurant advertises itself as appealing to "even the most finicky diner.") The pier atmosphere is worth the visit alone, with scenic views of Montego Bay and dining offered right on the water.
Authentic Jamaican cooking doesn't get much better than this. Jerk chicken, oxtail stew, and escovitch fish are the mainstays, but there's a long list of items to try besides the headline options. (Curried ackee? Salt fish with Scotch bonnet peppers?) The vibe here is very in line with the Jamaican tradition of laid-back, no-frills good vibes, so you can kick back and focus on the food.
Just outside of Ocho Rios is Stush in the Bush, a farm dedicated to eating delicious, locally produced food. It is the producer behind Stush's Originals, a line of hot sauces, dressings, dips and more that focus on homegrown ingredients made with love. Visiting allows you the chance to tour the farm itself and try an eight-course al fresco meal of vegetarian food, freshly made juices, and hand roasted coffee. It's a decadent yet earthy home-dining experience that celebrates the abundance of Jamaica's natural farming.
"Retreats" is definitely an appropriate term for these cottages located in the jungle outside Negril, but that doesn't mean they're devoid of amenities. Staying here involves plenty of hiking, swimming, and basking in the outdoors, but the food is definitely the biggest draw. You'll pick up some new culinary knowledge here, thanks to farm-to-table cooking tours, private chef lessons, and three meals a day served at the Zimbali Mountain Cooking Studio, where you can get a live look at your food being prepared.
Woody's is known for its atmosphere as much as anything else, but that doesn't mean they can't cook a mean burger. The general menu is that of a solid go-to snack bar, with what is possibly the best burger in Jamaica available for $2.50 and the veggie burgers also getting special acclaim. However, the true value of Woody's comes from the familial atmosphere, thanks to the owners, Woody Cousins and his wife, Cherry. Don't be surprised if the karaoke machine makes an appearance during your meal and reggae sing-alongs become the new afternoon agenda.
If live music and bonfires on the beach are your thing, Sharkies is your destination. Known especially for its seafood, this might be the best place to try conch (curried, cracked, and coconut stewed) if you're looking to experiment. Sharkies does a great job of cultivating the party atmosphere, and an extensive cocktails list (most of which sell for $6 USD) certainly doesn't hurt, either.
If you've ever wanted to know where your coffee beans come from, it helps to go to the source. Craighton Estate, located on Blue Mountain, features some of the island's traditional Georgian architecture and a breathtaking view of Kingston from 2,600 feet up. The tour will give you a crash course on the art and science of growing coffee within its lush, 80-acre farm. You'll walk away with an appreciation for the island's coffee-growing history, plus some beans to take home.
In the late 1800s, Jamaica's first Black millionaire, George Stiebel, constructed Devon House to be his mansion, and it has since evolved into an ornate and unforgettable destination for shopping and dining. Tour the grounds and enjoy the historic architecture before popping in for beef patties at the Devon House Bakery, coconuts and shaved ice at Coco Raw, or cocktails at Mahogany Tree Bar. There are extensive food options here that will satisfy any visitor's craving, all housed within the picturesque estate.