If you're going to, er, TO, you'll wanna know where to stay, so that's why we've plowed through the extensive selection of hotels on offer and put together this gloriously all-encompassing list of the city's best sleeperies, broken down for any budget or occasion.
The business for business:

Royal York Hotel100 Front Street W
Toronto's Royal York Hotel is undoubtedly the most iconic in the city. Steeped in history and loaded with amenities, it's packed with five restaurants, four lounges, ultra-lux rooms, and mad flags. Not that you'd need to, but if you do find yourself leaving, you'll be in the heart of the city, too.
For a slightly more modest investment:

The Strathcona60 York St
Steps from the Financial District and Union Station, The Strathcona's uber-convenient location and totally reasonable pricing are aided by a crazy 11 different room types, incl. six business-specialized "executive" sleepers w/ desks, WiFi, flatscreens, and rain showers.
For having a baller time:

The Thompson Hotel550 Wellington St W
You'll be able to sense the sleek, exquisite atmosphere of the Thompson Hotel from the street. This high-end boutique hotel has dark, cozy rooms with Dean & Deluca minibars and infinity bathtubs (note: just one per room). It's also home to Scarpetta (a regular on Toronto's best restaurant lists), there's a rooftop patio, and the staff members are some of the most professional in the city.
For having a baller time, at a non-baller price:

Bond Place65 Dundas St E
Boasting simple yet sleek wood-floored rooms (that come w/ free WiFi & iPod docks), BP is really all about the location; a short walk to Yonge and Dundas, you can catch a free show at Y&D Square, roll down bar-magnets Queen/Church Street, and hit the Rogers Center all within minutes.
For some no-expense-spared romance:

The Old Mill21 Old Mill Rd
This Tudor-style mansion has an on-site spa, fine diner, jacuzzis, working fireplaces, and pretty extensive gardens for getting all romantic and such. There's even a couples package, in case you want to go the extra mile and get your four-post bed strewn with heart-shaped rose petals, wine, truffles, and, strangely, zero cheese.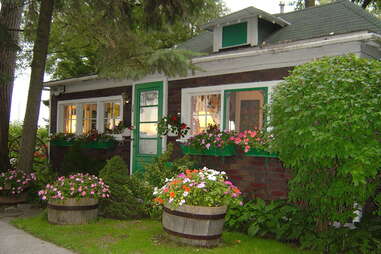 Or for pleasing both your lady and your wallet:

Rent a cabin on a Toronto Island
There are a bunch to choose from on Ward's and Algonquin island, ranging from B&B's to entire cottages and even a boathouse. They're all totally affordable and will net you a mad-romantic city skyline view (plus beaches with rentable kayaks... because kayaking's romantic, right?).