27 Things You Need to Know Before Visiting Toronto
Toronto was once described to me as "a city full of people who love Drake -- that's all you need to know about Toronto." Granted, this person was a Canadian from another province, so that sentiment was to be taken with a large dose of Nova Scotia sea salt. Toronto's the largest city in our neighbor to the north -- it's bigger than Chicago, even -- and one of the most global and multicultural cities on the planet. I knew there had to be more to it than just some hotline bling.
What do Americans know about the fourth-largest city in North America? There's the CN Tower. And the Rogers Centre, nee SkyDome. And that video with Drake and Rihanna in a Jamaican restaurant. Beyond that? Not much. So I set out to learn why Toronto is such a unique place to visit. By chatting with locals and exploring extensively on my own, I found a place full of generous people from literally all over the world -- imagine a Miami without the attitude, or a New York without the grime, or just a city that raccoons seem to run. Here's what you need to know before venturing to Canada's global metropolis.
Toronto is bigger than you expect...
As Americans we tend to think of Canada as America Lite. But unless you're from New York or LA, Toronto is a bigger city than you're from. The city was a drab lakeside-second-fiddle to cultural metropolis Montreal until the 1970s, when fears of separationists moved much of Canada's financial institutions to Toronto. Since then it's seen explosive growth, where the metro area's population more than doubled, from 2.8 million in 1976 to nearly 6 million today. (Though that's not why it's called "The Six." The origin of that term stems from the city area code -- 416. Or from the six boroughs that merged to form what is now the city of Toronto in 1998. It's debatable.)
It's packed with shiny new glass towers, throngs of immigrants, and avalanches of traffic. So understand that getting places takes time, and you'll have to share space with a lot of strangers. The good news is, they're friendly, and often will be the first person you've ever met from their home country.
… but the best time to visit is exactly when you'd expect
Not that Toronto isn't a lovely place to be year 'round, but... well, it isn't. The winters are savagely cold, windy, and bleak. Dat summertime, tho. The first week of May is generally when you'll stop running the risk of ice storms, and with the nicer weather, rooftop bars, the waterfront, and public parks come alive. August can get brutally humid. Come September, it's pleasant fall weather until winter arrives again from October until April. It may be further south than Portland, Oregon, but it's still Canada.
Plan your visit around some of the city's insane festivals
Because that pleasant weather is so fleeting, the city packs some of the world's best festivals into a relatively short time frame. June brings the biggest Pride festival in Canada, a party on the scale of the ones in New York and Chicago, fun for people of any orientation. September brings the Toronto International Film Festival, where films like Slumdog Millionaire, Precious, and American Beauty all premiered. The end of that month also brings Nuit Blanche, where art installations and performances take over almost the entire city core for an entire night September 29. There's also a Caribbean carnival, a huge summer music festival, and more than 50 other events to plan your visit around. One distinct, intimate choice: The May weekend when otherwise inaccessible private and government buildings around the city welcome visitors inside for Open Doors Toronto.
The best places to stay in Toronto:
Toronto prides itself on being a "city of neighborhoods," where the over 140 different enclaves all have different feels, and diverse offerings. Figuring out where, exactly, will fit you best can be tough. So we asked some locals -- consider this your Airbnb cheat sheet.
If you're into live music and street art...
West Queen West, despite its repetitive repetitive name, is your best option. As Queen West, where one used to go for this kinda stuff, got expensive and crowded, the scene has moved further west down Queen Street. You can also head to the east end, home of Danforth Music Hall and some great graffiti near where Queen and King Streets intersect. For underground music clubs and local bands playing in bars, try The Annex, away from downtown and closer to Kensington Market.
For quick access to parks and beaches...
Trinity Bellwoods in Toronto's west end has a park where you'll find people playing street hockey, baseball, and frisbee all summer. It's a short walk to Bellwoods Brewery if you're thirsty after. Also nearby are Stanley Park and the brand new Trillium Park, a major recent civic investment. There's a neighborhood called The Beaches (more on that later), that as you might expect feels like a charming little beach town in the middle of the big city. You might also try Riverside, where you can park yourself at the Broadview Hotel. There you're pretty close to The Beaches, Don Valley trails, the Evergreen Brick Works, and Corktown Common.
For the best restaurants and high culture...
Downtown is your best bet here, with the swanky restaurants and jazz clubs along Yonge Street bringing in the spendy folks from the nearby Financial District for their evening's entertainment. The Bloor/Yorkville area teems with trendy places to eat, from the venerable Cibo wine bar to the chic new lobby and restaurant at The Anndore House hotel. The streets here are lined with designer stores, boutiques, and cafes, perfect for an afternoon of shopping. The eclectic, palatial Royal Ontario Museum is close by as well, if you'd like to maybe learn something.
Learn how to navigate the TTC
Your public transit solutions all run through the Toronto Transit Commission. While Toronto does have a subway, one local told me, "The Metro's not confusing because it basically doesn't exist." There are two main subway lines: one running north-south, and the other running east-west. To get anywhere in between, take the streetcars, which run along major thoroughfares. The Metro runs until about 1:30am; buses go later. (The one that runs down Yonge Street is affectionately known as the Vomit Comet, for example.) Some streetcars also run 24 hours, so consult the schedule before heading out to see if this'll be an option to get you home.
Take the train from the airport
Pearson International Airport (YYZ) is a looooong way from the city center, and if you arrive at the wrong time a cab ride can take over an hour, and cost you $75. The new Union Pearson -- or UP -- train, however, takes riders straight from the airport to Union Station downtown in a clean, sleek train in 25 minutes for just over $12 CAD. Even if you can expense car rides, the train is always the way to go if you're going anywhere near downtown.
You'll hear more languages in a weekend than almost anywhere in the world
Canada -- a country bigger than the United States, with only a tenth as many people -- relies on immigrants to have an economy. Partly as a result, Toronto is among the most diverse cities in the world. More than 230 nationalities are represented in Toronto, and they don't all stay in small pockets. More than half of the city's residents were born outside of Canada, and an afternoon just strolling around will have you seeing people and hearing languages from nearly every nation on the planet.
So the city smells great too
With such diversity comes a great diversity of food. Every 10 feet you'll smell some kind of different food, starting with curry then merging into Chinese garlic sauce then wafting into fresh bread, then probably back to curry. And because Toronto is so clean, those smells don't alternate with urine and old garbage.
Kensington Market, while fun, is not the be-all, end-all of the international experience
The famously diverse Kensington Market, a landing 'hood for generations of immigrants, has gradually become a tourist magnet above all. (Astronomical rents will do that.) The real enclaves sit out in the suburbs in places like Brampton (Indian) and Markham (Chinese/Asian). But Kensington's still a blast -- go ahead and pop by the Hungarian-Thai restaurant -- and the city core offers more authentic experiences, in Little India, Greektown, or one of the three Chinatowns.
Hit the distillery district for some history
Toronto's population exploded relatively recently, really popping in the middle of the 20th century. As such most of it is fairly new construction -- with one big exception. The Distillery District is one place where the city took an old relic -- in this case, 19th-century buildings that once housed a whiskey distillery -- and turned it into something worth visiting. Shops, restaurants, and art installations fill the rough streets of this pedestrian-only area. Cluny Bistro is the must-eat here. But definitely stop and get a pint at Mill Street Distillery and enjoy it out on the patio.
That's right, there are THREE Chinatowns
Chinese people have flocked to Toronto since the late 1800s. The oldest Chinatown is near Kensington Market in the city center, along Spadina Avenue near Dundas Street West. This one will also have the most tourists. As rents there got too high, newer immigrants formed a second Chinatown further east around Broadview Avenue and Gerrard Street. This will be significantly less-clogged with visitors. Or if you're up for a drive, head out to Scarborough, where Chinese immigrants have been settling since the 1980s. It looks a little like a nondescript Texas suburb except all the signs are in Chinese. And the food is unreal.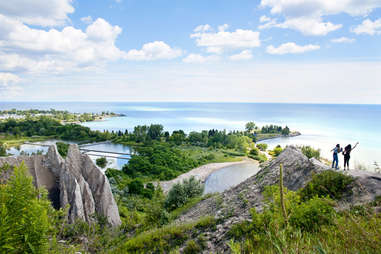 Get out to the suburbs for the best food of your life
Scarborough isn't the only suburb that looks like a generic North American bedroom-and-office-park community painted over in other languages. If you're willing to drive, the food in the suburbs is both better and cheaper than you'll find downtown, and a far more distinct experience. Head to Kwality Sweets in Brampton for Indian food, or One 2 Snacks in Scarborough for probably the best Malaysian food you'll find in this hemisphere. Then hit Dragon Boat Fusion Cuisine in Richmond Hill for one of the most over-the-top group Chinese dinner experiences in the world.
Make sure you get some Hakka Chinese food, too
Though you can find this specialized Chinese cuisine with heavy Indian influences in a lot of cities, nowhere does it quite like Toronto. Stuff like chicken pakora, beef brisket in bitter melon, and Hakka braised pork belly are among the staples. Try Hakka Wow, Yueh Tung, or Hakka Legend for the best in the city.
The liquor laws are weird
Speaking of drinking, it's not as straightforward in Toronto as it is in, say, Vegas. Bars close at 2am, but they'll start kicking you out before that. If you're looking to pregame, hard alcohol is only sold at government-run LCBO stories. Ditto most wines -- but there are kiosks selling Ontario-made wines in some grocery stores. Beer can be purchased at the LCBO, The Beer Store, and also some grocery stores. Drinking in public is tolerated in some of the major parks (namely Trinity Bellwoods in the west end) but don't get obvious about it or act like a buffoon.
Learn how to pronounce the city name
Much like in Luh-vuhl and Bawl-more, Torontonians can spot tourists by how they pronounce the city's name. In short, ignore the second T. It's either "Toronno," or, if you want to sound extra-Canadian, "Trawna." And nobody, NOBODY, calls it "The Six."
Add 13% to every price you see
Universal healthcare don't come cheap, friends. So in addition to whatever income taxes residents have to pay, there's also a 13% sales tax on pretty much everything. Canada used to give foreigners a refund on about 6% of that, but no more. Takes a little of the fun out of that generous exchange rate.
Head to Toronto Island Park for a bit of nature
There's a small chain of islands just off downtown in Lake Ontario called Toronto Island, that's one of those carless places full of trees and peaceful shoreline you wander around and marvel that you're just a short hop from Downtown. It also got a full-on amusement park, beaches, and even campgrounds with views of the CN Tower. It's a perfect, cheap day trip from the city. Also, no kidding, it has its own cute lil' airport -- Billy Bishop, which you can fly into from the States on Porter airline.
There's a nude beach
Nothing says "Canadian vacation" like stripping down to your birthday suit and laying out on the balmy shores of Lake Ontario, right? Well, if you're into blinding white skin and deep blue water, head to Hanlan's Point Beach on Toronto Island, a little slice of Florida in the great white north. It's not unlike some of the nude beaches you'll find in northern Germany -- just make sure to pack your sunscreen.
The Beaches is actually a neighborhood. Guess what's there.
Hear a group of locals say "We're headed out to the Beaches," in mid-February, and you'll probably think "Wow, these Canadians really are nuts." But this actually has nothing to do with laying out; the Beaches refers to an older part of the city just east of Downtown. It has four beaches right on the lake, and during the summer is the best place on the mainland to sit on the sand.
You might think museums are boring -- until you see Toronto's
Perusing display cases with tiny print and 4,000-year-old forks might seem like it's what your parents would do on holiday, but in Toronto, the museums are interesting for people under 60, and past third grade. The Royal Ontario Museum is one of the most unheralded natural history museums in the world, crafted out of several historic buildings with artifacts dating back thousands of years. The Hockey Hall of Fame is here too, as well as one of the world's biggest shoe museums and a fascinating art museum at the Aga Khan. Toronto also boasts a space museum, where you'll learn all of Canada's contributions to space travel beyond just Chris Hadfield.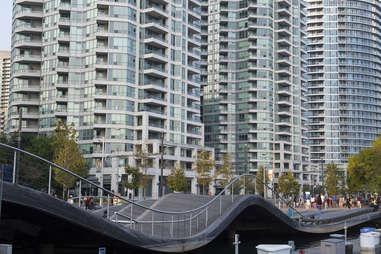 It's a sprawling city, but totally walkable
Most of the things you'll want to see (Downtown, museums, waterfront, sports venues) are fairly close together. The city is flat, and a simple grid, so walking or using a bike share is ideal when the weather is cooperating. (Just watch for street car rails when you're biking; they love to snag tires.) The only time you'll need a car is if you want to get out and explore the suburbs.
Toronto loves its sports; budget accordingly
Even though the city hasn't hoisted a trophy since Joe Carter walked off the World Series, the only thing Torontonians love more than Wheelchair Jimmy is their sports. So tickets can be expensive. The cavernous Rogers Centre -- home to the Blue Jays -- is about the only place you'll find a cheap ticket. Leafs tickets can run $200 for meh seats to see a meh team, as can Raptors seats against good teams. For big games, you'll have just as local an experience watching in a bar and chatting up the locals who can't afford tickets either.
Above all, Toronto is the symbol of welcoming Canada
After going a few times and talking with as many locals as I could, the overwhelming feel of the city is one of welcome. The word "accepting" gets thrown around a lot to describe places that aren't overtly racist, but Toronto feels like a place where people have come from all over the world, offer up the best of their cultures, and don't fight too much about it. The Canadian ethos of friendliness is the common thread among them. It's a huge city that still feels small-town nice, where locals run into people they know everywhere, and it feels like home even if you come from the other side of the world.
Get recommendations from strangers
Don't like any of our recs? Just ask a local. As one local told me, "You'll get some of the best recommendations walking the streets and talking to people. Not Google."
That place in the Drake/Rihanna video? It's the best Jamaican food you'll ever have.
It's called The Real Jerk. Get a roti and a beer and try not to turn it into a tourist trap.
Sign up here for our daily Thrillist email and subscribe here for our YouTube channel to get your fix of the best in food/drink/fun.
Matt Meltzer is a contributing writer to Thrillist who thinks even Pusha T would enjoy Toronto. Follow him on Instagram @meltrez1.