Travel Blogger Christopher Mitchell Loves That Toronto Is Buzzing Again
"In the summertime, everyone is out enjoying the city."
Sponsored By

Photo: Courtesy of Christopher Mitchell; Illustration: Maitane Romagosa/Thrillist
Christopher Mitchell is a Toronto-based travel writer who is the founder of the blog
TravelingMitch
and co-founder of travel adventure site
Ultimate Ontario
and the
Toronto Bloggers Collective
. He was born and raised in Toronto and has lived on four continents and traveled to over 80 countries. As told to Andrea Morabito.
This summer in Toronto is still a little different, but things are opening back up. There's a real buzz in the city again, which is wonderful to see. The wintertime here, it can be oppressive at times, and it feels like, in spring, we're sort of stretching our legs and getting back out there. In the summertime, it's full tilt, everyone is out there enjoying the city. I always kind of laugh that I don't really realize the population of Toronto until the summer comes because it feels so busy and full.
That's what I feel has been lacking during the pandemic. We haven't had sports in our city, which really creates a buzz. We haven't had music in our city, which also creates a buzz, especially since our concert venues are so great. Some artist will come to town, where you'll feel like you're the only person who knows them, and you think, "I'm going to be one of 12 people there," and then you show up and there's a good hour-long line to get in. But I like that about Toronto, that they're very tuned into who's coming to the city. I'm just so excited to go back to any situation where I can stand in a room with other people and vibe off of each other.
Toronto in the late summertime lends itself really well to exploring certain neighborhoods. A neighborhood like Kensington Market, for example, which is known for its street performers — not necessarily in the way of, like, magicians, but more like someone who's just sitting with a guitar and they have a little crowd around them. I love to take a friend down for brunch in Kensington Market, and the streets are filled with people. You can hear music from five different places, and you can hear conversation everywhere. There's the smell of food cooking in the air, and there's just all kinds of things going on.
This time of year, it's just tons of walking around and neighborhood exploration and cycling, too. You have to know where to go, but more and more rail trails here are becoming cycling routes. The Great Lakes Waterfront Trail is 3,600 kilometers long and it runs right down to the bottom of Toronto and extends into the US. One of the best things to do in the summertime is to rent a bike and just go all around the Toronto Islands. I don't think a lot of people know about them, but you just hop a 15-minute ferry ride across the Inner Harbour and the views of the city from the Islands are ridiculous. There is a kids' amusement park on the island and there are parks. It's a really cool way to spend the day.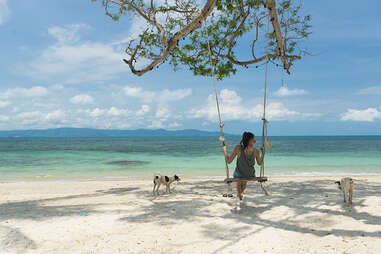 Travel isn't just about getting a change of scenery, but changing the way we see the world. With The Marriott Bonvoy Boundless™ Card, a wealth of travel benefits are at your fingertips, like earning up to 17X total points for every $1 spent at hotels participating in Marriott Bonvoy and 2X points on all other travel purchases. Learn more about how becoming a card member can help you take adventures that will broaden your horizons, deepen your understanding of other cultures, and make new places feel like home.

Accounts subject to credit approval. Restrictions and limitations apply. Marriott Bonvoy Boundless™ credit cards are issued by JPMorgan Chase Bank, N.A. Member FDIC. Offer subject to change.
Torontonians are nuts about drinking on patios. We have an incredible craft brewery scene right now. It started off with some of the bigger guys like Steam Whistle and Amsterdam. But, now, it's very much neighborhood-focused, like Bellwoods Brewery in the Ossington area. We're getting this movement where craft breweries are built by locals, for locals. There are some cool ice cream spots, too, like Sweet Jesus. In Little Korea, there's bubble tea galore, which people like in the summertime.
This summer, indoor dining is back up and running, and I'm really excited to experience that again, because the food scene in Toronto is amazing. What we are known for is not necessarily any gimmicky thing. We have some good poutine here, but, really, it's more that you're not getting a lot of dishes that have been "watered down and Westernized." So if you go to the neighborhood which is predominantly Vietnamese, you're going to get what you tasted in Vietnam, just with locally-sourced ingredients. In Little India, you're not going to get dishes that have muted spice because they're expecting a Western palate. In Toronto, you'll find places that aren't just like, "We are a Mexican restaurant." They'll be like, "We are a Oaxacan restaurant." I really enjoy that aspect of the Toronto cuisine scene.
There are lots of parks here that have a really cool outdoor culture, and I think that was pushed even further by the pandemic. I like to go down to Geary Avenue, and on one street, there are two breweries, there's a really good Middle Eastern restaurant called Parallel, and there's North of Brooklyn Pizzeria. My buddy and I will bike there from our separate places and we'll meet in the park. I'll go pick up this mushroom pizza from North of Brooklyn Pizza, he'll go pick up a six-pack from Blood Brothers Brewing, and then we'll just meet back at the park, and there are people doing that everywhere. I think that that's going to be a lasting impact in the city, this takeout culture and making better use of our public spaces.
Part of my branding is being someone who's a strong supporter and proponent of Toronto, so I almost feel like I have a responsibility to make sure that I'm staying up to date on what's going on. I care what happens in the city. I care about the outcomes. I go to festivals, I go to protests, I go to observe what's going on. Because I write about Toronto on a couple different websites, everybody knows where I'm from, and I really like that.
I'm proud to be from here, if only because I spent so much of my life exploring other places that weren't my home city and then I realized my home city's pretty amazing. But that process, I think I had to go through that. I had to go and visit 1,000 other cities before I could figure out that this is a place that I should feel lucky to call home.