Serenity south of the border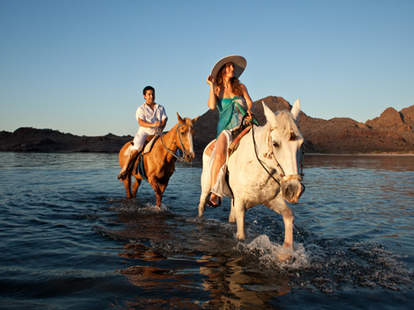 Finding actual relaxation in Mexico has long been difficult: from avoiding conquistadors baring swords, to avoiding spring breakers crossing them. Treat yourself to rare Mexican leisure in the yet-unmolested gem of Loreto, at the Villa del Palmar.
Just now being final-touched, Villa Resort Group's newest is a 150-suite palace boasting a 20,000sqft turtle-shaped pool, full service fitness center, and spa all nestled next to Loreto Bay National Marine Park, a lush ecosystem home to everything from killer whales to fan coral, though after her horrible showing on the last Gauntlet, it's surprising she still even has the one! When not diving, snorkeling, or kayaking amidst the park's 800 viewable species, you can enjoy a Rees Jones-designed links course, ATV tours to San Javier, and the legendary lines of nearby surfer's paradise Scorpion Bay -- warning: do not consume through colorful straws. To keep you on your feet, they've got three distinct eateries (each with their own full bars), including a seafood/ sushi joint dubbed The Islands, the more upscale Danzante steakhouse (with a huge selection of wines and stogies), and a more casual "authentic Italian" poolside joint called Casa Mia, which is also what Italian ballers would scream after a block, if only anyone there could actually jump high enough to perform one.
And for taking it easy on nature (as opposed to just in it), they've also got four or eight day eco tours that include rock climbing and camping in tents, unlike Cancun or Acapulco, which're just full of dudes pitching them.