7 Wineries to Visit in the Atlanta Area
If it's winning wineries you want, it's off to North Georgia you go.
Paid Content For

Sure, sure, get your peaches out in Georgia. While you're at it, nab some moonshine, too. But you'd be remiss to pay a visit to Atlanta without stopping by some of the top-rated wineries in North Georgia, about an hour away by car.
You'll notice most of Georgia's vineyards are clustered together, perched on undulating hills. That stark change in elevation is thanks to the Blue Ridge and Appalachian Mountains—among other peaks. These wineries' precipitous hillsides are some of the steepest viticultural areas among the eastern wine-growing states—and it's hugely beneficial to producing great wine.
Atlanta's heat and humidity are inhospitable for grapes, heightening the risk of plant disease, while way up atop Georgia's mountains can be too chilly for vines. The Goldilocks positioning in between provides the right amount of elevation. Exposed hills let the vines get sun-baked and drink from frequent deluges when storms roll through during the growing season. Cool temps at night preserve acidity in the grapes, and consistent gusts of wind keep bugs at bay. Moreover, the area's unique red clay soil and slanted topography promote proper drainage by not letting the vines get saturated with rainfall.
Georgia's best known for its native grape, the muscadine, a thicker-skinned varietal (less susceptible to oppressive heat and humidity, and more robust against disease). Old winemaking techniques involved dumping sugar into the wine during the process to balance out the grape's bitterness, resulting in a saccharine product not dissimilar to a boozy juice box. Thankfully, more vintners are leaning into dry wines that adhere to French-making wine rules in which no sugar is added, letting the local terroir take center stage. The result? Georgian vineyards are producing premium wines that can hold their own against West Coast competitors.
It's not just muscadine either. Native American and European-style grapes thrive here as well. Here are seven of the best wineries to visit in North Georgia, according to locals. With sweeping vistas and award-winning wines, it'll be vineyards that keep Georgia on your mind.
Braselton
This palatial 3,500-acre winery is just 45 minutes away from Atlanta and a destination unto itself. With Chateau Elan, think French countryside estate—if French countryside estates had two 18-hole courses (plus an Executive Par 3 course), a resort and world-class spa with suites and bespoke treatments, a cigar club, and world-class dining. It also earns the distinction of being the state's largest wine producer, corking more than 20,000 cases each year. In all, there are 30 wines available by bottle or glass from grapes grown on the grounds, as well as from California's Lake County and Clarksburg regions. Our current favorite on offer here? The limited-release Fingerprint Collection.
Insider tip: You'll need to book a res in advance for winery tours, and tickets are encouraged for tastings, but—depending on availability—walk-ins are welcome in the Tasting Room. You can also purchase a pre-packed picnic basket (wine, glasses, blanket, and charcuterie board) to enjoy on the grounds; just call ahead.
Dahlonega
You can be a Tuscan transplant for the day by dropping onto Montaluce's Italian-style grounds—or more, if you book a few nights in one of the terracotta villa rentals. Grab a glass of the Viognier for a fruit-forward white (apple, orange blossom, and apricot), or the Dolce Rosso if you like a sweet red. To really get a sense for the Dahlonega vineyard's estate-grown wines, book a Deluxe Private Tasting ($125 per person). Over the span of two to three hours, you'll embark on a guided tour of the vineyard, then swirl, sniff, and sip your way through a six-pour tasting alongside cheese and charcuterie accompaniments.
Insider tip: The adventurous set should book the Montaluce Wine Hike ($45), a moderate jaunt just under two miles. A trained staff member will whisk you off for a tour of the winery and a guided hike along neighboring nature trails, winding past the headwaters of Etowah River, and finishing back in the vineyard. The experience is capped off with a five-pour wine tasting in the sister restaurant Trattoria di Montaluce. You even get a glass keepsake.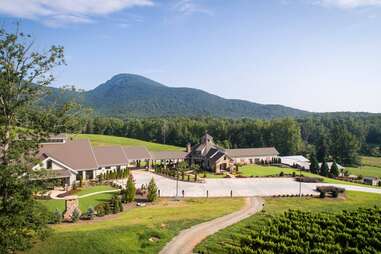 Cleveland
A little farther northeast in Cleveland, you'll find Yonah Mountain Vineyards, a 200-acre winery offering handcrafted wines. Due to COVID-19, Cave Tours have been suspended, but the unique walking tour snakes you through the vineyard, then down into the wine caves (thought to be the only ones in all of Georgia) for a sample of current releases; check here for a status update. The vineyard has 20 acres of grapes, producing a variety of dessert and ice wines; sweet, easy sippers (Young American series); and a strong medley of red and whites. Yonah Wine Flights include four samples of either red, white, or a mix.
Insider tip: Book your spot for a Reserve Wine Tasting ($125 per person), an intimate 22-person, 90-minute program held on the second Sunday of each month in the vineyard's ballroom. You'll taste a selection of wines from Yonah Mountain Vineyards alongside others from around the world, expertly paired with gourmet charcuterie.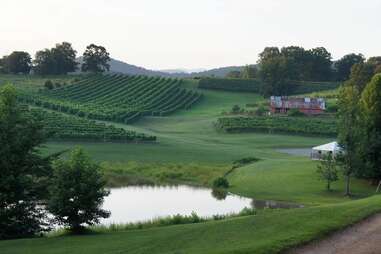 Dahlonega
It doesn't have a lot of pomp and circumstance, but this is the oldest continuously operated vineyard and winery on the Dahlonega Plateau. Named after the mountains it overlooks to the west, Three Sisters Vineyards offers laid-back vibes with a fuss-free tasting room, outdoor patio, and additional seating in a rustic barn. Peep its website or social feeds to know when special events are happening—a.k.a. if food trucks and local acoustic folk, bluegrass, or jazz will up the ante on your visit.
This is a great spot if you want to lay out a big 'ol picnic blanket and nosh on some snacks with a glass of Joe Pye Dry, an unsweetened version of its Fat Boy Red (which pairs well with BBQ); Blood Mountain Red, the perfect summer red, best served chilled with a side of salty chips; or Georgia cuvée, a bready bubbly made with chardonnay, pinot blanc, and pinot noir grapes that's in between brut and extra dry.
Insider tip: The vineyard is pet-friendly, so bring your pup along for the ride, and ask for dog treats when you're at the bar.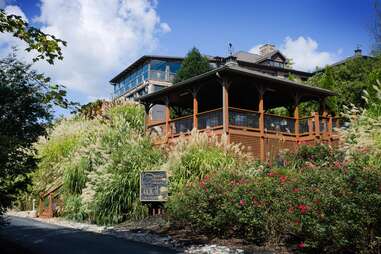 Dahlonega
This 8,000-square-foot winery is fashioned as a Craftsman-style cottage perched atop a fieldstone-encased cellar. The wine-making process is French, and the ambience has a tinge of Napa, but the fruit is all Georgia. From the veranda's vantage point, you can peer out over the foothills of the southern Appalachian Mountains with a glass of Brut Rosé brimming with red berry flavors and a crisp, dry finish; it's done in the classic "méthode champenoise" French-style in which the bubbles are derived from secondary fermentation, rather than CO2. If you fancy red, go for one of the full-bodied blends; top recs include Howling Wolf Red, Instinct, and Claret.
Wolf Mountain is the first Georgia winery to win Best-in-Class and double Gold Medals at the San Francisco Chronicle and Los Angeles International Wine competitions. In all, the vineyard has nabbed over 200 medals in major wine competitions across the U.S.—so, uh, yeah, the wine is top-notch.
Insider tip: You can join Wolf Mountain's quarterly Wine Club for advanced access to all the award-winning estate wines—a smart move since the vineyard's production is limited (just over 5,000 cases annually) and some vintages sell out fast.
Dahlonega
If farm-to-table bites and live music are your jam, you'll find paradise at Kaya Vineyard & Winery. Post up on the deck or covered patio to listen to tunes (weekends only) and enjoy some lunch. Resist the urge to hunker down in an Adirondack chair, elbows anchored to your knees, with a sandwich or hot sliced brisket crammed into your pie hole. You'll need a reminder to take a breather, drink in the views—and, oh yes, drink the wine, crafted entirely from estate-grown grapes.
Insider tip: Book a stay at one of the onsite cottages if you don't want the fun to end after a tasting; each two-story, three-bedroom Craftsman has views of the vineyards and Blue Ridge mountains. Upon request, cheese and/or meat plates, picnic baskets, and bottles of wines will be brought to your digs.
Dahlonega
Frogtown adheres to strict dry wine rules (apart from its dessert wines). Vintner Craig Kritzer is a purist in that way, abstaining from California grapes and utilizing a tri-level, gravity-flow wine-making process to preserve the integrity of the juice and wine sans pumps. Perched high on a hill, the winery grows 25 varietals on the sprawling 44-acre grounds, offering guests a panoramic patio and scenic tasting room in which to enjoy estate-grown dry reds, whites, and rosé. Out-of-town visitor? Frogtown ships to these 26 states in the U.S.
Insider tip: Visit Thursday, Friday, Saturday, or Sunday when the adjoining Italian Bistro is open, so you can delight in artisan paninis, pizzas, and cheese boards galore. Naturally, all the dough is made and meats are smoked in house. Try the Sweet Georgia panini with ham, bacon, tomato, cheddar cheese, BBQ honey mustard with a side of house potato chips, or the Toscano pizza with Italian sausage, bacon, mozzarella, and tomato butter (yes, it deserves repeating: tomato butter).