Scale Spain's Highest Peak at This Volcanic Canary Islands National Park
Steep elevations, cinematic hikes, and starry nights converge inside Tenerife's Teide National Park.
Welcome to
(Inter)National Parks: Adventures in the Global Outdoors
, where we transport you to the world's most incredible protected lands, nature reserves, and marine sanctuaries, from the slopes of Western Canada to the vast grasslands of Botswana to the fjords of New Zealand. For more on these far-flung natural wonders—plus travel tips and expert interviews—check out the rest of our coverage
here
.
There's a reason so many Western Europeans view the Canary Islands as a warm weather paradise. Between black sand beaches, lively resort towns, and proliferation of historic architectural gems, the Spanish territory off the coast of North Africa has a lot to offer the hordes of holidaying Germans, English, Italians, and mainland Spaniards that flock there year-round.
But it's not all swim-up bars, banana daiquiris, and whale-watching expeditions—though, those should definitely be included, too. Tenerife, the largest and most populous Canary Island, is also home to an incredible range of flora and fauna. Here, natural attractions run the gamut from meticulously stocked botanical gardens to Teide National Park, a vast protected area situated at the innermost point of the triangular landmass. Designated a UNESCO World Heritage Site in 2007, the park's 47,000-acre rocky expanse centers around its eponymous volcano, a spectacularly craggy behemoth that rises some 24,600 feet above the ocean floor. Spain's highest peak and the third-largest volcanic structure in the world, Mount Teide is a sight to behold—even if your eyes are a bit fatigued from the night before.
"Just look around, and you'll see the most famous and most colorful pumice stone in Tenerife," proclaimed Darío López, a born-and-raised Canarian and my group's dedicated tour guide on a recent trip to Tenerife. He stood at the front of the bus, microphone in hand, eyes fixed on the dozen or so sleepy faces staring back at him while he waxed poetic about the otherworldly terrain unfurling outside our windows. It was a little after 9:30 am on a Sunday in February, and the majority of us visitors had spent the previous night living it up on the streets of capital city Santa Cruz de Tenerife as a part of the annual Carnival celebration. Glitter still flecked our foreheads as we turned to look at the hillside streaming past.
"Look there, all that yellowish sand is pumice stone," he continued, his hangover-free voice booming over the speakers like an enthusiastic thundercloud. "The first robot sent to Mars was assembled in the observatory of Tenerife, and then it was tested right here. If you see photos of Mars's surface, it's this landscape."
From my perch in the back row, I wholeheartedly agreed. The flaxen-hued volcanic rubble stretched as far as I could see, interrupted here and there by clumps of spindly shrubbery. It looked like something out of a Star Wars film, like at any moment R2-D2 and C-3PO might pop out to battle a gang of hooded Jawas. And, as it turned out, I wasn't too far off.
"Here we had two eruptions," said López, bringing me out of my sci-fi daydream. "The first one, all these rocky formations came from a lava flow that ran down the hill. And then there was a second eruption that covered that first lava flow with all different colors of pumice stone—you can see greenish, bluish, reddish, oranges. One of the first editions of Planet of the Apes was filmed here, and Clash of Titans was filmed here, too."
Twenty minutes later, and we were filing into a dangling cable car, gearing up to summit the impressive Mount Teide. The increased altitude coupled with a sharp drop in temperature—we could see clumps of snow blanketing the rocks below us as we climbed—were just the wakeup call we needed. That, a few glugs of Europe's take on Gatorade, and the vista's sweeping panoramic views made the early call time well worth it.
Here's everything you need to do to make your next visit to Tenerife's Teide National Park a memorable one—no matter what condition you arrive in.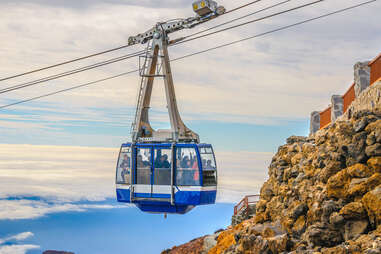 Snap a sky-high selfie atop Spain's tallest peak
As mentioned, a great way to get the lay of the land is by ascending Mount Teide on one of two resident cable cars. The scenery just doesn't quit, from the moment you board the car until it deposits you back down to the base center some 4,000 feet below. With regular ticketed departures running from 9 am to 4 pm for €21.50 per person (plus special sunset and chartered rides), the trip takes approximately eight minutes each way, and the cars come equipped with 360-degree windows so you can easily document your dramatic approach.
Up at the top, multiple viewing platforms give way to the jagged rocks and obsidian-strewn lava flows that make up the park's sprawling grounds. Fun fact: The upper station is also home to Spain's highest public telephone. On particularly clear days, you might even be able to spot Tenerife's sister islands, La Gomera, El Hierro, La Palma, and Gran Canaria, emerging from the surrounding ocean waters. This is also the jumping off point for several routes enticing daredevil visitors in search of even higher ground, open to hikers depending on weather and safety conditions and, in some cases, only available via permit.
If you can time it right, try to arrive at the peak near sunset. It's then that Mount Teide starts to project the world's largest shadow onto the ocean. The dusky reflection extends around 25 miles out from the summit, casting neighboring Gran Canaria in soft darkness each evening.
Hike to your heart's content on an active volcano
Speaking of trekking, Teide National Park is littered with designated hiking paths catering to all interests and abilities. For a low-impact-yet-rewarding stroll, tackle the Roques de García Loop Trail, a 2.6-mile loop that takes about an hour and a half to complete. Beginning at the Mirador de la Ruleta lookout point, the circuit passes counterclockwise through the Roques de García, a curious formation best witnessed during Golden Hour, when the stone faces light up in a variety of warm colors.
According to López, this was where the Indigenous Guanches and, later, Spanish farmers used to camp out overnight with their herds: "Until the '50s, when the national park was declared, around 4,000 or 5,000 goats used to spend holidays here with their shepherds, so every area of the national park was attributed to a different family. The goats of the García family were the ones around this area."
Another popular option is the Montaña Samara Circuit Trail, which stretches a little more than three miles around the base of Samara Mountain and offers a host of different viewpoints and terrains to explore. This one really gets you out into the lava fields, upping the surrealist vibes considerably and providing lots of great photo-ops as the verdant pine forest and towering rock structures merge with the gleaming, obsidian-covered slopes. Feeling ambitious? Continue the hike by climbing the mountain itself—on a sunny day, the perspective from the summit is nothing short of spectacular.
Looking for a challenge? Fill up your water bottles and set out for Pico Viejo, a strenuous, 8.5-mile journey featuring a whopping 3,280-foot change in altitude and pristine vistas overlooking the entire park. The trail branches off from the Narices del Teide parking lot, guiding trekkers up and around the island's second-highest volcano, which last erupted in 1798. Keep an eye out for morphing colors as you climb, from the base's lively greenery to the mountainside's dense, charcoal-black rubble, and, finally, the vast crater's moon-like copper depths.
Grab lunch, peruse a modern museum, and stay the night in the heart of the park
Can't get enough of the national park? No problem—by booking one of the 37 guest rooms spread throughout the Parador de Cañadas del Teide's three desert-hued floors, you can lay your head smack-dab in the center of the action. The Spanish hotel chain specializes in historic and unique lodgings around Spain and its territories, and the Mount Teide location, stashed inside a broad crater a little over 6,500 feet above sea level, is a fantastic example of the company's mission.
First built in 1962 and revamped in 1996, the cozy, Alpine-inspired outpost was designed to blend seamlessly in with its stunning surroundings, a wash of smooth sand-colored brick, hefty stone walls, and tawny brown roofing. In terms of creature comforts, consider yourself covered. Amenities include a heated pool and sauna, open-air terrace bar, roaring fireplace, small gym, and a lovely onsite restaurant offering refined Canarian cuisine. Even better? It's remarkably sustainable, producing its own electricity and tapping into the mountain's natural reserves for its water supply.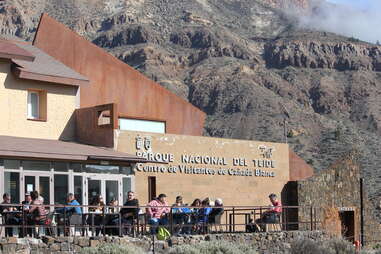 Tucked away beside the Parador you'll find Cañada Blanca Visitor Center, a fascinating museum space and one of the park's latest additions, having opened in June 2022. The contemporary collection walks visitors through Mount Teide's timeline, from its prehistoric origins to the arrival of scientists and the founding of the national park. Displays showcasing local flora and fauna highlight the park's intricate ecosystem, while other exhibits cover the site's astronomic, geological, and volcanological importance. Don't leave without ducking into the adjacent theater, where a poignant documentary cycles viewers through a four-season tour of the park's natural riches.
Take in a truly epic night sky
In addition to being a perfect stand-in for developing interplanetary missions, Teide National Park also holds great scientific value in the field of astronomy. As the mountain rises far above the cloud line, access to the open skies from its slopes is unprecedented—it's no wonder that the Instituto de Astrofísica de Canarias has manned the world's largest solar observatory right here since 1964. Perched at 7,840 feet, the Teide Observatory is jammed full of high-tech telescopes of all shapes, sizes, and powers. The location is so ideal for stargazing, in fact, that several major discoveries have taken place on the mountain, including the 1995 identification of the first-ever brown dwarf star named, fittingly, Teide-1.
Daytime and afternoon guided observatory excursions can be booked in advance, but if you can't fit it into your schedule, rest assured that the rest of the park is rife with perfect vantage points for basking in the universe's twinkling breadth. The Starlight Foundation has recognized Teide National Park as an official Starlight Destination since 2014 thanks to its extremely limited light pollution, topographical composition, temperate climate, and commitment to natural preservation. All you have to do is post up near the cable car base station or wander out into the lava fields, tip your chin up to the sky, and prepare to be wowed—Saturn's ethereal rings, a multitude of far-off galaxies, the Moon's pockmarked surface, and perhaps even a cascading meteor shower await, depending on the time of year.
Ready to hit the park? Check out our tool kit to get started:
Meredith Heil
is the Editorial Director of Thrillist Travel. She feels much better now, thank you.