Race Against the Clock at DC's New Intense Escape Room
If you lose, you'll be splattered with paint from head to toe.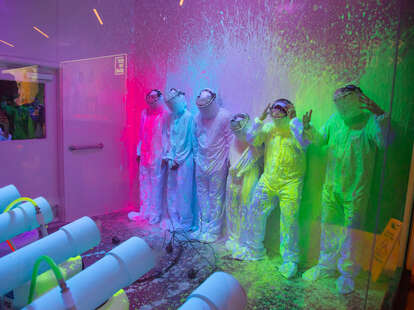 If it's an adrenaline rush you're after, it's an adrenaline rush you're going to get at DC's newest escape room Beat The Bomb.
Billed as an "immersive social video game," groups of up to six are outfitted in hazmat suits and tasked with solving puzzles and beating obstacles before time runs out and a massive paint bomb blasts you with a plethora of color. The experience, which opens this week, is like an escape room meets paintball—combining two activities for a new, fun thing to do this winter.
The challenge takes place in an expansive 10,300-square-foot venue in Ivy City with five tech-enabled gaming rooms that teams will have to work through as a unit. Each room is equipped with touch screens, motion cameras, lasers, and more, all designed to test your team's ability to communicate, collaborate, and coordinate. In the fifth (and final) challenge, your team will have to disarm the paint bomb, or be disarmed (and covered with rainbow colored paint) yourselves. Frankly, though, it's hard to tell if it's more fun to beat the clock or have the clock beat you.
Before you assume that getting through all five rooms is child's play, be warned: the venue says only 10% of teams manage to win on their first attempt.
When you are able to complete the challenge, Beat the Bomb has another game up its sleeve called Mission 02, where competitors don black hazmat suits and try to disarm a foam bomb at the end of the mission. And beyond the major challenges, Beat The Bomb's DC location also boasts six smaller arcades that offer different games.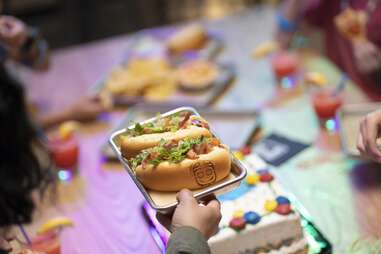 To keep you fueled up pre- and post-mission, the space is also home to a beer garden called the Bomb Bar, featuring local craft beer, frozen mezcal margaritas, and shareable bites like nachos, pretzel bites, hot dogs, and pizza.
The enormous DC venue has a private event space for birthday parties or company events, complete with catering and bar service packages. And given the focus on technology throughout the gaming rooms, Beat The Bomb DC plans to offer STEM workshops in partnership with local schools to encourage early engagement in engineering, technology, and gaming.
Early bird tickets are currently on sale for 25% off with the code DC25. Missions start at $44.95 per person for a party of four to six, while entry and arcade experiences (which covers unlimited games) start at $14.95 per person.