Awesome Airbnbs Near DC to Book This Spring
One of them has big Bridgerton vibes.
For many, this spring is probably the first time you've even thought about taking a trip in well over a year. And while you may have dreams of travel to faraway places, like Tokyo or Tel Aviv, your best bet for a safe, affordable, and easy trip, at least at the moment, is in your own backyard.
Luckily, DC is home to plenty of charming, beautiful, and outdoor-centric places that are easy enough to reach for a staycation in the city or quick road trip. Plus, there are several unique Airbnb options that make the trip feel more like a transformative experience, especially if you're a hopeless Bridgerton romantic or a tried-and-true Lord of the Rings nerd. So check out these stays in the District and the surrounding area, and explore the Mid-Atlantic region at its springtime best.
Washington, DC
2 guests, $74 per night
For a romantic staycation with big Bridgerton vibes, book this quaint Victorian-style room at the historic Dupont Circle Inn. The room features a canopy bed and historic decor in an old brownstone building on a beautiful tree-lined street. The Inn is self-check-in and contactless, and you're within walking distance to Dupont Circle for outdoor lounging and people watching—who knows, maybe you'll cross paths with your own Duke of Hastings.
Things to do nearby: If it's Sunday, visit the Dupont Circle Farmers Market for one of the largest selections of organic produce and year-round vendors selling handmade treats. A spring picnic in the circle is an easy option after visiting the market, or buy a book at Kramers and find a cozy park bench for some outdoor reading. For dinner, book a reservation in the courtyard at Iron Gate—it's one of the longest-running restaurants in DC and features Mediterranean dishes and wines from one of the best chefs in the city, Anthony Chittum.
Annapolis, Maryland
6 guests, $179 per night
Distance from DC: 1 hour
Take to the water in Maryland's state capital, Annapolis, a historic city known for sailing, fresh seafood, and the U.S. Naval Academy. Directly adjacent to the academy is this charming rowhome, with nautical vibes and enough space to sleep an entire family. Its proximity to Main Street makes it a must for your next "Naptown" retreat. This property has all the comforts of modern living in a charming turn-of-the-century rowhouse. Plus, there's a front porch with a red rocking chair for sipping your favorite cocktail on a warm spring day.
Things to do nearby: When you're ready to explore Annapolis, we suggest crossing the bridge over into Eastport where you'll find plenty of fresh seafood and waterfront activities. Start with lunch at Davis Pub, one of the oldest neighborhood bars in the city, and a spot is known for its crab dip and pretzels, plus Maryland beers on tap. If you're more in the mood for brunch, then order up a Bloody Mary and a dozen Chesapeake Bay oysters at the Boatyard Bar & Grill followed by a crab benedict or crab cakes. And after all that eating, you'll need an outdoor activity to help work off all the carbs. Might we suggest the kayak and stand-up paddleboard rentals at Annapolis Canoe and Kayak?
Broadway, Virginia
2 guests, $139 per night
Distance from DC: 2 hours
If your vacation is well... precious, then you might want to check out this Lord of the Rings-inspired stay in scenic Broadway, Virginia, just two hours west of Washington near plenty of hiking in Shenandoah National Park. This Hobbit house looks very similar to what you might find in Middle Earth, but with some upgrades including heated tile floors, recessed lighting, and a waterfall shower. This Airbnb is set on a sprawling farm and comes with Adirondack chairs, a fire pit, and acres of gardens and woods to explore.
Things to do nearby: Hikers will want to head to this destination for an endless number of trailheads that can take you to soaring views of Virginia's Shenandoah region. To get here, you can cruise Skyline Drive and just a few miles away you'll find the Massanutten Trailhead, as well as the Mountain Run Swimming Hole, a refreshing way to cool down after a strenuous, uphill hike. Plus, it's just over the mountain range to Luray Caverns, an underground labyrinth of cave exploration.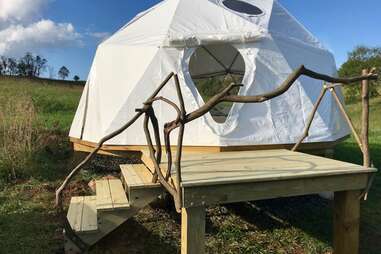 Floyd, Virginia
2-4 guests, $59 per night
Distance from DC: 4.5 hours
Go glamping in a yurt overlooking one of the darkest stretches of skies on the Eastern seaboard. This farm in southwest Virginia, near Roanoke, is a stargazer's delight. It's also perfect for those who hate camping because these outdoor accommodations have queen beds, running water, and air conditioning. Each geodesic dome is situated on a rolling pasture with skylight flaps so you can stare from bed at the celestial night sky—sweet dreams guaranteed.
Things to do nearby: Tiny Floyd, Virginia has small-town charm and no shortage of bluegrass and other musical offerings. The Dogtown Roadhouse is where locals gather for wood-fired pizza, beer, and live music every Saturday. Meanwhile on Fridays, head to The Backyard Jamboree for two hours of live music starting at 6 pm. Admission is free and seating is outdoors with social distancing in effect—just be sure to bring your lawn chairs and blankets. Meanwhile, musical acts are returning to Epperly Mill, a landmark stop along Virginia's "Crooked Road" heritage music trail.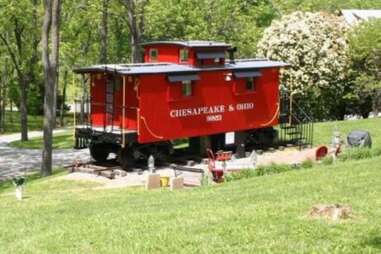 Natural Bridge, Virginia
4 guests, $182 per night
Distance from DC: 3 hours
The kid at heart will love an overnight stay in a historic railroad caboose that has been converted into tiny house living. This train car is now permanently situated in Shenandoah Valley, but it was once a historic rail car so the interior is decorated with vintage railroad signs and other memorabilia. The site has access to a campfire plus other outdoor activities, like horseshoes and volleyball courts, making it the perfect location for family vacations or a restful getaway for those seeking to unwind and visit nearby scenery and wineries.
Things to do nearby: Natural Bridge State Park is located just a few minutes from this tiny house accommodation, and it's a breathtaking and enormous rock bridge that attracts throngs of tourists each year. Aside from rock formations, Natural Bridge, Virginia is also home to some award-winning wineries, breweries, and cideries, including Great Valley Farm Brewery and Winery and Halcyon Days Cider Co.
Ocean View, Delaware
2 guests, $105 per night
Distance from DC: 3 hours
A custom-built tiny house set in a beautiful garden by the beach? Yes, please. Sure the accommodations are cozy, but the outdoor space includes a private deck, organic garden, and an on-site farm-to-table restaurant and bar with wine, craft beer, and cocktails, so you'll want to spend most of your time outside anyway. When you're ready to hit the surf, there are several beaches nearby to choose from.
Things to do nearby: Tourists vacation in Bethany. Locals stay in Ocean View, Delaware, a quiet village, that's just a short bike ride away from the beach. Skip crowded and congested Delaware Route 1 for restaurants that keep folks coming back, like hook-to-table seafood at Northeast Seafood Kitchen or the frozen treats at Bonkey's Ice Cream and Snoballs. Breakfast is also on point. Head to Morning Buns Bake Shop for coffee and sticky buns, or Ocean View Deli and Restaurant for flapjacks in the a.m.
Easton, Maryland
2 guests, $125 per night
Distance from DC: 2 hours
This converted barn has won architecture and design accolades making it hard to believe that it was once a corn crib, a granary to dry and store corn. The vaulted ceiling space makes this Airbnb stay appear bigger than it actually is, and it comes furnished with a queen-sized bed, a coffee counter, and a bar fridge. Plus, you're just minutes from historic Easton with a refined drinking and dining scene.
Things to do nearby: The Bluepoint Hospitality Group rules the roost along Easton's main drag and it's for good reason—you'll find plenty of incredible dining options. Chef Harley Peet oversees Bas Rouge, a swanky, upscale bistro with three- or four-course dinners perfect for a vacation-worthy splurge. Plus, The Stewart, a Scotch bar, is a great place to end the night. For lunch, two casual cafes Bumble Bee Juice and Sunflower & Greens, are among the options, and Bonheur and Weather Gauge have your caffeine and sweets needs covered.
Sign up here for our daily DC email and be the first to get all the food/drink/fun in town.