The Best Beaches Near DC for a Quick Summer Getaway
From hidden gems to bustling boardwalks in Ocean City or Virginia Beach.
Virginia Beach

| Eurobanks/Shutterstock
Virginia Beach

| Eurobanks/Shutterstock
As summer temperatures soar in DC, it's that time of year for residents to swap frenetic city streets for a leisurely stroll on the boardwalk near sandy dunes. And the great news is, DC is located within an easy drive of prime beaches in Delaware, Maryland, and Virginia.
This summer is all about day trips, dips in the ocean or bay, and exploring boardwalk bites and new waterside attractions. Here are the best beaches near DC you can drive to during the coming months and beyond.
Colonial Beach, VA
Located within a 90-minute drive south of DC, Colonial Beach boasts Virginia's second-largest beachfront along the state's Northern Neck peninsula. Visitors can enjoy swimming and fishing at the area's five beaches, which range from the quieter North Beach to the central Downtown Boardwalk Beach, close to restaurants like Dockside Restaurant and Tiki Bar and High Tides on the Potomac.
Start your day with coffee and pastries at the woman-owned Colonial Buzz Espresso Bar, which features a take-out window and outdoor seating. Explore the area's attractions by golf cart (take note: they aren't allowed on the beach), which can be rented by the hour, day, or month. Then head to one of Virginia's largest wineries, Ingleside Vineyards, for tastings, tours, and sets of live music.
Distance from DC: 1 hour and 30 minutes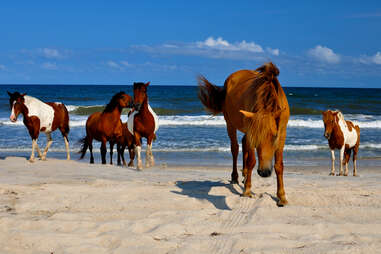 Assateague Island National Seashore, MD and VA
At this 37-mile island in Virginia and Maryland overseen by The National Park Service, you'll want to start your day on the sand early as Assateague State Park will turn away visitors once it's filled to capacity. After you've secured entry to Assateague Island National Seashore, get ready for a majestic escape because along with swimming, kayaking, hiking, and biking on local beaches and trails, wild ponies that roam the beaches and salt marshes are also a main attraction here.
To experience the area's true beauty, secure an NPS campground site, offered only on the Maryland side. But if you're not one for roughing it, try the Refuge Inn, which feels woodsy and rustic, with modern amenities like a pool, Wi-Fi, and free breakfast, which can be delivered to your door. Other attractions include the 142-foot Assateague Lighthouse and the Assateague Explorer, which offers boat and kayak tours to view horses, dolphins, and birds.
If you're into space missions, stay in Assateague during a rocket launch at the NASA Wallops Flight Facility, just 15 miles from the beach. Check the launch schedule and head to the visitors center or one of the NASA-recommended viewing areas to witness them for yourself.
Distance from DC: 3 hours
Ocean City
One of the biggest beaches in the area, Ocean City has been a long-time destination for just about everyone—from families looking for some sun and surf, 20-somethings looking to party all night, and laid-back folks who need nothing more than a dock with a sunset.
The city is home to 10 miles of sandy beach and a boardwalk lined with seaside shops, ice cream galore, and a more than 130-year-old amusement park. One of two new hotels in the area is the luxury beachfront property, Ashore Resort & Beach Club, which replaced the Ocean City Fontainebleau and features five eating and drinking establishments, some with live music and entertainment. The other, Bethany Beach Ocean Suites, is located 15 minutes north in nearby Bethany Beach and recently completed a multimillion-dollar renovation in June with updated suites and an Italian restaurant Via Sophia, which also has a location in DC.
When it's time to hang up the towel for the day, watch the sunset and listen to live music with an Orange Crush in hand outside at one of many waterfront restaurants, including Fager's Island, Harborside, and Shark on the Harbor, which offers a selection of local craft brews and fresh catches. Wine lovers can head to an unassuming strip mall for the well-executed dishes at Liquid Assets bistro and wine shop or head to a newcomer favorite, Spain Wine Bar, for tapas and gorgeous bay views. A number of breweries have popped up on the shore in recent years. The latest, the Other One Brewing Co., opened in March and serves wheat beer, IPAs, and a coffee porter. If that's not enough, party all night at one of the highest-grossing bars in the country—the one, the only, Seacrets, Jamaica USA.
Distance from DC: 3 hours
Gunpowder Falls State Park: Hammerman Area
Located 60 miles Northeast of DC, Gunpowder Falls State Park features 120 miles of trails for hiking and biking, kayaking, fishing, and a marina. Divided into six areas, the Hammerman Area offers the perfect city escape with a low-key, well-maintained beach. Maryland residents pay $5 per person and non-residents $7, during weekends and holidays from Memorial Day through Labor Day and $3 during the week ($5 for non-residents). It's $2 cheaper on weekdays.
If you decided not to lug your own cooler, head to one of the nearby waterfront restaurants where outdoor tables spread out over the sand. Bowley's On The Bay, Sunset Cove, and Crazy Tuna Bar & Grille are some of your best bets for seafood, beer and, in some cases, live music.
Distance from DC: 1 hour and 15 minutes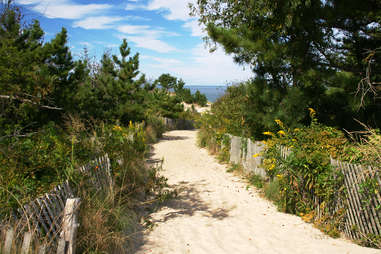 Rehoboth Beach, DE
If you haven't devoured a slice of Grotto Pizza, a giant bucket of vinegar-topped fried spuds at Thrasher's French Fries, Dolle's salt water taffy or a frozen custard from Kohr Bros at Rehoboth Beach, have you really summered in the DMV? Fit in these popular beach eats in between dips in the Atlantic Ocean, strolls along the boardwalk, and carnival games at Funland.
For more upscale fare, the town offers no shortage of epicurean delights. Arrive early to grab a seat at Henlopen City Oyster House, one of the area's most popular restaurants in Rehoboth. Newcomer Drift Seafood & Raw Bar has been a hit for its locally sourced produce, meat, and fish. Dogfish Head pub is always a good bet for locally-produced brews and live music. Head to Confucius Chinese Cuisine for excellent Hunan-style dishes or the Cultured Pearl Restaurant & Sushi Bar, whose rooftop patio overlooks Rehoboth Avenue.
Also known for its tax-free shopping, Rehoboth's Tanger Outlets Rehoboth Beach has reopened with new stores selling candy and sunglasses. Check the website for the latest information.
Stay overnight at one of the area's fancy hotels, including The Bellmoor Inn & Spa, which offers two pools and beach access to guests, or the Victorian-style Boardwalk Plaza Hotel, with a waterfront restaurant and a heated soaking pool.
Distance from DC: 3 hours
Virginia Beach, VA
Visitors to Virginia Beach might find that the seaside town looks slightly different than they remember, thanks to new hotels, breweries, and a creative arts district. The first stop for many visitors here is the 38-block boardwalk, where you can snap a selfie by King Neptune as the sun sets, ride your bike, or enjoy a waterfront dinner.
Beyond the boardwalk, Virginia Beach offers an arts area, known as the ViBe Creative District, where visitors can take a one-mile walking tour past colorful murals and visit the Virginia Museum of Contemporary Art after booking a free reservation online. Take a break to sample IPAs at the family-owned Vibrant Shore Brewing Company, which often hosts live music and art exhibits. Complete your beer tour by visiting other breweries along the Virginia Beach Craft Beer Trail. Some offer cornhole, bocce, and eats from area food trucks.
Diners hunting for restaurants with outdoor seating can head to Hearth, which serves wood-fired pizza and craft beer, and the seafood shack Chix on the Beach, which serves 15 crushes.
For an outdoor adventure, spend some time at the Back Bay National Wildlife Refuge, which offers nearly 5,000 acres of wetlands and thousands of migratory water birds. Or First Landing State Park features miles of walking and biking paths and hammocks by the water.
Stay at the 350-room Marriott Virginia Beach Oceanfront, which is home to two restaurants and a pool, and sister property, the swanky Cavalier Hotel & Beach Club, which once hosted presidents and celebrities.
Distance from DC: 3 hours
Sandy Point State Park
The 786-acre Sandy Point State Park has long been a favorite day-trip destination for DMV residents seeking to beat the heat without crossing the Chesapeake Bay Bridge. The summer entrance fee is $4 per person during the week and $5 on holidays and weekends. The calm waters of the Chesapeake Bay make it a good swimming spot, while the pavilions make it ideal for picnicking. Landlubbers can hike the trails through the pine forest and marshes abound with bird sightings and other wildlife.
On the way there, make a stop in the state's scenic historic capital to grab a bite for your picnic or stop for lunch on the way there. Get fresh and jumbo Lump Crab from the longstanding Cantler's Riverside Inn. Seafood lovers can also head to the perennial favorite Carrol's Creek Cafe, while all-day breakfasts, six-pound milkshakes, and thick Corned Beef sandwiches await guests of the old-school politico haunt Chick & Ruth's Delly. At Bakers & Co, fill up on baguettes, Olive Oil and Sea Salt Focaccia, and more.
Distance from DC: 50 minutes
Lewes Beach, DE
While Rehoboth's boardwalk games, souvenir shops, and funnel cakes provide the classic beach experience, Lewes offers a quiet getaway. The quaint, walkable downtown attracts history and architecture buffs drawn to its centuries-old buildings and antiques stores selling glassware, jewelry, art, and more. The Zwaanendael Museum, which tells the history of the Dutch settlement in Lewes during the 17th century, makes a worthwhile stop.
Cross the bridge from the historic downtown to over the picturesque canal to get to Lewes beach. Instead of hulking waves, concession stands, and a boardwalk, you'll find calm waters and fewer umbrellas parked on the sand next to the Delaware Bay. Don't forget to feed the parking meter, which operates from May through September. From the beach, you'll see the Cape May-Lewes Ferry in the distance. If you're up for a boating adventure, take the 85-minute cruise to Cape May, New Jersey, to admire the Victorian homes.
Distance from DC: 3 hours
Julekha Dash is a Maryland writer who covers food, travel, and design with bylines in
USA Today
,
American Way
,
Architectural Digest,
Eater
,
Fodor's
, and others. Follow her on Twitter and Instagram and check out her Contently portfolio.