The Best DC-Area Beaches You Can Drive to This Summer
From hidden gems to bustling boardwalks in Ocean City or Virginia Beach.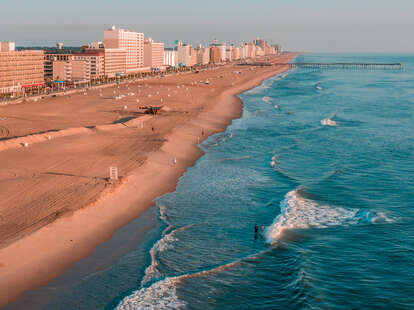 When our city's infamous humidity covers DC in a thick cloud of heat, there's no better way to cope than with a trip to the beach. Luckily, DC is within easy reach of sandy dunes—from remote, quiet spots to popular summer hangouts with busy boardwalks and arcade games. So no matter what type of getaway you're looking for this summer, we've rounded up the best beaches in Delaware, Maryland, and Virginia that make for a great day or weekend trip, and there's something for everyone.
The 786-acre park has long been a summer day trip destination for DMV residents seeking to beat the heat without crossing the Chesapeake Bay Bridge. The summer entrance fee is $4 per person during the week and $5 on holidays and weekends. The calm waters of the Chesapeake Bay make it a good swimming spot while the pavilions make it ideal for picnicking. Landlubbers can hike the trails through the pine forest and marshes where they can spot birds and other wildlife.
On the way there, make a stop in the state's scenic historic capital to grab a bite for your picnic or stop for lunch on the way there. Get fresh and jumbo lump crabs from the longstanding Cantler's Riverside Inn. Seafood lovers can also head to the ever-popular restaurant Carrol's Creek Cafe. Popular with politicos, the old-school Chick & Ruth's Delly offers hearty breakfasts, six-pound milkshakes, and thick corned beef sandwiches that can be enjoyed on the sidewalk, indoors, or wrapped up to go. If all of that's not enough, you can fill up on baked goods at one of the outstanding bakeries in the area. Order fresh-baked breads from Bakers & Co. or a decadent dessert combo that combines pudding, cupcakes, and ice cream at Smallcakes.
Distance from DC: 50 minutes
Located 60 miles northeast of DC, Gunpowder Falls State Park features 120 miles of trails for hiking and biking, kayaking, fishing, and a marina. Divided into six areas, the Hammerman Area offers the perfect city escape with a low-key, well-maintained beach. Maryland residents pay $5 per person and non-residents pay $7 during weekends and holidays from Memorial Day through Labor Day, and $3 during the week or $5 for non-residents.
Bathrooms, picnic tables, and a full menu of bites at the Riverside Grille are all available. If you don't bring your own cooler, head to one of the cafes and restaurants just outside the park. Pick up pancakes, breakfast burritos, and sandwiches to go from Kelly's Kitchen & Bakery in Middle River. Across the street, you'll find Hunan chicken and other Chinese specialties available to go from Asian Wok. About 20 minutes away in Kingsville, Gunpowder Lodge serves fried green tomatoes topped with lump crab, soft shell crabs, and burgers that you can savor under an umbrella at one of the outdoor picnic tables.
Distance from DC: An hour and 15 minutes
Located within a 90-minute drive south of DC, Colonial Beach boasts Virginia's second-largest beach front along Virginia's Northern Neck peninsula. Visitors can enjoy swimming and fishing at the beaches or break out the boat and kayak. Explore the area's many historical attractions by golf cart, which can be rented and legally driven around the town.
Start your day with a cappuccino and cinnamon roll at the woman-owned Colonial Buzz Espresso Bar, which features a take-out window and outdoor seating. Grab lunch at Denson's Grocery, a mom-and-pop deli known for its oysters, ice cream, and sandwiches that offers curbside carryout Thursdays through Saturdays. Then spend the day sampling one of Virginia's largest wineries, Ingleside Vineyards, which is open daily with indoor and outdoor seating and hosts acoustic musicians Sunday afternoons. Grab a cocktail and listen to live music at the two waterfront eateries, Dockside Restaurant and Tiki Bar and High Tides on the Potomac & the Black Pearl Tiki Bar.
Distance from DC: An hour and a half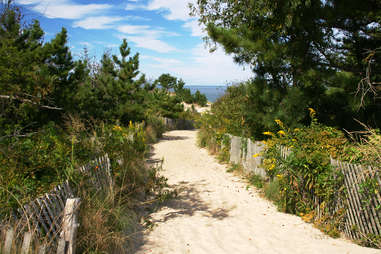 Delaware beaches are back in full swing with events like the July 4 fireworks, Rehoboth Beach Bandstand concerts, and days on the rides Funland on the lineup.
Dine in Henlopen City Oyster House in Rehoboth, which serves an array of bivalves and fresh fish dishes, or the area's famous brewery restaurant, Dogfish Head Pub, or its locally sourced seafood restaurant Chesapeake & Maine, which serve the company's beers, cocktails, and spirits. Head to Confucius Chinese Cuisine for excellent Hunan-style dishes and Bangkok Thai Cuisine for noodles and red curry in Lewes.
Take in the full beach eats experience with a stop at the area's most celebrated pizza joint, Grotto Pizza, or get a giant bucket of vinegar-topped fried spuds at Thrasher's French Fries (please don't ask them for ketchup). Dolle's salt water taffy or a custard cone from Kohr Bros should satisfy your sweet tooth.
Also known for its tax-free shopping, Rehoboth's Tanger Outlets Rehoboth Beach has reopened with new stores selling candy and sunglasses. Check the website for the latest information.
Stay overnight at one of the area's fancy hotels, including The Bellmoor Inn & Spa, which offers two pools and beach access to guests, or the Victorian-style Boardwalk Plaza Hotel, with a waterfront restaurant and a heated soaking pool.
Distance from DC: 2 hours and 40 minutes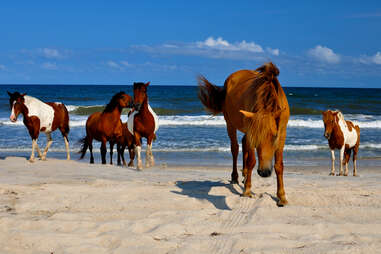 The National Park Service oversees this 37-mile island in Virginia and Maryland, where wild ponies that roam the beaches and salt marshes are the main attractions. Guests can hike, bike, swim, and kayak on Assateague's beaches and trails while gazing at the beautiful wildlife like ponies, shorebirds, and other animals. The beach has lifeguards on duty through Sept. 5, and you'll want to start your day on the sand early as Assateague State Park will turn away visitors once it's filled to capacity.
To experience the area's true beauty, secure an NPS campground site, offered only on the Maryland side. But if you're not one for roughing it, try the Refuge Inn, which feels woodsy and rustic, with modern amenities like a pool, Wi-Fi, and free breakfast, which can be delivered to your door. Other attractions include the 142-foot Assateague Lighthouse and the Assateague Explorer, which offers boat and kayak tours to view horses, dolphins, and birds.
If you're into space missions, stay in Assateague during a rocket launch at the NASA Wallops Flight Facility, just 15 miles from the beach. Check the launch schedule and head to the visitors center or one of the NASA-recommended viewing areas where you can view the rocket launch as it heads to the International Space Station or into lunar orbit.
Head to West Ocean City, just six miles down the road, for plenty of dining options. Watch the sunset and listen to live music with an Orange Crush in hand outside at the waterfront Harborside, which also offers carryout. Or have dinner just across the water at Shark on the Harbor, which offers a selection of local craft brews and fresh catches available for carryout, as well as indoor and outdoor dining.
Distance from DC: 3 hours
One of the biggest beaches in the area, Ocean City has been a long-time destination for just about everyone—from families looking for some sun and surf, 20-somethings looking to party all night, and laid-back folks who need nothing more than a dock with a sunset.
The city is home to 10 miles of sandy beach and a boardwalk lined with seaside shops, ice cream galore, and a more than 130-year-old amusement park. When it's time to hang up the towel for the day, know there are some amazing restaurants and bars in the area where you can try the famous Orange Crush cocktail, indulge at an all-you-can-eat seafood buffet, or party all night at one of the highest grossing bars in the country—the one, the only, Seacrets Jamaica USA.
Distance from DC: 3 hours
Virginia Beach may be best known for its 38-block boardwalk, but new hotels, breweries, and a creative arts district are making the beach an even buzzier destination. After snapping a selfie by King Neptune as the sun sets, riding your bike, or enjoying a waterfront dinner on the boardwalk, head to the arts area, known as the ViBe Creative District, where visitors can take a one-mile walking tour past colorful murals and visit the Virginia Museum of Contemporary Art after booking a free reservation online. Stop at Vibrant Shore Brewing Company, which offers an indoor tasting room, rooftop, and patio. Complete your brewery tour by visiting one of the other breweries along the Virginia Beach Craft Beer Trail. Some offer cornhole, bocce and eats from area food trucks.
Diners hunting for restaurants with outdoor seating can head to Hearth, which serves wood-fired pizza and craft-beer and seafood shack Chix on the Beach, which serves 15 types of crushes.
For an outdoor adventure, spend some time at the Back Bay National Wildlife Refuge, which offers nearly 5,000 acres of wetlands and thousands of migratory water birds, and First Landing State Park, with miles of walking and biking paths and hammocks by the water.
Distance from DC: 3 hours
Julekha Dash is a Maryland writer who covers food, travel, and design with bylines in
USA Today
,
American Way
,
Architectural Digest,
Eater
,
Fodor's
, and others. Follow her on Twitter and Instagram and check out her Contently portfolio.