Washingtonians often wonder how people can live in landlocked states. Don't get us wrong, lakes and mountains are beautiful and all, but some days (read: every day), we love the fact that a beach is only a hop, skip, and an E-ZPass away. Now that we've officially entered the dog days of August, here are six beach escapes just hours from DC to satisfy those intense sun and sand cravings... and get your fill of those last rays of summer sun, boardwalk ice cream, 18 holes on a rooftop mini-golf course, or your own chartered fishing boat, depending on your preferences.
Virginia Beach, VA
Distance from DC: 200 miles; 4 hour drive
In a nutshell: Wide beaches for swimming and surfing, lively boardwalk, and surrounding state parks.
What to do: If you're going the hotel route, the Courtyard Marriott Oceanfront has suites with great views of the beach, as well as boardwalk-front dining and a lagoon-like pool with outdoor bar. For a nearby adventure, check out Rudee Inlet for paddleboards, jet skis, and parasailing. While visiting, be sure to spend some time at the Back Bay National Wildlife Refuge, which has nearly 5,000 acres of wetlands and thousands of migratory water birds, and First Landing State Park with miles of walking and biking paths and hammocks by the water. Make a trip to Hearth for wood-fired pizza and a great craft-beer selection (including options from local brewery Reaver Beach) or Eurasia for an upscale meal of seasonal selections like rockfish and clams. Grab a nightcap at LunaSea, where you can catch live music or play corn hole in the sanded outdoor patio.
Rehoboth Beach, DE
Distance from DC: 120 miles, 3 hour drive
In a nutshell: Quaint beach town with a fun nightlife and exceptional dining scene.
What to do: Stay at the quirky Bewitched and BEDazzled B&B, an old Hollywood-themed and dog-friendly spot that's a 10-minute walk from the boardwalk. Check out sites including Funland for rides and games, Dolle's for salt water taffy, or take a slight detour to enjoy the (tax-free!) shopping at Rehoboth Mews boutiques. Just north of Rehoboth, you'll find the 5,000-acre Cape Henlopen State Park, where you can swim, hike, bike, and camp. Inside the park, visit the Seaside Nature Center for marine aquariums, natural history exhibits, and touch pools with horseshoe crabs.
The dining options are probably the best reason to go to Rehoboth. For a healthy stop, visit the Green Man Juice Bar for vegetarian-friendly drinks and wraps. Be sure your happy hour is filled with plenty of craft beers at the original Dogfish Head pub, and you can dine at Dogfish Head's new locally sourced seafood restaurant Chesapeake & Maine. Try the house-made "seacuterie," with crab cake Scotch egg, lobster sausage, and smoked whitefish pate. End your night checking out a performance at the Rehoboth Beach Bandstand (maybe blues or jazz one night, a Beach Boys tribute band the next). Get fancy with dessert and a nightcap at The Fork & Flask or keep it classic with a custard cone from Kohr Bros.
Chesapeake Beach, MD
Distance from DC: 35 miles, 1 hour drive
In a nutshell: A relaxed getaway in Southern Maryland that's an easy day trip from the city.
What to do: Stay at the picturesque Herrington Harbour South hotel with suites that have access to private beaches, an Olympic-sized swimming pool, boat slips, and free kayaks. There is a small fee for non-residents to use the beaches, but they are a great place to wade, avoid jellyfish (a net provides protection), or play on the pirate playground (what, don't act like you're too old for that). There's a nearby waterpark with slides, waterfalls, and lagoons, too. Start your day with delicious coffee and muffins from Sweet Sue's, head over to Mango's at lunchtime for steamed clams and mojitos on the water, and end your night at Neptune's Seafood Pub for their signature mussels, a few drinks, and live music.
Assateague Island National Seashore, MD and VA
Distance from DC: 150 miles, 3 hour drive
In a nutshell: This 37-mile island is inhabited by wild ponies cared for by the National Park Service.
What to do: The best way to experience Assateague is really to camp (beachside instead of bayside for better views and fewer bugs). But if you're not one for roughing it, try the Refuge Inn, which feels woodsy and rustic, with modern amenities like a pool, Wi-Fi, and free breakfast. Assateague is full of potential adventures, including hiking and biking trails, sunbathing and swimming, or just gazing at the wild ponies. Other attractions include the 142ft high Assateague Lighthouse, where visitors can climb to the top and see for 19 nautical miles.
If you're lucky, you'll be staying at Assateague during a rocket launch at the NASA Wallops Flight Facility, just 15 miles from the beach. On the flat beach, visitors can view the complete trajectory of a rocket launch, which head to the International Space Station or into lunar orbit. When you get sick of s'mores (it happens), there are plenty of places to dine in West Ocean City, just six miles down the road. Watch the sunset and live music with an Orange Crush in hand at Harborside, then have dinner just across the water at Shark on the Harbor -- we recommend the alcoholic birch beer and crab-stuffed peppers. And bring some Fisher's Popcorn back to camp!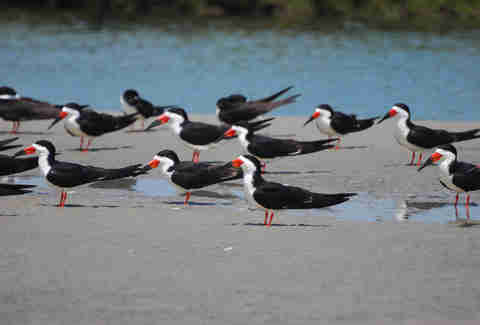 Stone Harbor, NJ
Distance from DC: 200 miles, 3.5 hour drive
In a nutshell: This laid-back, largely residential town on Seven Mile Island is ideal to avoid tourists.
What to do: While some new luxury resorts have popped up lately, we prefer the classic beachy rooms of the Lark Motel. With a pristine outdoor pool and grill on the rooftop deck, the Lark is only two blocks from the beach. For a glimpse of nature, head down to Stone Harbor Point, which is home to a great ocean beach, tidal marshlands, and some of the best birdwatching in the area... look out for herons and egrets. Spend your days relaxing on the sparsely populated beaches. If you visit in September, look out for the Nuns' Beach Surf Contest, which is... exactly what it sounds like.
Besides the beach, there are plenty of activities to keep you busy during the day, including rooftop mini-golf at the animal-themed Club 18, or the bohemian paradise Blue Eden for clothes, jewelry, and toiletries. For a midday break, stop at the renowned Quahog's Seafood Shack for smoky shrimp and grits, or crab-stuffed pancakes. Enjoy the sunset and have dinner at bayfront Water Star Grille, which boasts an outdoor deck, shareable plates, and sparkling cocktails. And make sure you brave the lines at Springer's. We recommend the "blue one."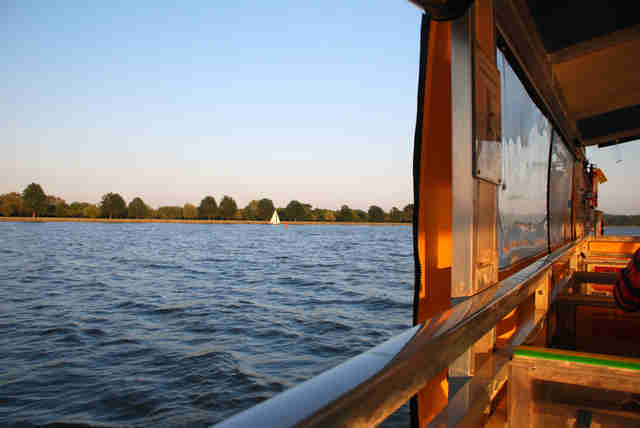 Colonial Beach, VA
Distance from DC: 65 miles, 2 hour drive
In a nutshell: Nestled between Potomac River and Monroe Bay, this beach lures many water lovers.
What to do: Stay at Alexander Graham Bell's old residence, aka the Bell House, with cozy, affordable rooms and a wraparound porch. Start your day with a latte and pastry from Tattle Tale, which occasionally features local art and live acoustic tunes. Explore the area's many historical attractions by golf cart, which can be rented and legally driven around the town. Boats are also rentable through Potomac River Charters, so avid fisherman can try and catch rockfish, spot, perch, and croaker.
Grab lunch at the unassuming Denson's Grocery, a mom-and-pop deli known for its oysters, ice cream, and sandwiches that you can enjoy on an outdoor patio. Then spend the day sampling one of Virginia's largest wineries, Ingleside Vineyards. Pretend you're in the Tuscan countryside as you sip the 2014 Sangiovese. Cap off the evening with a fusion-inspired dinner at Seaside Thai & French restaurant where popular dishes include pineapple curry and fried flounder. End your night with live music on the waterfront at Dockside Restaurant... and a pro tip: drink out of the bucket.
Sign up here for our daily DC email and be the first to get all the food/drink/fun in town.