Your Next DC Picnic Should Be at One of These Hidden Outdoor Spaces
Text the group chat! These gorgeous DC parks are perfect for your next warm-weather outing.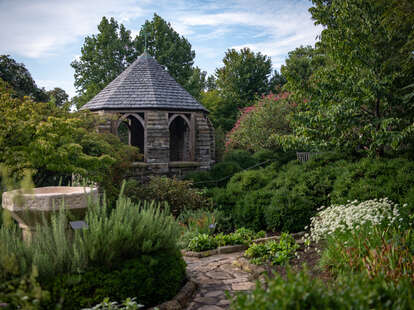 Bishop's Garden

| Photo courtesy of Washington National Cathedral
Bishop's Garden

| Photo courtesy of Washington National Cathedral
Chances are, if you've been living in DC for more than a hot minute, you're intimately acquainted with some of our best-known parks like Rock Creek Park; DC's central, and much wooded tract of land, Meridian Hill Park, where a weekend picnic is practically a rite of passage for living here; and Lincoln Park, where groups of friends, babies, and dogs gather in equal measure.
Along with these spacious destinations, the city also has plenty of smaller, sometimes hidden, and certainly lesser-known outdoor gems to explore. For your next warm-weather hang, we've rounded up a dozen spots around the city and (and some beyond) that make a great home base. Here are the coolest parks, gardens, and public spaces for outdoor group hangs this season.
Kenilworth
This sweeping park and aquatic gardens is one of the most unique spaces within DC. A walk along the pathways through the water gardens will bring you past 500-year-old lotus flowers, tropical lilies, turtles, beavers, and nearly 250 species of birds. A visit during the park's Lotus and Water Lily Festival in July is a must, but come on any other weekend for a more peaceful stroll through this truly hidden gem.
Georgetown
This property with more than fifty acres is home to a Harvard University research institute, a library and museum, and stunning, historic gardens and grounds designed by acclaimed landscape designer, Beatrix Farrand. While you will need a ticket to access the grounds ($7), you can spend hours exploring every corner and flower bed. Dumbarton Oaks is home to many flowering cherry and plum trees as well as vibrant forsythias and other plants, as well as art installations, and open stretches of lawn to laze away an afternoon with friends or a good book.
Potomac, Maryland
A forty-five-minute drive out of the District that's worth the trip and then some, Glenstone is an expansive, futuristic sculpture park where you could while away the day. Completely free (advanced ticket registration available and they accept walk-ups who come by bus), the park boasts over 300-acres to wander, picnic, and stroll with friends. Take in the modern art, sculpture, and architecture, and enjoy the unobstructed open landscape. In addition, Glenstone features indoor gallery spaces and a minimalist chic cafe with a seasonally-focused menu.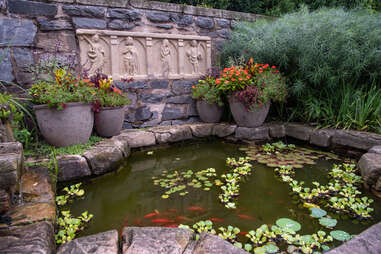 Cathedral Heights
Tucked away outside of the National Cathedral, this lovely walled garden was designed by Frederick Law Olmsted Jr., who in the early 20th century, was one of the leading forces tasked to interpret what L'Enfant envisioned for the capital. Inspired by medieval walled gardens and originally intended as a private space accessible only from the Bishop's house on the Cathedral grounds, years after it was constructed, the garden opened to the public but continues to be one of DC's best kept secrets. The space features historical and native plants.
National Mall
This four-acre, blossom-filled garden is located behind the Smithsonian Castle and stretches to Independent Avenue, offering a quiet place to chill out just steps from the National Mall. While strolling through the garden's three sections—the Parterre, Moongate Garden, and Fountain Garden—you might be surprised to learn that you're actually walking through a large roof garden spanning the top of the National Museum of African Art, the National Museum of Asian Art, and the S. Dillon Ripley Center-International Gallery.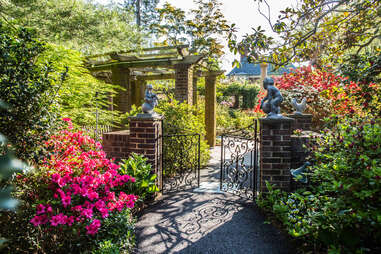 Forest Hills
The vast Hillwood Estate is the former home of Marjorie Merriweather Post (of Post cereals), where she used it as a private residence for two decades. The estate opened to the public in 1977 and is now an expansive and flowery oasis at the top of the city. Donation-based admission grants you access to the twenty-five-acre property brimming with flowers, formal gardens, an open lawn, a greenhouse bursting with orchids, and an outdoor cafe. This is a perfect spot to lay out a picnic blanket and admire the views. Don't forget to take a tour around the house while you're there—Post was a consummate collector of Fabergé eggs, Romanov art, silver, and more.
Columbia Island
This flower-filled island park runs along the banks of the Potomac. The park is named for Lady Bird Johnson, the former First Lady who worked to transform America's landscapes, preserve the country's natural beauty, and recognize the US's great outdoors as a national treasure worth celebrating. Lady Bird received a Presidential Medal of Freedom for her efforts and a portion of Columbia Island was named in her honor back in 1968. Since then, it has been a refuge from the bustle of Arlington and DC, and offers striking views of the Mall.
Vienna, VA
Another green space worth venturing out of city limits for, Meadowlark Botanical Gardens offers 95-acres that include around 30 formal gardens, a lake, and woodland trails. The garden is best known for its Korean Bell Garden, which is one of the only bell gardens in the Western Hemisphere, and a cultural landmark. Tickets to visit the garden are $6.
Kalorama
This postage-stamp sized park in the middle of Kalorama is a green square of respite in the otherwise busy neighborhood. After years of decline, the park underwent a major fundraising effort—and archeological dig—before reopening to the public in 2004 as an oasis with nearly 25,000 plantings (trees, shrubs, flowers, etc.). Mitchell Park remains an "if you know, you know" spot for picnics and peaceful hangs. In the summer, you can also expect programming like film showings.
Rawlins Park
Foggy Bottom
Perhaps the smallest park on our list, Rawlins Park is a hidden green space behind the U.S. Office of Personnel Management (how's that for hidden glamour?). Comprising less than half a city block of green, the park abuts a bench-lined fountain and statue of Civil War hero, General John A. Rawlins. The spot especially sings in the early spring when its magnolia trees are abloom (on average, around two weeks before the district's more famous cherry blossoms).
Georgetown
The garden at Tudor Place is so tucked away you may have walked through the neighborhood without knowing it's there. Although just five-and-a-half acres in size, the garden feels like a world unto itself. The grounds are divided into two parts: a more formal European-style garden with topiaries and cultivated roses, and a slopping lawn that, thanks to the garden's location, offers sweeping views out over the city. The garden, which has been cultivated for over two hundred years, is a wonderful place to see what's seasonally in bloom and to admire historic varietals of boxwoods and shrubs. Admission is free, just check in at the Visitor Desk upon arrival.
Northeast DC
Hanging outside doesn't get more ideal than in DC's expansive arboretum. The 446-acre park is home to varied landscapes made for strolling, lounging, and enjoying the beauty of the day. Wander through the arboretum's more formal spaces such as the Japanese Woodland, Azalea Hillside, or China Valley, or picnic beneath the Capitol Columns and surrounding open meadows. And if you're craving a more active hang, there are 9.5 miles of walkways to explore. Dogs and bikes are welcome.