9 Museum Exhibits to Check Out in DC Before They Disappear
A must-see bucket list for locals and tourists alike.
Of the many national treasures to be found in Washington, DC, some of the most impressive collections are housed in the many museums around the District. From official presidential portraits to international language exhibits to celebrations of women in the arts, the museum scene in DC is rife with educational and inspirational works that can appeal to a wide range of interests.
DC denizens were left without museums for far too long during the COVID pandemic, but now, as restrictions ease and life begins to return to its normal summer pattern, some of our favorite museums are back open. So we've rounded up some of our favorite permanent and temporary exhibits currently on display at the many noteworthy DC museums that are well worth a visit this summer.
The National Museum of Women in the Arts is always a great place to learn more about often underrepresented female artists and female subjects, and this exhibit of photographer Mary Ellen Mark's work brings the two together. The exhibit brings together about 30 images from the modern photographer's 50-year-long career, all of which focus on girls and young women from all around the world. Check out the exhibit before August 8, when the museum will temporarily close for renovations.
Dates: Now through August 8
How to visit: Buy passes at the museum's website
2021 marks The Phillips Collection's 100th birthday, and the museum—which was America's first dedicated to modern art—is celebrating with a special exhibit: Seeing Differently. The exhibit highlights more than 200 works by artists from the 19th century to the present, including paintings, works on paper, prints, photographs, sculptures, quilts, and videos. Unlike other special exhibits, this one is actually spread throughout the whole museum, and focuses specifically on recent acquisitions to highlight the museum's evolution.
Dates: Now through September 12
How to visit: Reserve timed tickets via website
The traveling exhibit, The Bearded Lady Project, is comprised of 38 black-and-white portraits taken by Kelsey Vance, showcasing female paleontologists in the field, laboratories, offices, and museums. All these female scientists posed with false beards and mustaches to challenge the general concept of what a scientist might look like.
Dates: Now through September 26
How to visit: The museum is open Wednesday through Sunday from 10 am to 5:30 pm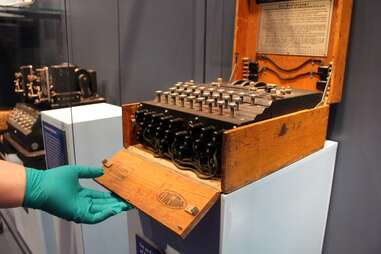 This pop-up exhibit highlights a fascinating collection of artifacts used for codemaking, codebreaking, and secure communications, all from NSA's National Cryptologic Museum, which is temporarily closed. You may not be an expert cryptographer, but you can certainly appreciate the pieces on display while learning about how convert communications have shaped all of our lives.
Dates: Now through September 30
How to visit: Reserve tickets via website
The Renwick Gallery is certainly not the largest of the Smithsonians, but its more intimate size often makes for more compelling exhibits. Chief among them is Welcome Home: A Portrait of East Baltimore, 1975–1980, which documents the history and diversity of East Baltimore residents and businesses in the 1970s. The photographs were taken to celebrate America's bicentennial.
Dates: Now through January 17, 2022
How to visit: The museum is open Wednesday through Sunday from 10 am to 5:30 pm.
It's hard to pick just one fantastic exhibit at this relatively new museum dedicated to language, but one of the most interesting and interactive is The Spoken Word. You'll be able to meet speakers and signers from all around the world, have them introduce you to their language, and even try out some new words for yourself.
Dates: Permanent exhibit
How to visit: Reserve a pass at the museum's website
Born in 1941, American artist Lynda Benglis has made a name for herself with her innovative uses and mixes of techniques, materials, and mediums. The National Gallery is currently showing 33 of Bengli's sculptures, paintings, drawings, prints, and videos to highlight the unique oeuvre of this major artist who has influenced generations who followed her.
Dates: Now through January 2, 2022
How to visit: No timed-entry passes are needed for daily entry from 10 am to 5 pm
This fascinating exhibit pays homage to the great experiment of American democracy, and brings viewers through the history of citizen participation, debate, and compromise. Objects from Thomas Jefferson's portable desk to Abraham Lincoln's inkstand to Elizabeth Cady Stanton's table are on display as part of the exhibit.
Dates: Permanent exhibit
How to visit: The museum is open Friday to Tuesday, 10 am to 5:30 pm and does not require timed-entry passes.
The Portrait Gallery continues to celebrate the centennial of the ratification of the Nineteenth Amendment, which gave women the right to vote, with this exhibit. Her Story celebrates some of America's most diverse and influential female authors, including Margaret Wise Brown, Willa Cather, Sandra Cisneros, and Alice Walker.
Dates: Now through January 23, 2022
How to visit: The museum is open Wednesday through Sunday from 11:30 am to 7 pm