10 Museum Exhibits in DC to Check Out Before They Disappear
A must-see bucket list for locals and tourists alike.
Of the many national treasures to be found in Washington, DC, some of the most impressive monuments are actually housed in the many museums around the District. From official presidential portraits at the Smithsonian museums to a new space celebrating language called Planet Word, the museum scene in DC is rife with educational and inspirational works that can appeal to a wide range of interests.
Thanks to easing COVID restrictions and cooling temperatures, spending a day in one of DC's many world-class museums is becoming an increasingly viable way to spend a morning, afternoon, or in some cases, an entire day. Curators across disciplines have worked hard to create truly visit-worthy exhibits across the city. So to make things easy for you, we've rounded up some of our favorites that you can check out this fall.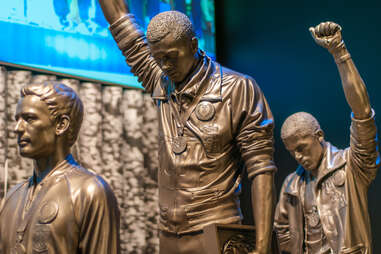 This new exhibit will examine the Reconstruction era and features more than 175 objects, 300 images, and 14 media programs in the Special Exhibitions Gallery. The exhibit celebrates the fifth anniversary of the museum's opening with an exploration of the legacy of reconstruction, racial profiling, and voter suppression using powerful objects from the families of Trayvon Martin, Stacey Abrams, and Bree Newsome.
Dates: Now through August 21, 2022
How to visit: The museum is open Wednesday – Sunday from 10 am to 5:30 pm and requires timed entry passes
The Hirshhorn Museum's contemporary art is always a favorite among DC natives and visitors alike. Right now, you can check out a few exhibits, including the newly opened Laurie Anderson: The Weather, the largest-ever exhibition from multimedia artist, performer, musician, and writer Laurie Anderson. More than a dozen new pieces are on display, as well as key works from her oeuvre (including her famous Habeas Corpus (2015)). The audiovisual exhibit features video, performance, installation, painting, and other media. And to really bring the exhibit to life, there will be a series of live performances by Anderson from January 2022 to July 2022.
Dates: Now through July 31, 2022
How to visit: The museum is open Wednesday – Sunday from 10 am to 5:30 pm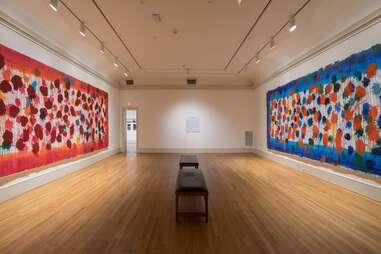 This year marks The Phillips Collection's 100th birthday, and the museum—which was America's first dedicated to modern art—is celebrating with a special digital exhibit: Amalgama Phillips. The remarkable piece uses 550 images pieces in the museum's permanent collection to create a "generative digital artwork that liquefies all the works in a seamless blend of melted imagery." You can actually check out the piece online, but the site-specific installation is worth a visit as well, as it is constantly changing and driven by an algorithm.
Dates: Now through January 2, 2022
How to visit: Reserve timed tickets via website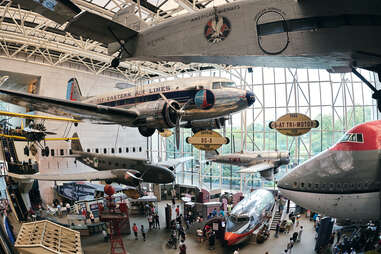 The recently opened Air and Space Museum is sure to be a family delight, and the Boeing Milestones exhibit may be a particular favorite. The collection celebrates some of the most significant aircraft (including airplanes, rockets, and other spacecraft) in history, including Charles Lindbergh's solo trip across the Atlantic, the breaking of the "sound barrier," and the first privately-developed, piloted vehicle to reach space, SpaceShipOne.
Dates: Permanent exhibit
How to visit: The museum is open Thursday – Monday from 10 am to 5:30 pm
A visit to Glenstone is always an experience in and of itself, given the museum's dedication to integrating art, architecture, and nature into a truly one-of-a-kind experience. The museum's Jeff Wall exhibit is the first in the DC area in more than two decades and will be the largest exhibition by the artist in the US since his 2007 showing at the Museum of Modern Art in New York. You'll be able to check out nearly 30 pieces that span a career of five decades.
Dates: Now through March 2022
How to visit: Reserve tickets via website
The Smithsonian American Art Museum is sometimes overlooked for the stunning National Gallery of Art, but this sprawling and equally impressive museum is always worth your time. Especially when an exhibit as important as Sargent, Whistler, and Venetian Glass is on display. The exhibit highlights the Venetian glass revival of the late 19th century and represents the first comprehensive examination of American tourism, artmaking, and art collecting in Venice. American artists John Singer Sargent and James McNeill Whistler were deeply influenced by their own time in Venice, and this exhibit pays tribute to these effects.
Dates: Now through May 8, 2022
How to visit: The museum is open Wednesday – Sunday from 11:30 am to 7:00 pm
It's hard to pick just one fantastic exhibit at this relatively new museum dedicated to language, but one of the most interesting and interactive is The Spoken World. You'll be able to meet speakers and signers from all around the world, have them introduce you to their language, and even try out some new words for yourself.
Dates: Permanent exhibit
How to visit: Reserve a pass at the museum's website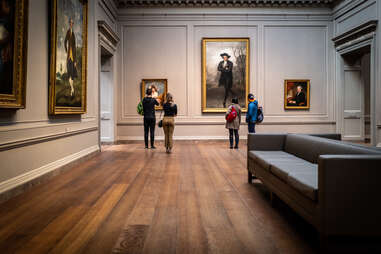 While the NGA's larger Genoa-focused exhibit was tragically canceled as a result of COVID, this exhibit represents an excellent way to explore the artistic boom that took place in Genoa for centuries. On view in the Art Library of the NGA, this exhibit encompasses a selection of rare books and works on paper produced in the Republic of Genoa from the end of the 16th century to the middle of the 18th century, and offer a glimpse into Genoa's print culture at the height of the baroque period.
Dates: Now through January 7, 2022
How to visit: Open daily from 10 am to 5 pm
If you're looking to be transported to another time and place, check out this stunning one-room exhibit at the Freer Gallery. Blue-and-white Chinese porcelains are on display in this ornately decorated room, just as they were in the 1870s, when Frederick Leyland, a shipping magnate in London, dined there. Charles Lang Freer purchased the original room and its works in 1904 and installed it in his home in Detroit, Michigan. When he died in 1919, the Peacock Room was moved to Washington, DC, and put on display in the Freer Gallery of Art.
Dates: Now through June 5, 2022
How to visit: The museum is open Friday – Tuesday from 10 am to 5:30 pm
In this first major exhibit of contemporary Chinese-born American artist Hung Liu's work on the East Coast, the National Portrait Gallery celebrates the achievements and contributions of this remarkable female painter. Liu lived through war, political revolution, exile, and displacement, and used this perspective to paint a complex picture of an Asian Pacific American experience.
Dates: Now through May 30, 2022
How to visit: The museum is open Wednesday – Sunday from 11:30 am to 7 pm