9 Museum Exhibits in DC to Check Out Before They Disappear
From otherworldly art exhibits to limited-time shows where you'll learn about birds, baseball, and more.
Of the many national treasures to be found in DC, some of the most impressive monuments are actually housed in the many museums around The District rather than on the National Mall. From some of the world's most coveted gems in the Smithsonian Museum of Natural History to celebrations of language at Planet Word, the museum scene in DC is rife with educational and inspirational works that can appeal to a wide range of interests.
With the new season comes a bevy of new things to do, so if you're looking for a way to spend an afternoon—or heck, a whole day—checking out one of DC's many world-class museums is a tough act to beat. Curators across disciplines have worked hard to create mind-boggling exhibits across the city that are worth a visit. There's a lot to see, so to make things easy for you, we've rounded up all the coolest museum exhibits in DC right now that you can check out this spring.
For adrenaline junkies, adventurers, or those who want to live vicariously through a trip to the museum, this new exhibit at the National Geographic Museum showcases the experiences of the mountaineers who have faced the most famous peak in the world. Climbers, mapmakers, and scientists provide their storytelling expertise, along with photographs, films, and objects displaying the power and majesty of Mount Everest, so you'll feel immersed in the expertise without having to make the more than 29,000-foot journey.
Dates: Now through May 1
How to visit: Purchase tickets online for the exhibit, which grants access to the rest of the museum, including the permanent collection.
Glenstone is a beautiful destination regardless of what is on display, but it's especially worth a trip now as the weather warms up. Visitors can check out an exhibit showcasing the work of Latvian-born artist Vija Celmins now through June 19. Immerse yourself in the minimalism and monochromaticity of the artist's work, as you explore work across mediums like paintings, drawings, mezzotints, and sculptures. The exhibition marks the artist's first solo show in DC since 1979, so you don't want to miss it.
Dates: Now through June 19
How to visit: The museum is open Thursday to Sunday from 10:00 am to 5:00 pm.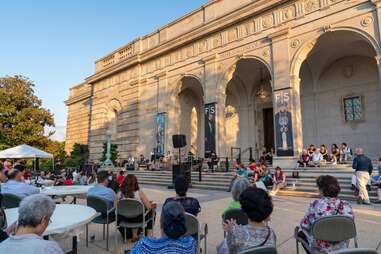 Whether you're an avid birdwatcher or simply take a casual interest in the natural world, this fascinating exhibit examines humans' long-standing relationship with the clever falcon. With both paintings and objects from ancient Egypt to China, Falcons: The Art of the Hunt showcases the bird's incredible hunting skill and their relationship with human counterparts that goes back for centuries.
Dates: Now through July 17
How to visit: The museum is open every day except Tuesday from 10:00 am to 5:30 pm.
You may have learned about the infamous Watergate scandal that led to the resignation of President Richard Nixon, but the National Portrait Gallery is exploring the piece of history through another medium: art. Opening in line with the 50th anniversary of the event, this exhibit serves as a history lesson featuring some of the most important real-life characters in the scandal as depicted by artists including Richard Avedon, Marisol Escobar, and George Giusti.
Dates: Now until September 5
How to visit: The museum is open Tuesday through Sunday from 11:30 am to 7:00 pm.
Yayoi Kusama took The District by storm when the artist's work was on display back in 2017. Now the contemporary artist's work is back at the Hirshhorn Museum as part of a highly anticipated exhibit called One with Eternity that will soon be part of the museum's permanent collection. Featuring sculptures, an early painting, photographs of the artist, and two of the famous rooms from the Infinity Mirrors exhibit, a trip to the Hirshhorn will deliver you into the world of this acclaimed artist as you pay homage to the visionary's life and otherworldly work.
Dates: Now through November 27
How to visit: The museum is open Wednesday through Sunday from 10 am to 5:30 pm and this visit requires timed passes. Beginning May 30, the museum will be open seven days a week.
This show was initially slated to open in the fall of 2020, but after more than a year of delays, it has finally made its way to DC. The exhibit tells the story of the Raven, creator of the world and giver of the stars, moon, and sun. Featuring works by Tlingit glass artist Preston Singletary, the exhibit takes us on a journey that includes original music, soundscapes, and projected images for a fully immersive, multisensory experience.
Dates: Now through January 29, 2023
How to visit: Open Tuesday through Sunday from 10:00 am to 5:30 pm.

This unique exhibit celebrates what is known as "Nollywood," the burgeoning film and media scene in Nigeria. After three decades in New York City, photographer Iké Udé returned to Lagos in 2014, and has been capturing some of the nation's brightest stars from behind the lens. The collection showcases the evolution of African identity and celebrity in the 21st century through a series of photographs.
Dates: Now through February 28, 2023
How to visit: The museum is open every day except Tuesday from 10 am to 5:30 pm.
This massively underrated museum deserves a visit any time of year, but now that a delayed exhibit paying homage to America's favorite pastime is on display, there's no better time to visit the National Postal Museum. Baseball: America's Home Run features hundreds of stamps celebrating some of baseball's brightest stars like Jackie Robinson and Babe Ruth, as well as objects loaned by other Smithsonian museums and the National Baseball Hall of Fame, and some memorabilia making its first public debut.
Dates: Now through January 2025
How to visit: The museum is open daily from 10:00 am to 5:30 pm.
The Renwick Gallery may be small, but it is a mighty museum that hosts exhibits that always pack a punch. This Present Moment is no different, as it spotlights activism and resilience in art. The exhibit focuses in particular on women, people of color, and other underrepresented and marginalized populations, featuring nearly 150 artworks from the Smithsonian American Art Museum's permanent collection, and 135 new acquisitions making their public debut.
Dates: Opening May 13 and running through April 2, 2023
How to visit: The museum will reopen on May 13, and it will be open daily from 10:00 am to 5:30 pm.