Hike These Hidden Gem Trails in DC, Maryland, and Virginia
Get some fresh air -- at a safe distance.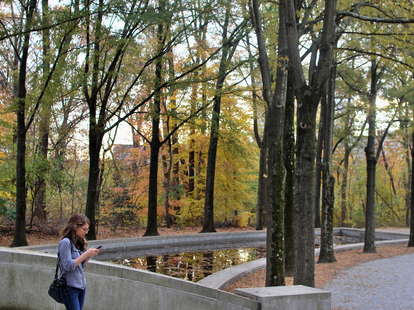 Long walks in area parks, nature reserves and secluded islands offer miles of trails where you can practice social distancing but still enjoy the outdoors. We've highlighted seven underrated green spaces in DC, Northern Virginia, and Maryland where you can hike, bike, and just unwind.
Keep in mind that, while trails are open, officials have shut down visitors' centers, restrooms, and other facilities due to the coronavirus. Check the websites for the latest information. We've highlighted mostly easy hikes that are within an hour of DC. Head off to one of these hidden gems for a hike, because we could all use a little peaceful time in nature.
Potomac River
Known as the "conservationist president," Theodore Roosevelt treasured the outdoors and wildlife, establishing five national parks and countless forests and reserves. Outdoor enthusiasts can visit one of the treasures named for the 26th president right in the heart of DC. Theodore Roosevelt Island offers several trails that traverse forests, swampy woods, and the plaza containing a larger-than-life statue of the eponymous president. Enjoy the birdwatching and vibrant wildflowers on your hike along the Potomac River.
Georgetown
A former section of the Baltimore and Ohio Railroad, the 11-mile hiking and biking trail runs from Georgetown to Silver Spring and features four bridges, two tunnels, and scenic Potomac views. Hikers can bring their dogs on the hard-surface trail where you can spot deer, rabbits, and various bird species and stop at one of the benches or water fountains when you need a break.
Lorton, Virginia
The secluded three-mile hike along the estuaries and bay beaches at Mason Neck Wildlife Refuge provides prime viewing of swans, geese, and the bald eagles the refuge was created to protect. The 2,276-acre refuge also contains one of the largest freshwater marshes on the Potomac.
Anacostia River
A footbridge near RFK Stadium connects visitors to the 1.5-mile trail linking Heritage and Kingman Island in Southeast and Northeast DC. Baltimore's Living Classrooms of the National Capital Region manages the man-made island on the Anacostia River. More secluded than Roosevelt Island, the park offers hikers the chance to glimpse jasmine trees, monarch butterflies, and other natural beauties.
Leesburg, Virginia
Loudoun County's Banshee Reeks Nature Preserve affords hikers more than 20 miles of trails alongside pristine wetlands and rivers. The 695-acre preserve houses a variety of animals, from otters to woodpeckers -- a change of scenery from DC's monuments and buildings. Bring some bug spray as you walk along Goose Creek for the best views.
Potomac, Maryland
Like other DC area museums, the two-year-old contemporary art gallery shut its indoor exhibits due to the coronavirus. But Glenstone's open-air museum experience, which features 11 outdoor sculptures on 300 acres, remains open Thursday through Sunday. Walk through trails and paths to discover some of the most well-known contemporary artists on display, including Jeff Koons and Charles Ray.
Lothian, Maryland
A sanctuary for birds, fish, and plants in Anne Arundel County, Jug Bay Wetlands Reserve spans 1,700 acres where you can hike past freshwater marshes, wetlands, and creeks. The reserve offers a variety of hikes that visitors can tackle separately or combine for a more vigorous excursion.
Sign up here for our daily DC email and be the first to get all the food/drink/fun in town.