Maryland & Delaware Shore Towns, Ranked, So You Can Plan Your Summer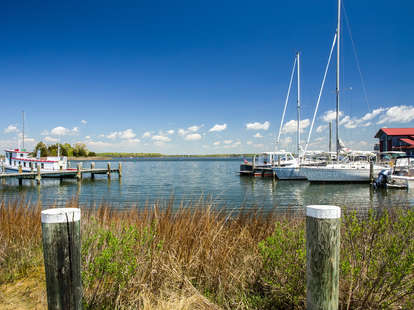 Yvonne Navalaney/Shutterstock
Yvonne Navalaney/Shutterstock
Come summertime, DC-area beachgoers are willing to brave long waits in traffic on the Chesapeake Bay Bridge in order to reach their favorite local shore town. There's more than 50 miles of shoreline between Maryland and Delaware, and the experiences can range from a raucous party at Seacrets to the quiet solitude of the Delaware Bay. No two beach towns in this neck of the woods are quite the same, and they all offer their own upsides, from Old Bay vinegar fries to beach bars that make a perfect Orange Crush.
We rounded up our favorite spots that do a great job combining the essential summertime experiences of food, drink, sun, fun, and waves -- and ranked them on a scale of "great beach vacation destination," to "truly fantastic beach vacation destination."
8. South Bethany, DE
Signs that you know you're in South Bethany: there's a McDonald's, a Grotto Pizza, and a Holiday Inn Express, and... that's about it. For dining and entertainment options, you're likely heading north to Bethany Beach proper. And while South Bethany has some lovely homes located on an intricate network of canals, the town also has to deal with some pretty bad beach erosion. Most recently, a January blizzard flooded the town and wiped clear the dunes.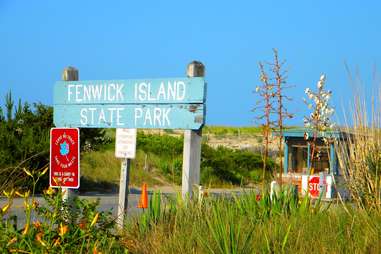 7. Fenwick Island, DE
Fenwick Island is sandwiched at the border of Maryland and Delaware, and is often times overlooked by tourists beelining past it on the way to other beach towns. Fenwick doesn't offer much in the way of nightlife, particularly when you compare it to places like Bethany, Rehoboth, or Dewey Beach, but it is picturesque. There's the Fenwick Island Lighthouse and Fenwick Island State Park, a parcel of land that's populated mainly by fishermen, surfers, and kayakers. So if you're looking more for calm than the party scene, this spot could be up your alley.
6. Ocean City, MD (north end)
Ocean City's north end is what happens when beach towns go boom in the '70s and '80s. The north side is a mass of towering concrete condos and half-empty strip malls. While it's not exactly aesthetically pleasing, North Ocean City does offer access to expansive beaches and bay views with spectacular sunsets. There's also a number of popular restaurants and bars that dot the northern end of Maryland, including Trattoria Lombardi's, Crab Bag, and Bull on the Beach.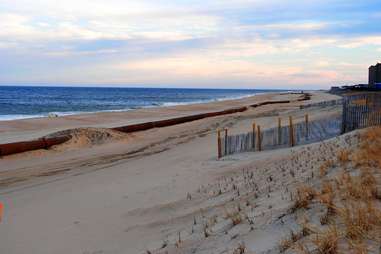 5. Bethany Beach, DE
You can't walk two blocks in Bethany without bumping into someone who's decked out in Vineyard Vines, Lilly Pulitzer, or Lacoste. We're just going to call it like we see it: Bethany is where the prepped-out bourgeoisie hit the beach. Snootiness aside, this place really is a delightful beachside retreat, and a more wholesome vacation spot compared to Dewey. However, it's severely limiting in one measure: beach. In Bethany, beach erosion is a big problem, and while the town has assembled dunes to keep the water away, there's hardly a square inch of sand available during peak summer months. Of course, just like any good class system, Bethany affords a select few access to private beaches located north and south of the city.
4. Lewes, DE
If it's peace and serenity that you seek, then Lewes, which is located alongside the mouth of the Delaware Bay, should be your refuge for some serious R&R. This town is by far the quietest and least-populated part of the Delaware shore. Most people opt for beachcomber bikes as their primary transportation method here, and a "crazy night out" means hitting up the local Dairy Queen before 9pm. Lewes is a sleepy little town just a short ride away from Cape Henlopen State Park, a paid-entry beach that you can practically call your own. Throughout the year, the town congregates around 2nd St, where most restaurants, shops, and hotels are located. For delicious, fresh food to throw on the grill, hit up the Historic Lewes Farmers Market on Saturday mornings from May 14th to November 19th. This place offers produce from many local farms and dairies just a few miles west of the beach.
3. Rehoboth, DE
Rehoboth is a family- and gay-friendly beach with an amazing boardwalk, gorgeous beach homes, and plenty of outlet shopping, but what really sets this beach town apart is the food scene. Restaurants do it big here. This year, Dogfish Brewery opened a new restaurant concept, Chesapeake & Maine, offering some of the freshest seafood and best beer on the Eastern shore. In addition, restaurants like Jam Bistro, a(MUSE.), and the Cultured Pearl offer some of the best dining options in Delaware. But the big must-visit is the boardwalk's Ice Cream Store, featuring atypical flavors of ice cream like "Bacon de Leche" and "Better Than Sex."
2. Ocean City, MD (south end)
Ocean City is really one big sprawling beachside city, but it is usually loosely broken down into two halves -- south versus north. The dividing point is at the 62nd St/Ocean City Expressway, which takes you to and from the beach. So what's the big difference? The south end of Ocean City is way better than the north, largely due to the existence of places like Thrasher's French Fries, Macky's Bayside Bar & Grill, M.R. Ducks Bar & Grille, Belly Busters Seafood & Deli, On The Bay Seafood, and the Ocean City Boardwalk. This is the kind of amazingly tacky place you adored as a kid, running from tacky T-shirt stands to henna tattoo shops and themed mini golf parks. It's also the home of multiple all-you-can-eat hotel buffets, and Maryland's largest outdoor, Jamaican-themed bar: the sacred ground that is Seacrets Bar & Restaurant.
1. Dewey Beach, DE
Dewey Beach is the type of place where your mornings start with a Bloody Mary from The Starboard and finish with a cheap, domestic beer at Bottle & Cork. The town has a reputation for adolescence delayed (or lost): it's notoriously known as the beach town where people going through quarter- and mid-life crises meet, and hook up. Unsurprisingly, it's also ground zero for bachelor and bachelorette parties. While this may sound like one big booze-filled party, the town also has a second, softer side. The "Dewey Beach way of life" is a more laid-back, sand-between-your-flip-flops vibe. It's the kind of place where you can go straight from your beach house to the sun and surf, without getting lost in the swarm of summer crowds... and let's be honest, there's something alluring about a town where you can just as easily dance along to the music of a '90s cover band as you can avoid humans and bodyboard all day long.
Sign up here for our daily DC email and be the first to get all the food/drink/fun in town.