The Best Bars to Hit if You're Single in DC
If you're thinking of heading out tonight in pursuit of finding love, or possibly someone to text with back and forth until the conversation eventually dies out, you're in luck. DC is ranked as the seventh best city for dating out of 66, but are you ready for the catch? A whopping 70 percent of DC's adult population is single, according to the US Census Bureau. Oh, and that survey that ranked DC as the seventh best? It also shows that men in DC are generally much more satisfied than women when it comes to dating. Shocker. 
Don't let the numbers get you down, though, as we've got the perfect spots to lift you right back up. It's time to put down that phone, give your thumbs a rest, and head out with your friends for an old-fashioned night of dating safari. Whether you're the kind of person who prefers a laidback dive or a place to dance the night away, we've got you covered with this list of the best single bars in the city.
U Street/14th Street
Walk down the stairs below the equally busy and slightly less trashy rooftop spot Lost Society and you'll find yourself at the notorious Tropicalia. The perfect place to bring a group of friends who are ready to dance the night away, Tropicalia boasts a large dance floor, multiple bars, and live DJ sets usually bumping hip-hop or top 40 jams. Grab your rail drink of choice from the bar that's sure to be calling your name as soon as you walk in, and then get ready to bust a move.
U Street
The Velvet Lounge is the perfect mix of dive and dance, with live performers and DJs getting the almost-always-packed crowd moving. It's a pretty small place, but with two floors and a backyard area to escape to if you need a breather (or a smoke break), it's a good spot to post up for the evening. Be sure to check its lineup of shows beforehand to see if any of your local favorites are on the roster. 
Petworth
Are you on the hunt for your hipster, craft-beer-wielding soulmate? Look no further than popular neighborhood bar Red Derby, where funky décor and an open rooftop serve as the perfect backdrop for your next 500 Days of Summer love story. Also helping to set the mood are a selection of board games and American comfort food classics if you get the drunchies, like sweet potato fries and grilled cheese. 
Adams Morgan
Dan's Café is the diviest of dive bars with a young and rowdy crowd. It's perhaps best known for its empty condiment squeeze bottles that you can pay a $5 deposit to get filled up with your liquor of choice. Have a ball squirting said liquor into your friends' mouths (or perhaps the mouth of a new lover?) before stumbling out to sing karaoke next door at Muzette.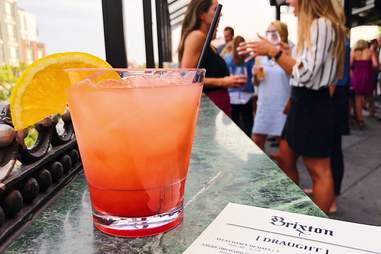 The Brixton DC
U Street
Bring a book for the line usually snaking around the corner of this self-described British restaurant and pub, where supposedly you can actually eat dinner instead of just tossing back shots at midnight on a Friday. Who knew? Regardless, it's a great place known for mingling and the occasional bout of dancing. The bar has three floors to explore, and we suggest grabbing a Moscow Mule with a side shot on the first floor, then heading up to the second floor to dance, and reserving the rooftop for when you need some air (probably almost immediately). 
14th Street 
You may miss Trade if you're passing by it on bustling 14th Street, where it's tucked in amidst a slew of other popular bars, like Kingfisher and Black Whiskey. Walk into the beloved gay bar and you'll find a small and usually packed watering hole where the vibe is very much subject to change depending on who is in attendance. Besides, the backyard patio is probably where you'll end up. Try to arrive before 10pm, the cut off for Huge Happy Hour, which means that you get a large version of your regular vodka soda for the same price, with beer and wine for only $5. 
Little Miss Whiskey's Golden Dollar

| Mark Thorp
H Street Corridor
If you're tired of $15 fancy cocktails and are looking to get away from pretentious crowds, head over to Little Miss Whiskey's on H Street, a self-described "lousy bar for rotten people" for a whiskey soda and some hip hop-fueled dancing with zero judgement. To find it, just follow the violet glow (you'll see what we mean) and venture into this quirky joint to knock back a few rounds and get sweaty on its second story dance floor, usually helmed by a DJ. 
Columbia Heights
Known for its Annual Sundress Fest that's currently at its 15th year, in which absolutely anyone wearing a sundress can enjoy an all-day happy hour, The Wonderland Ballroom is a DC mainstay. Prepare to be greeted first by a large outdoor patio, and then by the strong scent of draft beer that'll hit you as you walk through the door of this kitschy-yet-rowdy spot. Wonderland is also known for its beer selection, so grab one at the bar downstairs before heading up to the second floor for a night of dancing. You could even come back the next morning for an epic patio brunch with your new beau when you're both hungover. How romantic.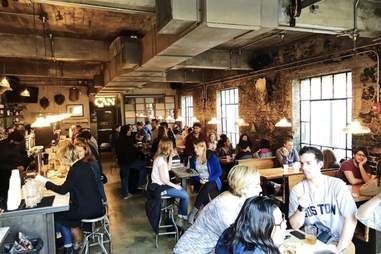 American Ice Co.
U Street
This is the place to grab a beverage and loosen up for the night before catching a show across the way at the epic music venue 9:30 Club. But it also makes for a great place to mingle the night way. Passing by it on the street it looks pretty nondescript, but a flash of your ID and you're in a hip, industrial bar with a large front patio and plenty of dating prospects. Come for a late dinner of barbecue brisket or wings and stay all night for the vibes and seasonal beer list. Or you could just grab some PBR tallboys -- we promise not to judge. 
Bloomingdale
Continuing the theme on this list of quirky, dive-y bars, at Showtime Lounge you can order a $5 "ComBOH" of National Bohemian beer (or Natty Boh) and cheap bourbon. After getting your first round, head over to the jukebox where you can cue up a few of your favorites while surveying the scene to see who there seems shares the same taste in music as you. Didn't make it over here on a Friday or Saturday? Don't despair, come on Sunday night when the bar hosts a weekly show by Granny & The Boys, Showtime's famous funky house band helmed by an amazing 86-year-old grandmother. 
Sign up here for our daily DC email and be the first to get all the food/drink/fun in town.
Austa Somvichian-Clausen hails from Los Angeles and now lives and works in Washington, DC, where she graduated from American University. A few of her passions include eating food and writing about it, telling people what kind of Asian she is, and following around Samoyeds that she sees on the street. Follow her on Instagram.