8 Surprisingly Affordable Spas in DC
Take in some R&R through special packages and discounted deals at the best spas in DC.
When it comes to self care, there are few environments more encouraging of some well-deserved R&R than the spa. But alas, relaxing can be difficult while simultaneously worried about the bill being racked up in the name of rejuvenation. And as luxurious as experiences at the Waldorf Astoria or Waldorf Astoria Georgetown may be, making a regular habitat out of visiting these spas is likely a bit indulgent for most.
Luckily, there are a wide range of accessible, affordable, and oh-so-fabulous spas throughout the DC area that are waiting to be explored. We've rounded up some of our favorite venues in the city to recharge without breaking the bank. So whether you're looking for hydrotherapy, massage therapy, or everything in between, check out these great spas at great price points.
Columbia Heights
This popular spa in northern DC has been in operation for the last 6 years, and is known for its premium services and non-premium prices. Their signature massage employs Swedish massage techniques, and promises to be ideal for relaxation, stress relief, and pain alleviation. And from Monday through Thursday, you can book a 45-minute session for $85. You'll also get 15% off list prices if you buy a package of six massages of any kind (including deep tissue, sports, prenatal, reflexology, hot stones, Thai, and trigger point). Plus, the spa offers beauty services such as acne treatment, facials (for men and women), and LED light therapy.
How to book: Website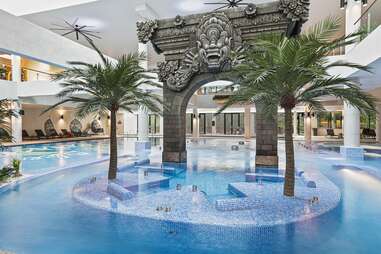 Alexandria, VA
The expansive wellness facility at Balian Springs in Alexandria is a fabulous place to spend a couple hours or a whole day in a series of plunge pools, saunas, and lounges. You can access the wellness club either by purchasing a membership, or for a simple daily fee; on weekdays, admission is $130, whereas weekend pricing stands at $165. This price includes access to the spa's hydrotherapy pool, plunge pools, and a wide range of saunas (like the gold sauna and loose clay sauna) and therapy rooms (including infrared therapy and chromotherapy). If lounging in the many bodies of water isn't quite enough for you, the spa also offers massage and beauty services priced a la carte.
How to book: Mindbody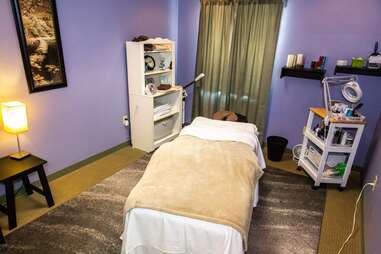 Burke, VA
Located about 20 miles outside of DC, Serendipity Wellness looks to offer a holistic wellness experience that reduces stress from start to finish. Their custom therapeutic massage starts at $60 for half an hour, though if you'd rather the experts design your massage for you, there are eight other massage services available (including table Thai stretch and isometric muscle balancing). The spa also offers a loyalty program, whereby customers earn points for each service, product purchase, or referral, which can then be redeemed for discounts on future services.
How to book: Website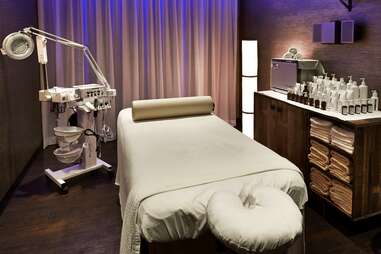 Multiple
While there are a number of Aura Spa locations throughout DC today, our best-loved is the Logan Circle branch, which offers massages, facials, and waxing services, as well as a sauna, steam room, and fuel bar (featuring RD-approved smoothie options) for long days of relaxation. Aura offers special pricing on packages of six sessions; for example, a six-pack of 75-minute therapeutic massage costs $120 per session (or opt for 90 minutes at $145 per session).
How to book: Website
Dupont Circle
For decades, Deluca has been a destination for massage in DC (in fact, it claims to be the longest-established massage and bodywork facility in the nation's capital). With over a dozen treatment rooms as well as a spacious relaxation lounge, Deluca is a prime destination for all things relaxation. Customers have the option of adding massage enhancements to their treatment, including aromatherapy, cupping, scrubs, and hot stones, all for between $10 and $20. Deluca offers midweek specials, as well as discounts on packages of 5 or 10 massages ($95 per session for 5 massages, or $90 per session for 10 massages).
How to book: Meevo
Adams Morgan
Wat Massage in northwest DC has been in operation since 2011, and is often voted among the best spa experiences in the city. That's largely due to the personalized approach this spa takes to its massage treatments—therapists are trained in a range of international techniques (including Hawaiian Lomi Lomi, Ashiatsu, and Thai Herbal massage), but also take individual customer needs into consideration when designing their therapies. First-time customers can get a 90-minute massage on any weekday for the special price of $130; otherwise, 60 minute massages start at $105.
How to book: Website
Downtown
For a next-generation approach to relaxation, check out Soulex in downtown DC, where your spa experience will include an individual pod where you can, quite literally, float your worries away. Floatation therapy is meant to address pain and injury recovery, and is meant to mimic the effects of meditation or deep sleep. Floaters (aka clients) are each welcomed into their private floating pod that's complete with a shower to enjoy the entire experience entirely on your own. And during off-peak hours (Thursdays from 10 am until 2 pm), you can book an hour of floating for $79, which includes earplugs, mineral jelly, and natural shampoo, body wash, and conditioner. Plus, Soulex frequently offers special packages based on special occasions (like Valentine's Day).
How to book: Website
Georgetown and Adams Morgan
With two locations, Unwind Wellness has been a DC institution for nearly three decades, and is frequently voted the best spa in the city. Whether you're looking for a massage, a body wrap, acupuncture services, or a beauty ritual, Unwind has something to offer. Plus, promos abound at this spa—for example, if you purchase a series package of 10 sessions, you'll get 10% off (or, purchase a series of 5 sessions for 5% off). Moreover, the spa offers referral bonuses for every friend you direct to Unwind, as well as a $10 off early bird special for all massages (except Swedish) on weekdays from 10 am to 1 pm.
How to book: Website