A Swanky New Hotel Debuts as Part of The Wharf's Massive Expansion
The sleek new hotel offers sweeping views of Jefferson Memorial and other iconic sites.
Published on 10/28/2022 at 4:17 PM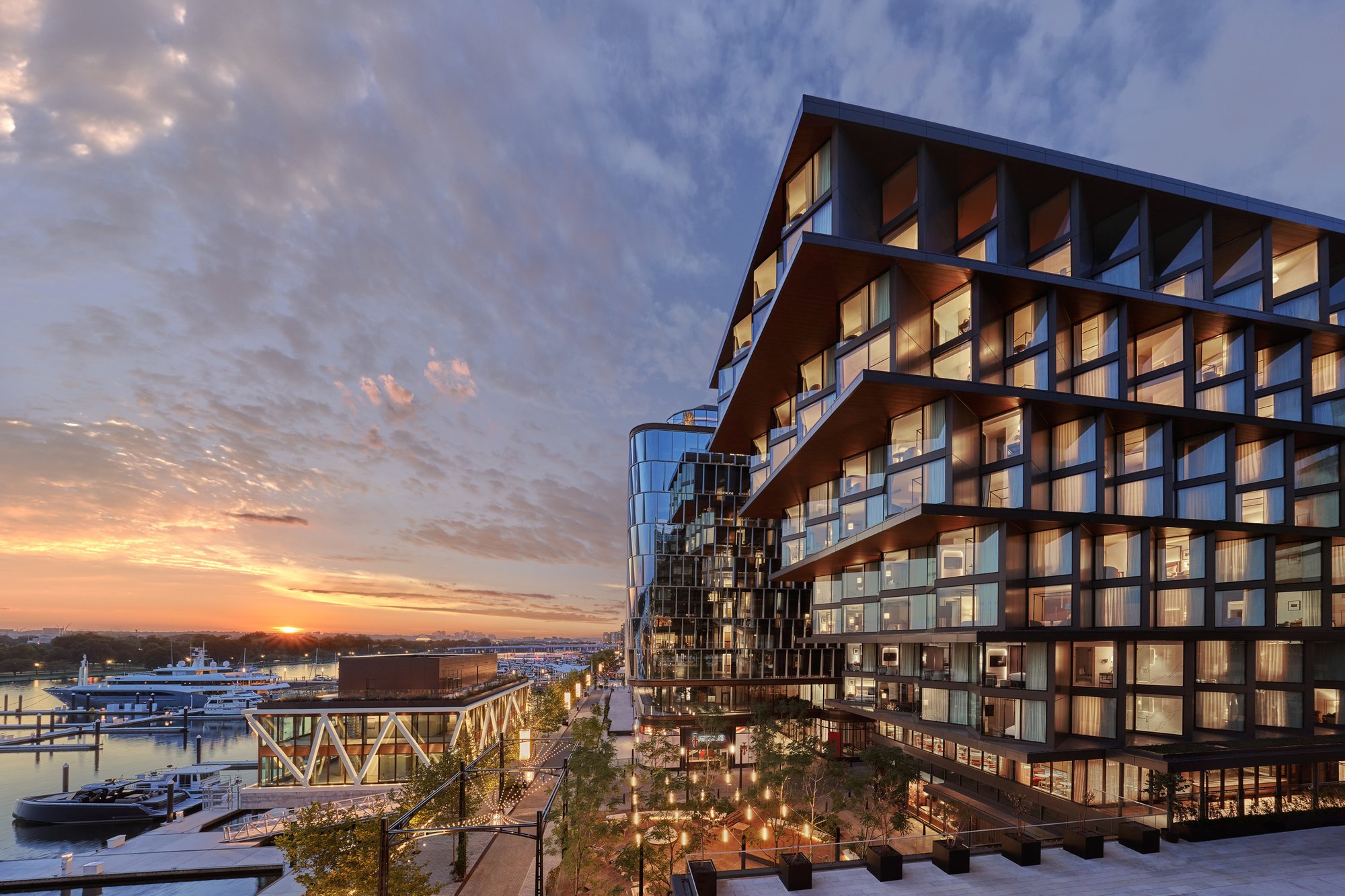 Exterior | Photo Courtesy of Pendry Hotel
From its humble origins as home to DC's most famous fish market to its current status as a hub for drinking, dining, and more, The Wharf has been completely reimagined over the past few years. And when the Pendry Hotel opens its flagship DC property in the neighborhood this week, it'll usher in an era of further expansion bringing 20 new businesses to the area.
The luxury hotel, which is the seventh property in the Pendry Hotels portfolio, is made up of 131 guest rooms and suites, three restaurants and bars, a rooftop lounge, plus an on-site spa and pool. Overlooking the Southwest waterfront area, one of the hotel's main draws is sweeping views of the area and surrounding landmarks like the Jefferson Memorial and the Tidal Basin.
Bar Pendry | Photo Courtesy of the Pendry Hotel
"Guests and observers alike will notice [the hotel's] intriguing horizontal structure," says general manager Pascal Forotti. "This was done deliberately, so the neighboring Potomac, U.S. Capitol, and iconic Washington monuments could be viewed and admired from every floor."
Floor-to-ceiling windows help create the light-filled interior and give guests access to all of those incredible views, while wood flooring with accent rugs, elegant French doors, and the generous use of plush, velveteen textiles give each room a distinctly classic yet cozy feel.
Guests of the Pendry will be a mere stone's throw away from the dozens of restaurants that line The Wharf, those looking to stay even closer to home can enjoy one of three food and beverage concepts all helmed by chef Barry Koslow, formerly of the Watergate and W hotels.
Hotel Room | Photo Courtesy of the Pendry Hotel
Hotel Room | Photo Courtesy of the Pendry Hotel
There's Moonraker, a rooftop restaurant situated on the 14th floor, that boasts a Japanese-inspired menu including dishes like Tokyo fried chicken, yellowtail sashimi, and specialty rolls, alongside a curated library of Japanese whisky and bespoke cocktails.
Flora Flora, a second floor restaurant, draws its inspiration from the cooking heritage of Mexico and Peru. Serving breakfast and lunch, with dinner coming soon, the plant-forward menu is driven by local farmers and purveyors, while the wine selection is more worldly. The restaurant will also offer seasonal poolside service to hotel guests, made easier by the indoor and outdoor configuration of the space.
Flora Flora | Photo Courtesy of the Pendry Hotel
Finally, there's the lobby bar: Bar Pendry. The 66-seat moody bar area is decidedly swanky with warm leather seating, gold and marble accents, and a menu of classic cocktails and bites like caviar deviled eggs.
Additional amenities include a heated saltwater pool and a spa, which is the only Pendry spa on the east coast. Both guests and locals can enjoy the serene space with five treatment rooms, eucalyptus-infused steam rooms, and a lounge for relaxing before and after facials, massages, and other treatments.
Alongside all that's going on at the hotel itself, the hotel is one of the first developments to open as part of the highly anticipated phase two of The Wharf's development. The development's goal is to "reconnect Washington, DC to its waterfront and to create a space where people can gather," says Monty Hoffman, founder and chairman of Hoffman & Associates and co-developer of The Wharf. And they're hoping to do that with 20 new businesses, offices, and living spaces opening soon.
A mile-long path stretches from the fish market to newly constructed additions, which mainly consist of NYC transplants like Philippe by Philippe Chow, Limani, bartaco, and coffee chain Blank Street Coffee, plus two Gordon Ramsay-backed restaurants, but some local favorites like Lucky Buns are also joining the mix.