DC Chefs and Restaurateurs Share What the Nats World Series Win Means to Them
"Washington DC just isn't a sports town."
"That city already had a baseball team, and it failed -- twice!"
"The uniforms look like the Walgreens logo."
Baseball haters seem united against the Washington Nationals whether you're The New York Times or some guy from Boston trying to Sox-splain how Washington "creatures" don't deserve to ever be happy.
But the Nationals just bested the Houston Astros to win the World Series, against all odds and injuries and much to the chagrin of naysayers who often like to poke fun at the poor performance of DC sports. This playoff run has proven that the Nats are one of the scrappiest teams in Major League Baseball -- a team that fought their way to the tune of "Baby Shark" and made lasting memories in our nation's capital.
Aside from Nationals Park, nowhere has the mood been more festive and special than at bars and restaurants surrounding the park, especially in DC's Navy Yard, Capitol Hill, and H Street neighborhoods.
Countless souls in Washington's food and beverage community put in double or triple shifts these last few weeks to serve the thirsty masses of Nationals fans. We wanted to hear from them about what the World Series experience felt like, and how they're forever tied to the Washington Nationals.
Mike Friedman
Chef and owner of All-Purpose Pizzeria in Navy Yard
Describe this season in one word.
Exciting. In terms of the vibe during the MLB postseason, we were pinching ourselves because of how exciting and busy it has been. The massive showing and support of fans and DC residents have been amazing. And this year I created a pizza suit as my crazy idea of trying to get onto the field at the ballpark! Not only did it work out, but it's become an iconic part of game days. You'll usually see me shuffling around the building as I tempt people to eat more pizza.
When did you become a Nationals fan?
I actually went to the inaugural game for the Nationals. My business partner, Mike O'Malley, won tickets on the radio, and we all went. Fifteen years later, not only are we still buddies, but we own a restaurant across the street from the stadium! I've been a fan since that first game. This World Series has been a bit of a blur due to the business of the restaurant. I will say that I scored some free tickets to the pennant-clinching game. It was so awesome to see history in the making!
What does this mean for DC?
I think this run validates the Nationals as a baseball contender. We've known it for a long time, but it's great to see them in the Fall Classic, and great to see a fan base continuing to emerge. We don't have the lineage of other sports teams, but we are in the midst of building memories for future generations of Nats fans.
Jeremy Carman
Co-owner of The Salt Line in Navy Yard
Describe this season in one word.
Incredible. The resiliency that this team has shown has been infectious, and the energy before and after games has been relentless. Of course, Ryan [Zimmerman] is part of The Salt Line family, but building relationships with the other families, clubhouse guys, and the front office team has made watching these past few weeks extra special.

How long have you been a Nats fan?
As a New England native, I've been a Red Sox fan my whole life. But I've been rooting for The Nats ever since they came to DC. There's no conflict with The Sox. The Nats are really the only DC squad I can get behind.

Favorite moment this season?
Got to be the comeback in The Wild Card game against the Brewers. That last inning captured what this team has been about all season. The fans that night were electric, and you felt a comeback in the works. Also, as a dad, it's been so cool to watch my boys' love for the Nationals grow with all these magical playoff performances. One is too young to quite grasp it, but my older son is really starting to understand the game and develop his own love for this home team.
Marcelle Afram
Executive Chef at Bluejacket in Navy Yard
Describe this season in one word.
Infectious. Once the Nats started to get hot in May, seeing how this team was playing as a unit, the energy was infectious. The crowds were excited and wanted to engage about the team. Working so close to the stadium has always been exciting, seeing them get this far this year feels like we've accomplished something along with them!

How long have you been a Nats fan?
I've always been a baseball fan, but growing up in Silver Spring, Maryland, I was a default Orioles fan as a child. I'm also obsessed with sports history. That coupled with my pride for DC, I promised myself that, if DC ever got a team, switching allegiance would be easy.

Favorite moment this season?
My favorite moment from this playoff run is clinching the National League pennant. My wife and I went to the game spur-of-the-moment! It was a last minute decision that I'll never regret. I don't remember the last time I cried so many happy tears. Anything that gives us cause to celebrate comradery in a town overrun with politics is a welcomed occasion. The Nats are a team that truly gives us pride as Washingtonians.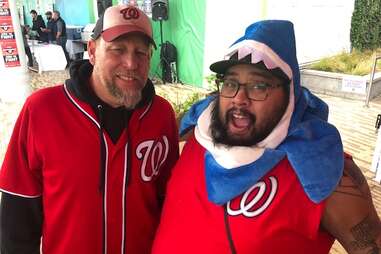 Tony Tomelden
Owner of The Pug on H Street
Describe this season in one word.
Intense. This run has been pretty intense for us. This series has been a combination of old fellas and young guys working together. That will be what I will always remember. And also moving past the Cardinals and the Dodgers.
When did you become a Nationals fan?
I've been on the Nationals bandwagon since day one. I was at The Pug for Drew Storen's collapse. And I was at the park for the extra-inning game against the San Francisco Giants. I also remember the night the Capitals won the Stanley Cup. That was one of my favorite nights at The Pug. We share almost everything we have in this city with the rest of America. These victories belong to DC. That's huge.
Mariam "Raz" Razavi
Maître d' of Dacha in Navy Yard
Describe this season in one word.
Exhilarating! It's been a sea of red with all walks of DC life represented here at Dacha. I had little time to reflect on it all until 2:30am this morning when my head finally hit the pillow, and I thought, 'We've got one more game!'
When did you become a Nationals fan?
I was admittedly only a casual baseball fan before Nationals Park opened. But once the ballpark was here, I was hooked. On my days off, I love to listen to the games on the radio. There's something special about the pacing and commentary of a baseball game via radio. The Nats are now woven into the fabric of my being. Regardless of where I go, I'll always be a Nats fan.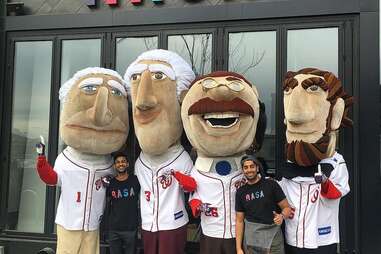 Rahul Vinod and Sahil Rahman
Owners of RASA in Navy Yard
Describe this season in one word:
RV: Electric. Making it to the World Series after how this season started, I don't think anyone could have predicted that. We feel that we have been part of the fight the entire season given how close we are to the stadium. RASA, and really the entire neighborhood, is full of energy whenever the Nats are playing at home. But for this postseason run, it has been completely amplified.
SR: The coolest part has been seeing a lot of fans come to RASA as part of their pre-game ritual to get a bowl, have a 'lucky mango lassi,' or even bring their food to the stadium.
How long have you been a Nats fan?
RV: Growing up in the DC area, I have always been a fan of the home team. But I was not really into baseball until the Nationals moved here in 2005. While I followed the team living in New York City after college, I became invested once Sahil and I chose Navy Yard as the location of our first restaurant. We were thrilled to be directly next to the stadium and have since followed every single game in one capacity or another, never looking back.
I was lucky to attend both The Wildcard and National League Championship Series Game 4 this year. Those will both be moments I will always remember. The crowd and vibe at Nationals Park were absolutely amazing when we clinched our first-ever World Series berth.
Leah Daniels
Owner of Hill's Kitchen on Capitol Hill
Describe this season in one word:
Spirited. We have been in the baseball spirit all season long, and the postseason is no exception. Throughout the year, we love talking with customers and their kids about their favorite players, favorite bobblehead, and favorite ballpark traditions. We love sharing the joys of bobblehead collection, which is 100 percent customer donated. I also have a small collection of game-used broken bats that kids and adults love to inspect. I added to the bat collection at the end of the season with a Howie Kendrick bat.

With the postseason, we have been wearing Nats gear at the store and instead of wishing people a good afternoon, when they leave, we've been cheering: "Let's Go Nats!" What is even more fun, is how many people just stop by to talk about the team. The store is alive with excitement and the joy in the neighborhood is intoxicating.
How long have you been a Nationals fan?
I have been a baseball fan my entire life. I followed the Orioles until the Nationals came to town. But right away, I became smitten with the Nats and remember standing outside my house to watch people walk through Capitol Hill on the way to or from those first games at RFK Stadium in 2005. I usually make it to about 30 or so games a season, and I even keep store hours -- closing at 6 p.m. -- so I can make it to games.
Until this year, unfortunately, all of my postseason memories have been filled with heartache. I was at Game 5 in 2012, the 18-inning Game 2 in 2014, and Games 5 in 2016 and 2017. This year has been magical, though. The Wild Card Game and Soto's eighth-inning hit was one of the most exciting moments. I couldn't see the whole field from my seats, but I just screamed and jumped up and down. I did not know how it all happened at the moment, but it was pure bliss. And then I got showered in beer.
Sign up here for our daily DC email and be the first to get all the food/drink/fun in town.