Spy Tourism Lets You Live Out Your Secret Agent Fantasies in Washington DC
Spend a night at The Watergate Hotel's infamous room and visit the International Spy Museum.
The Cyber Infinity Room at the International Spy Museum

| Photo by Albert Vecerka, courtesy of the International Spy Museum
The Cyber Infinity Room at the International Spy Museum

| Photo by Albert Vecerka, courtesy of the International Spy Museum
It's estimated that 1.4% of Washington, DC's population are spies—that's a fairly staggering percentage for a relatively small city with just over 700,000 residents. And while there are certainly a lot of secrets here, the city's role in espionage is definitely not one of them. In fact, DC's affiliation with the world of spies is part of its selling point. After all, we are named after one of the country's very first spymasters: George Washington.
As a city living and breathing spy craft, a closer surveillance will show just how deeply it's steeped into the local culture.
Whether it's bars with names like "Off The Record" to spots that draw in curious onlookers with espionage artifacts, spy tourism is practically its own entity here. And we've rounded up the best places to explore the city's clandestine legacy.
From hotels that celebrate their salubrious histories or specialty spy museums to historic sites, here's where to peel back the layers on the center of world espionage in Washington, DC.
Spy Tourism Hotels in DC
The Watergate Hotel
Foggy Bottom
There's quite possibly no hotel in the country as infamous as The Watergate. Located just steps from the Kennedy Center and historic Georgetown, the luxurious digs might have a killer rooftop bar, plush guest rooms, and an indulgent spa, but that's not exactly what keeps it on the map. Best known as the site of the 1972 White House break-in that ultimately led to the toppling and resignation of Richard Nixon, it does not shy away from its failed espionage laden history; it embraces it. This monument of mid-century space age glamour celebrates its notorious past in small ways (the pencils in the guest rooms say "I stole this from The Watergate Hotel") to the large: "The Scandal Room," where the break-in went down, is preserved in historical ephemera glory with era-appropriate binoculars, a reel-to-reel tape recorder, and manual typewriter. Ask the concierge for a tour of the space which they'll oblige if a guest isn't staying the night—which is available for a splashy (and not so secret) rate of $1,069 a night.
The Mayflower Hotel
City Center
Opened in 1925 and deemed "Washington's second-best address" by previous American Presidents, behind the Mayflower Hotel's classic façade hides some of its history of espionage. Indeed, the hotel is steeped in all kinds of history, not just spy history. It was here in 1927 that Charles Lindberg received the National Geographic Society's Hubbard Medal, and where, in 1933, President Roosevelt penned some of the most famous lines in American history: "The only thing we have to fear, is fear itself." But what some may not know is that the hotel, which is listed on the National Register of Historical Places, played a key role in developing a significant spy technique. In the 1960s, the CIA used the Mayflower's lobby to practice and perfect the "brush pass." Simply put, the seemingly innocuous maneuver is used to pass information between two people briskly and without outside notice.
Spy Tourism Museums & Tours in DC
Central Intelligence Agency Museum
Virtual
Seeing this museum IRL requires passing the rigorous CIA hiring process, but thankfully you do not have to assume a secret identity to browse its collection of espionage related artifacts virtually. In 1972, former CIA director William E. Colby had the idea to gather artifacts with unique espionage history to form a museum within the agency's Langley, Virginia. Over the decades the collection has grown to include pieces from WWII to today—everything from spy gadgets like a makeup compact that conceals top-secret messages to highly specialized weaponry. While experiencing it in person would be the most thrilling, you'll just have to settle for a screen to browse the CIA Museum's permanent collection and rotating exhibits (no VPN required, as far as we know).
The Spies of Georgetown Tour
Georgetown
If you've ever wondered what's behind the façade of Georgetown's perfectly manicured gardens, cobblestoned side streets, and mind-boggling real estate, book a spy story tour to dive into the neighborhood's secretive past. Led by a CIA industry veteran, the walking tour explores the key players who called Georgetown home around WWII, unearths some CIA history, and visits the homes of notable former spy-residents. You'll never look at the neighborhood the same way again.
International Spy Museum
Southwest Waterfront
Dedicated to the stories of spies and the tools of spy craft, The International Spy Museum features two spacious floors with interactive exhibits that allow you to dip your toes—or at least pretend to—into the world of secrecy. Standout artifacts like a very real Enigma Machine, James Bond's prop Aston Martin, and the Trotsky Ice Axe complement rotating exhibits featuring items that you might have thought only exist in the movies: a lipstick pistol, a silent kill crossbow, and shoes with concealed blades. You just have to see them to believe them. The museum's weekly podcast, SpyCast, dives into the human stories and nuances of espionage and has become popular not just with casual fans, but as a must-listen for those in the industry.
Defense Intelligence Agency Museum
Joint Base Anacostia-Bolling
A visit to the Defense Intelligence Agency Museum at Joint Base Anacostia-Bolling requires an appointment and a DIA employee to accompany you, but it's worth the required security hoops. The DIA Museum is a sprawling space with a boggling 44 exhibits showcasing artifacts related to defense intelligence, like Osama bin Laden's notebook and Soviet-produced SCUD missiles. Expect to take a deep dive into the history of military espionage, from the days of one of the country's first military spies—George Washington himself—to the DIA's formations in the 1950s following the bomber and missile gap controversies.
Embassy Row Spy Tour
Dupont Circle
How could there be an entire neighborhood of foreign embassies without some significant espionage activity? For a deep-dive into the diplomat and spy heavy neighborhood, join an investigative walking tour on the area's past. Led by intelligence community veterans turned tour guides, this walk goes deep into the spy world of Embassy Row—both activities happening beneath the surface and in plain sight. The experience starts with a (metaphorical) excavation of the death of a Kremlin insider in Dupont Circle, and then branches out to explore where some of the city's most infamous spies were known (or believed) to have lived and traded secrets.
Spy Tourism Historic Sites in DC
Surratt Boarding House (604 H Street NW)
Chinatown
Chances are you would have no idea that the restaurant current at 604 H Street, Wok & Roll, was once the boarding house where John Wilkes Booth plotted the assassination of President Abraham Lincoln at Ford's Theater (Lincoln died from his wounds the next morning at across the street). The unassuming structure was owned by the Southern sympathizer Mary Surratt who operated a boarding house. Her home was where Booth conspired with others (including Surratt's son) to murder the president. Days after the assassination, she was arrested for her suspected participation in the assassination conspiracy and was later executed by hanging—making her the first woman to be executed by the United States government. Surratt claimed ignorance of the assassination plot that was drafted in her home, but historians have repeatedly concluded that's highly unlikely.
Edward J. Kelly Park
Foggy Bottom
As the petite and nondescript Edward J. Kelly Park is located significantly within close distance from the State Department, it's not entirely surprising that the green space has seen its share of spy activity. It was here, in the '90s, that Stanislav Borisovich Gusev, a Russian technical spy, parked his car and then loitered around the park, moving between fidgeting with his briefcase and feeding coins into his parking meter. All of that was a cover for what he was actually doing: secretly recording transmissions from a bug that had been placed discreetly in a conference room at State. Gusev's efforts did not go unnoticed and he was apprehended and detained by the FBI. For anyone interested in the city's spy history, it's worth a meander through the park.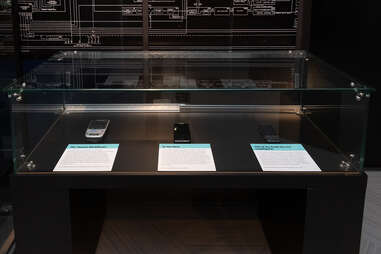 Spy Tourism Museums and Historic Sites Near DC
National Cryptologic Museum
Fort Meade, Maryland
If you're curious about the world of code-breaking, you can head out to the National Cryptologic Museum, near the National Security Agency in Maryland. The museum is home to 5,000 fascinating and priceless pieces, some exceedingly rare (like the German Enigma machine used by the German Army, Navy, and Luftwaffe in WWII) that are one-of-a-kind pieces not found anywhere else on the planet. Many of the items come directly from the NSA with a focus on pieces from the Revolutionary War, the Civil War and World Wars. Unlike some of the other Intelligence Agency museums, the National Cryptologic Museum is open to the public, is free, and does not require reservations.
Distance from DC: 35 minutes
Little Falls Parkway
Bethesda, Maryland
CIA agent Aldrich Almes worked as a double agent informant for the Soviet Union for years before being caught. Almes spent decades exchanging secrets for cash and one of the hallmarks of his deception was the "dead drop," the spy technique of leaving information, documents, or simply a sign or clue, in a specified location to be later retrieved. A few of his dead drop locations in the DMV have become known, and if you're on the hunt, stroll over the pedestrian bridge at Massachusetts Avenue and Little Falls Parkway in Bethesda or walk the bridle path (and look for a drainpipe) in Wheaton's Regional Park.
Distance from DC: 25 minutes