DC's Neighboring Nautical City Is the Ideal Summer Destination
Visit Annapolis for top-notch seafood, boating on the Chesapeake Bay, and more summer fun.
Ah summer, the very best of seasons. Annapolis is one of those towns that lives for summer, with its deep connection to all things nautical and its narrow historic streets that lure in tourists with ice cream parlors and stalwarts offering all the best Chesapeake Bay seafood.
It's all about the water here. Annapolis is dubbed the sailing capital of the United States and it's also homebase for the yachting set and the US Naval Academy. And less than an hour from DC, this city by the sea is an easy day trip when you need to get out of the capital or a great weekend getaway for longer summer adventures. To truly soak it all in, here are all the best things to do in town, from heading out onto the water to exploring the growing food scene and settling into a buzzy new hotel.
Dive into the city's history
Understanding a baseline of Annapolis's unique history will help you appreciate a visit here all the more. The Museum of Historic Annapolis has a digestible new exhibition, "Annapolis: An American Story," that gives a thorough introduction to the city that once served as the nation's capital. The exhibit unfolds thought stories of Annapolis residents over the course of the last 400 years.
Or head to The Banneker-Douglass Museum, a space dedicated to preserving and sharing the state's African American heritage and culture from 1633 onward. There's plenty to explore on site, but you can also check out Black History 365, a new virtual exhibit created by the museum, that delves into the stories and lives of generations of Annapolis residents from the African Diaspora. Black History 365 has a wealth of videos and articles so you can take the museum with you and add depth to any stroll through the city's streets.
The story of Annapolis is not complete without a plunge into its seafaring history. The Annapolis Maritime Museum explores the area's maritime history and the ecology of the Chesapeake Bay, and it's worth a quick stop on your way to head out on the water.
Head out on the water
Getting out on the water is an obligatory activity for any stay in Annapolis. While private yachts and sailboats pile into the harbor, there are plenty of options for those traveling without their own floating palace. Snag a spot on the Wilma Lee, one of the last remaining skipjacks in Annapolis (there used to be more than 1,000). A two-hour daytime cruise aboard will sail you through a docent-led tour of the nearby shores. Visiting on a weekday? On Wednesday nights, the Wilma Lee will bring you up close to the mid-week sailboat races. And for something more romantic, hop on one of Wilma Lee's sunset cruises. Adult beverages provided.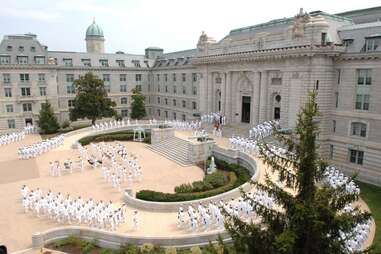 Tour the Naval Academy
Annapolis's maritime connections extend beyond the cruising set, of course. The city is home to the renowned United States Naval Academy which has a historical and beautiful campus that's open to visitors. Book a 90-minute walking tour to get the scoop on the academy's historic monuments and live like a midshipman for the day.
Pause for afternoon tea
Escape the heat and humidity (this is Maryland in the summer, after all) and rest your walking-weary legs over high tea at Reynold's Tavern. A landmark on Annapolis' Church Circle, Reynold's Tavern has been in operation since 1747. Originally opened under the name "The Beaver and Lac'd Hat," the tavern was a catch-all for locals, a place where you put away a pint as well as leave messages for neighbors and business associates, stable your horses, buy tickets to local theater, or bet on a card game. Today it's a refined place to whittle away an hour over a tea, finger sandwiches, and scones. Hats and fascinators welcome.
Check out the mural scene
In the past couple of years—really just since COVID entered our lives—murals have sprung up throughout Annapolis adding colorful splashes and social commentary to the town's buildings and streets. Thanks to the work of the organization Future History Now, visitors can take a self-guided walking tour of the city's murals.
Start at The Equal Justice Under the Law Mural (156 South Street) which features depictions of equal rights champions, Supreme Court justices Ruth Bader Ginsburg and Thurgood Marshall. The work, which was completed in April 2021 was created by FHN co-founder Jeff Huntington, his wife Julia Gibb, and a team of youth artists and professional teaching artists.
From there head to Carr's Beach Mural (on West Street near Westgate Circle). By the Annapolis artist Comacell Bell, the mural memorializes the area that was once a vibrant resort and concert venue that catered to the African American community in the 1930s through 1960s. Legends like Billie Holiday, Little Richard, Tina Turner, and Temptations, and James Brown once took the stage here.
The Carlester 'Walking Man' Smith Mural (1100 West Street) commemorates the local stalwart who dedicated more than 40 years of his life to cleaning up trash from the city's streets. Completed by Comacell Bell and volunteers, the mural is a fitting testament to the city's close-knit community.
Following the killing of Breonna Taylor in 2020, more than 100 volunteers worked together to create a 7,000-square-foot homage. The Breonna Taylor Mural (14 Dorsey Avenue) is striking in person and is also designed to be viewed best via satellite.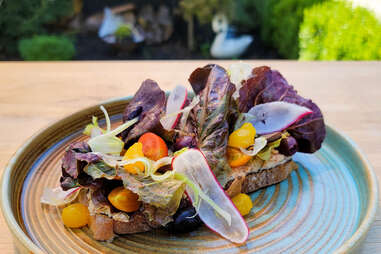 Eat and drink your way around town
Of course, no trip to the seaside is complete without sampling all of the ocean's delicacies. Luckily, there are plenty of places to do just that around town. At first glance, Sailor Oyster Bar is a dark and boisterous watering hole. But settle into a table and you'll find yourself immersed in a deceptively refined dining spot masked as a pirate's bar. A daily oyster happy hour draws in locals and tourists alike, and there's an entire portion of the menu dedicated to tinned fish.
Flamant is a refined yet low-key spot in the leafy neighborhood of West Annapolis, a 20-minute walk from the Annapolis Visitors Center. The menu here is unsurprisingly seafood forward with fresh, innovative dishes like escargot doughnuts and vertical crab rolls.
For a staple Annapolis eating experience, what's old is new again at Chick & Ruth's Delly. Located directly across from Preserve on Main Street, the restaurant's vintage orange and green signage draws long lines on the weekends for its all-day brunch menu. Routinely rated as the home to Maryland's best crab cakes, this Annapolis institution is worth standing in line for.
When it comes time to mix in a cocktail, Annapolis has great bars and restaurants for that as well. About half way down Main Street, as it slopes to the water, Preserve is a craft eatery with locally and globally inspired fare. The specialty here is, you guessed it, preserved dishes like pickles and olives that work as well with brunch as they do with a martini during happy hour. Forward Brewing Company is a nano brewery in the Eastport hamlet of Annapolis, and their light, airy space makes an ideal spot for an afternoon refresher.
Stay at an incredible hotel in the area
Channeling the historic touches and nautical feel of the city, Annapolis has lovely accommodations that are worth the jaunt from DC on their own.
Retro, old-school vibes—think madras carpet and nautical wallpaper—are the hallmarks of The Graduate, the Annapolis outpost of the boutique hotel chain that is making its way to seemingly all college towns in America. The Graduate radiates a relaxed, come-as-you-are feeling that might make you nostalgic for your co-ed days. Located just a few minutes' walk from the water and right in the center of the burgeoning food scene, it's the perfect homebase to explore all that Annapolis has to offer.
For something decidedly more buttoned up, check into 134 Prince, a luxury boutique hotel started by two Naval Academy grads. With just four suites, the hotel is an indulgent stay justified by its plush interiors, soaking tubs, and sense of privacy. The 1849 building has been top-to-bottom renovated, creating a comfortable and modern hotel that retains its historic charms. 134 Prince is steps from the Naval Academy and the city dock, which is a great place to stroll and people watch.
Sign up here for our daily DC email and be the first to get all the food/drink/fun in town.