Close Out the Summer with a Visit to This Crab-Crazed Maryland Island
Check your troubles at the drawbridge and prepare to eat your weight in crab.
Harris Creek in Talbot County, Maryland

| Chesapeake Bay Program/Flickr
Harris Creek in Talbot County, Maryland

| Chesapeake Bay Program/Flickr
When I moved to Washington, DC from Chicago last fall, I was routinely and passionately warned about the DMV's notoriously sticky-hot and humid summers. "It's bad," they'd say, screwing up their faces with concern. "It's a swamp. Don't even try to fix your hair—the humidity will always win." I heeded the advice, sure, but until May eased into June that following summer, I had no idea how truly terrible it could be—24 hours of air heavy like hot breath, where opening the front door feels like stepping into a sauna and no matter what you do, your legs will inevitably be covered in mosquito bites.
Thankfully for us Washingtonians, respite from the city's unsolicited sweaty bear hug lies just a short drive away along Maryland's Eastern Shore. The quaint small towns curling into the Chesapeake Bay like beckoning fern leaves hold many getaways' worth of fun in the (less unrelenting) sun, from breezy boat rides to waterfront restaurants where the blue crabs come stacked and the vodka-loaded Crushes will cure whatever ails you. Tilghman Island is one of these towns, the escape made even sweeter by its diminutive size, old-school fishing village looks, and relative isolation at the southwesterly tip of Talbot County. Once you pass Easton, the county seat and relative metropolis with some 16,000 residents, the remaining stretch along Route 33 instantly turns rural, broken up by the kinds of strollable communities that grace the pages of tourism brochures. And at the very end of that winding road sits a drawbridge—take it, and the wonders of Tilghman Island will be yours (at least for the weekend).
Travel time:
2 hours from Washington, DC by car.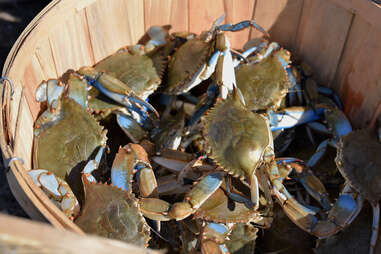 If you don't do anything else: Chesapeake Bay Crabs on Maryland's Eastern Shore
Let's not beat around the bush: If you're going to the Eastern Shore, you're going for crabs, and plenty of them. Peak crabbing season here runs from April through November, with the meatiest game rising to the surface starting in September. From crab cakes and stuffed omelets to Old Bay-laden soups and steamed beauties primed for the cracking, there are as many ways to consume the state's signature crustacean as there are spots to consume it.
Speaking of crab shacks, your visit to Tilghman Island is rife with opportunities for stuffing your face and dirtying your plastic bib. On the way there, make a pitstop at the Crab Claw in the oh-so-charming cottage town of St. Michaels for piles of steamed and seasoned Maryland blues freshly plucked from the Bay. After you've had your fill, continue on to Tilghman Island where you'll be immediately tempted to stretch your appetite's limits at Marker 5, Characters Bridge, Tickler's Crab Shack, and Two If By Sea, in that order.

Fill your days:
Things to do outdoors on Tilghman Island
For a chunk of land spanning just 2.5 square miles, Tilghman Island punches well above its weight when it comes to outdoor activities. Getting out on the water is a no-brainer here, and while swimming, though allowed, isn't the main draw (the beaches are rocky and the jellyfish plenty), opportunities to splash around the Chesapeake abound. Rent a kayak, canoe, or stand-up paddleboard from your hotel to coast around the open waters to the west, check out the island's network of designated water trails, or navigate deceptively wide Harris Creek to the east. For something a little less strenuous, captained excursions like sunset cruises, nearby skipjack tours on the historic H.M. Krentz, and fishing and crabbing charters just a click or call away and jet skis and smaller motorboats available for rental at the Tilghman Island Marina.
Land-lovers, don't fret. Peddling the length of the island on a rented or BYO bicycle is always a treat, as is packing a picnic and cozying up at Black Walnut Point Fishing Area on the island's southern tip for an al fresco lunch in the shadow of Sharps Island Light and the WWII-era Naval Research Laboratory. Exploring the town on foot is also easy and accessible, and if you're looking to bust out the binoculars, venture over to the Black Walnut Point Natural Resources Management Area and walk along the gravel path to encounter herons, ducks, osprey, and maybe even a bald eagle or two. You can even cast a line and try your luck at snagging rockfish, perch, and bluefish in the brackish waters lapping up on the rocks. The pet-friendly NRMA is operated by the Maryland Park Service and open from 9 am to 5 pm daily.
Landmarks and museums on Tilghman Island
Did you know that people who catch crabs are not called fishermen? Neither did I—until I paid a visit to the Tilghman Island Watermen's Museum. Located inside the Lee House, one of just seven remaining turn-of-the-century "W" houses built on Tilghman and nearby Sherwood, the well-loved establishment will set you straight on local nomenclature, as well as educate you on all things island life via model ships, original paintings, historic photographs, and other artifacts. The museum is open to the public on weekends from 10 am to 3 pm or you can ask about booking an off-hours tour by calling 410-886-2930.
Not far from the Watermen's Museum along Tilghman Island road lies the historic business district. A modest lineup of a few still-operating buildings, it marks what's left of the area's three original villages back when the island was a canning hub for seafood and locally grown crops. The packing houses have, well, packed up and gone, but their remnants have been reborn into shops, restaurants, and other services. Don't miss 2 Vintage Chics, an old brick bank turned eclectic boutique stocked with antiques, hand-picked women's clothes, and more plus a bonus mosaic studio out back.
Eat, drink, and sleep:
Restaurants and bars on Tilghman Island
In order to reach Tilghman's picturesque shores, you need to drive through St. Michaels, a town just so darn cute that it begs a detour. Take your time perusing the shops along Talbot Street before grabbing a pre-lunch pint from the fellas at Eastern Shore Brewing (the roasty Blue Heron Coffee Milk Stout hits the spot, while the ever-popular Summer Crush Orange packs a sneaky 10.7% ABV punch). Next, head next door to Gina's Cafe for super fresh Tex-Mex with a pescatarian twist before popping into Windon Distilling's Spirits Shop for a nip of house distilled Lyon Rum (snagging a bottle to go wouldn't hurt, either).
Once you're over the drawbridge, Tilghman's hearty bounty of restaurants and cafes has you covered. Quirky, family-run Two If By Sea dishes up quality diner-style breakfast and brunch in a pleasant, tchotchke-strewn space while postcard-perfect Tilghman Island Country Store offers subs, homemade take-away meals, snacks, souvenirs, and, it should be noted, a surprisingly excellent booze selection. For dinner, you're looking at a host of scenic spots, including local hang Character's Bridge, sunset specialists Marker 5, and cheffy Tilghman Island Inn. And before tucking into bed, tie one on at Tickler's Crab Shack, where regular live music serves as a soundtrack for colorful cocktails shaken up by the friendliest barkeeps, waterfront views, and an unparalleled raw bar (not to mention some killer fried chicken). Plus, of course, all the crabs.
Where to stay on Tilghman Island
What Tilghman Island lacks in square footage it more than makes up for in lodging options. Hotels run the gamut from bed & breakfast-style romantic (Black Walnut Point Inn, Tilghman Island Inn) to beachy and laid-back (Lowes Wharf Marina Inn, Knapps Narrows Marina & Inn) to the best of both worlds by way of Wylder Tilghman Island (our personal pick). Home to its own dock and private beach, traditional outdoor sauna, seasonal salt water pool, s'more-equipped fire pits, complimentary kayaks, SUP boards, and cruiser bikes, and the one and only Tickler's Crab Shack, Wylder spans several different room types including detached cabins and suites, all of which combine modern aesthetics with a historic coastal lodge vibe. Speaking of history, the property's own runs deep—just ask one of the regulars down at Tickler's about the raucous parties the former boarding house and marina bar used to throw before its rebirth as a polished family-friendly resort and settle in for a story to remember.