Presented By
The Ultimate Guide to DC Nightlife
Beloved dives, gargantuan clubs, and swanky gin dens.
Presented By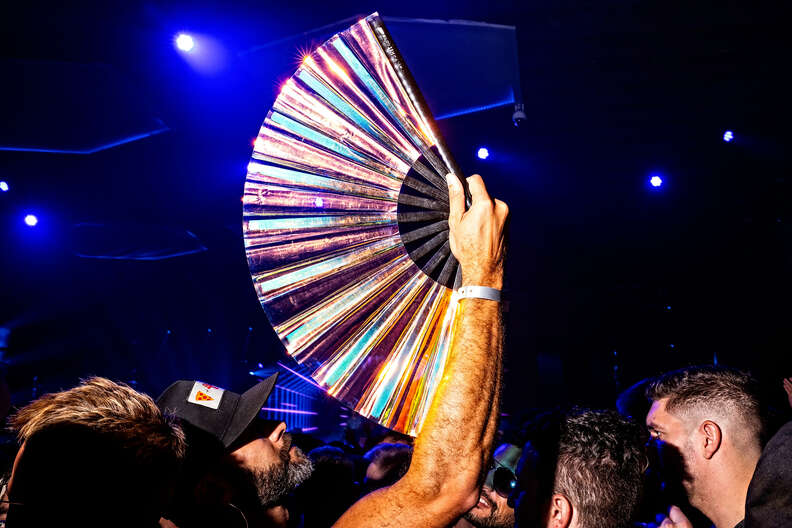 Echostage

| Photo by Scott Suchman for Thrillist
Echostage

| Photo by Scott Suchman for Thrillist
People know DC for its buttoned-up, work-obsessed vibe—and for good reason. During the day, the U.S. capital buzzes with the obsessive energy of movers and shakers making power plays as they run the country.
DC definitely works hard—but it also plays hard. After hours, the day gives way to a different type of mover and shaker, residents and visitors dancing their hearts out into the wee hours of the morning, bending an elbow among regulars at neighborhood dives, and hitting up classy cocktail lounges. There's something for everyone in the nation's capital. To help you sort through the fray, here are some of the best places to spend your next night out.
Bars in DC
Carver/Langston
If you've ever been to the U.S. National Arboretum, you've probably driven or biked past Jimmy Valentine's Lonely Hearts Club without even realizing it. Behind its narrow storefront on Bladensburg lies a cavern of red light, eclectic decor heavy on skulls, an extensive beer menu, and ever-changing DJ sets. This discreet, blink-and-you-miss-it dive is serious about nightlife with hours that stretch to 2 am Sunday through Thursday and 3 am Friday and Saturday.
Barracks Row
This cozy, table-filled LGBTQ+ bar and club has been stepping up Barracks Row's nightlife game since it opened last spring. Once dubbed "The Gay Way," Barracks Row has hosted a slate of groundbreaking queer bars over the years, many of which opened in the 1960s and 1970s—like long-running institutions such as Phase One (which lasted nearly 50 years before closing) and Jo-Anna's (which introduced DC to its first same-sex dance floor), as well as Club Madame and The Roundup. As You Are, a coffee shop by day and a bar by night, is continuing that deep history with a commitment to creating a fun and safe environment . An endless calendar of drag shows, queer storytelling hours, karaoke, and dance parties keep the fin running late into the night.
Columbia Heights
A true dive bar in every sense of the word, The Wonderland Ballroom doubles as Columbia Heights's living room. This beloved neighborhood watering hole features outdoor picnic table seating, dimly lit interiors, and an upstairs that transforms into a packed dance party each weekend (which palpably shakes with dancers). Part of the draw is a happy hour that lands every single day of the week, alongside a robust menu of bites like smash burgers, nachos, and fried chicken. Devotees keep The Wonderland Ballroom's brunch menu of "hangover helpers"on regular rotation.
Bloomingdale
Showtime Lounge is old-school—as in cash only old-school. That's part of the charm of this unfussy Bloomingdale gem. Showtime Lounge is more about beer than cocktails, and the regulars would like to keep it that way (thank you very much). Keeping with its slice-of-the-past model, Showtime has a jukebox full of funk and soul records. DJ sets are also a regular part of the offerings, as are pop-up shops hawking vintage goods and clothing. Sipping a beer while perusing vintage treasures makes for a match made in bar heaven. Showtime Lounge stays open until 2 or 3 am on the weekends.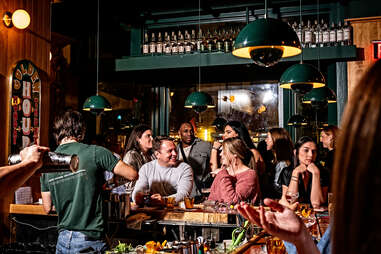 Cocktail Lounges in DC
Logan Circle
Located among a myriad of hip restaurants on 14th Street, Jane Jane is the ideal place to start or end your evening, whether with friends, a date, or solo. The intimate, mid-century-inspired space shakes and stirs classic cocktails, making it a no-brainer for perfectly dirty martinis or subtly sweet Manhattans. Lots of plaid, cocktail-themed wallpaper and cozy booths (perfect for a date or an intimate conversation with a friend) make for a warm, inviting space that brings to mind images of Don Draper dropping in for a nightcap after a drink or two (or more). As petite as it is popular, snagging a table at Jane Jane to enjoy its acclaimed cocktails can be a feat unto itself.
Georgetown
With an ambience of quiet luxury, it's not just whiskey connoisseurs who find themselves returning again and again to this Georgetown gem. The Fountain Inn has a "special night out" atmosphere—perfect for celebrating a birthday or anniversary or for indulging in a fancy weekend outing. The whiskey-laden bar and rare spirit tasting room was created in the image of Suter's Tavern, a drinking establishment from 1783 whose exact location remains a much debated point of intrigue. The historic watering hole once hosted George Washington. Thomas Jefferson, a regular, famously debated John Adams there during the 1800 presidential election), and it remains a monument in local Georgetown lore. Fountain Inn's owners maintain a deep respect for that history. Among an interior rich with soft leather seating, fireplaces, the whiskey library (complete with bottles priced in the multi-digits and under lock and key) and wood-framed private whiskey lockers (ask about getting your own key) make The Fountain Inn a truly special place to spend your evening
Penn Quarter
This seductively decorated subterranean bar–it's all about the low lighting and orange velvet reminiscent of a 1970s-era lounge–is acclaimed bartender Ryan Chetiyawardana's (aka Mr Lyan) first foray outside of Europe. Located in what was once the vault of Riggs Bank (now the Riggs hotel), the extensive cocktail menu is organized by playfully evocative adjectives instead of spirits. With a focus on creative flavors, Silver Lyan mixes ingredients that could boggle the mind: peated butter, smoked cream, and dandelion. Meanwhile, classic cocktails like the Silver Martini (which arrives on a platter, and can quench the thirst for two) satisfies those with more traditional tastes.
Capitol Hill
Eastern Market's hidden gin bar, which quietly opened in the summer of 2021 between The Duck and The Peach and La Collina restaurants, encourages visitors to shut out the outside world. The moody space, accented in deep green velvet, lacks pretension and feels like an approachable step into the nuanced world of gin (perhaps thanks to the Taylor Swift playlist often playing). Gin options range from juniper-heavy London dry gin to citrusy Japanese varieties. Gin cocktails (like the ingenious martini shaken with olive oil gin) shine bright, though wines and beer make the list for those who don't love gin. A short menu of light bites like caviar and potato chips make perfect pairings. Ask any server for an expert recommendation, and they'll happily guide you around the spirit's many flavor profiles.
Clubs in DC
Shaw
Part nightclub and part concert venue, the 9:30 Club has been a DC institution for decades. Its building on 9th and V NW was a jazz club in the 1940s that played host to legends like Dizzy Gillespie, Ella Fitzgerald, and Louis Armstrong. Eventually DC local Duke Ellington took over, playing there himself while welcoming other heavyweights like Count Basie and Buddy Rich. Eventually the space became a dance school and a radio station, before the 9:30 Club relocated there in 1996. Since then, the 9:30 Club has earned a reputation for providing a platform to up-and-coming local bands including a teenage Dave Grohl. Today the 9:30 club remains one of the city's "see and be seen" spots, as well as one of the best places to catch a live show, dance, and grab a late-night bite. The $5 cupcakes from Buzz Bakeshop in Alexandria sell out every night.
Le Droit Park
The brainchild of DJs and music business veterans, Flash nightclub packs a full calendar with an eclectic lineup of national and international DJs during the two days a week it is open (Friday and Saturday). It boasts three floors, each with its own DJ sets and dance floors, giving you plenty of options in one space. Start on the first floor (with a trendy, blue-lit bar) before making your way to the third floor, where you'll find a dancefloor, DJ booth, and fully retractable roof that can give the impression of dancing in the sky. The DJs who appear at Flash tend to come from the schools of deep and techno, although Flash does mix it up from time to time. Despite its three levels, Flash retains a feeling of intimacy where hearing the music is the number one priority. Most sets have a $20 cover charge.
Brentwood
As anyone who has recently looked for an apartment knows, the further you get from the city's center, the larger the spaces become. That's certainly true with Echostage, the behemoth nightclub in DC's northeast quadrant Brentwood neighborhood. This sprawling, 30,000-square-foot space, with room for 3,000 partygoers, is credited with helping DC enter the big league of nightclubs, and DJ Mag named it the best nightclub in America in 2021. Part of the club's industry-leading appeal and earned reputation is its state-of-the-art sound system and top caliber production systems that rival even the best festival systems anywhere in the world. The majority of what's on tap is electronic dance music, but huge names like Cardi B, Lorde, and Miley Cyrus have also performed here. If you haven't been to Echostage, add it to your bucket list.
Downtown
This subterranean dance club is known both for its music as well as its state-of-the-art lighting and sound systems (perhaps in a nod to Echostage). Those aspects, alongside an ultra-convenient downtown location, put Soundcheck on the map. Revelers come here for the late night (Soundcheck only opens at 10 pm) house and trance music, EDM parties, hip-hop nights, and more. It's also known for over-the-top table service that seats guests on elevated platforms and offers classic benefits like personal cocktail servers. Table service requires advanced reservations, but—for the rest of us—there's always the line wrapping around the block.