Presented By

Downtown LA is Coming Back to Life, Here's Everywhere You Need To Go
DTLA, we're coming for you.
Presented By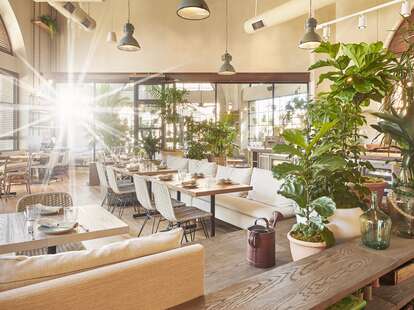 Just two short years ago, Downtown Los Angeles was one of LA's fastest growing neighborhoods. More than $30 billion had been invested in new construction over the last couple of decades, according to the Downtown Center Business Improvement District. About half of that went to residential projects, from luxe condos in gleaming new skyscrapers to rehabbed old warehouse buildings filled with stylish live-work lofts — all as DTLA's population tripled to around 85,000 residents. Add to that massive entertainment projects like L.A. Live; the makeover of Grand Park; new architecturally significant, world-class cultural institutions like The Broad and Walt Disney Concert Hall; a slew of hip new hotels; and a serious culinary renaissance; and Downtown's status had skyrocketed to become one of LA's hottest hoods.
But with the onslaught of the Covid-19 pandemic, Downtown LA became something it never wanted to be: one of the city's hardest hit areas as the tens of thousands of its workforce stopped making their daily commutes to the office; sporting events, and concerts came to a halt; theaters and museums sat empty; hotel occupancy dwindled; and many businesses — including nationally acclaimed restaurants — shuttered. (Some temporarily — chef Mei Lin's Nightshade still hasn't returned and the restaurant at the NoMad is still closed, along with the entire hotel — and others permanently — Josef Centeno's longstanding Baco Mercat and Lincoln Carson's celebrated but sadly short-lived Bon Temps, for example.)
Now, nearly a year-and-a-half after the Covid crisis began, Downtown LA is coming back to life as restrictions have eased (at least for now). Bars and restaurants that had pivoted to take-out only are back to filling their dining rooms with more than just hanging plants, those cheers you hear at Lakers and Dodgers games are coming from actual humans again, museums are back to welcoming visitors, and you can even catch live music. Though the Delta variant is throwing a bit of a monkey wrench in, well, everything, and mask mandates have returned, DTLA is still feeling closer and closer to its old self again. Many favorite spots have reopened in recent months, and, we're happy to report, there are plenty of new venues to check out, too. Ready to get back Downtown? Here's where to go and what to do before the summer ends.

WHAT'S NEW
After years in the works, Top Chef champ and James Beard Award winner Stephanie Izard's highly anticipated LA outpost of her fabled Chicago restaurant finally opened its doors in July, in Downtown's microcosm of cool, the Arts District. The bright brick-covered space with its arched windows and leafy plants throughout sits within the new At Mateo development, also home to Spotify's regional headquarters, a primo location if there ever were one. Go for dinner, and sample as much of Izard's global cuisine (and ode to the wide and wild world of California produce) as you can, like her housemade naan and carrot hummus, tomato and stone fruit salad, salmon poke with avocado and strawberries, and of course, a few namesake dishes for good measure: goat curry and goat liver mousse. (FYI: There's a full vegan menu in addition to the standard omnivore offerings.)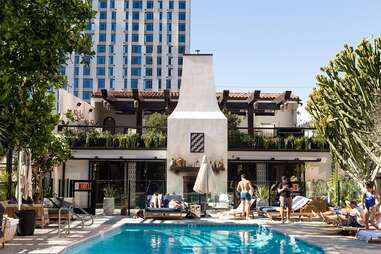 The historic Hotel Figueroa's open-air, dual-level, Mediterranean-style bar and lounge used to be relegated to a weekend-only and private-event life, but is now a proper poolside bar churning out coastal Mexican-inspired fare. There are also some seriously impressive agave-based craft cocktails that utilize infused spirits (Wild Turkey gets a jolt of apple palm sugar, for example), fresh fruits, and obscure ingredients like coconut crème Lillet and creole-spiced shrub. P.S. You can keep the pool (bar) party going with our list of the city's 10 top spots.
In addition to serving as home to a slew of retailers, restaurants, cafés, and peaceful outdoor community spaces, this massive Arts District complex is hosting a series of outdoor events right now. Summer Fridays are currently taking place every other Friday, when shops stay open late (often with special deals), Rappahannock Oyster Bar rolls out a rose and oyster bar, and a rotating lineup of food trucks roll on in, all with live DJs serving as a soundtrack. Later this summer look for Unique Markets Summer Pop-Up (August 27-28) and Saturday morning rooftop fitness classes come September.
The family behind long-standing Indian eateries Akbar in Marina del Rey and Kapoor's Akbar Downtown have gotten in on the fast-casual game with this new Chinatown-adjacent spot. The place focuses on street food, namely frankies and kati rolls — wraps made of naan or thinner roti, respectively — that you can customize with the likes of chicken tikka, crispy fish, and potato-and-cauliflower aloo gobi, plus a variety of sides, salads, and bowls.
The buzzy modern Mexican restaurant by the fabled Mexico City chef Enrique Olvera arrived in the Arts District last fall but quickly went on an extended break with the arrival of the next shutdown, turning its efforts to takeout taco window Ditroit on the backside of the building. With its return, Damian is infusing California's perfect produce with creative, seafood-centric Mexican recipes, putting out dishes like fish tartare tostadas, octopus huarache, and Dungeness crab gorditas in a sleek space.

After gaining a cult following — not to mention plenty of media attention and acclaim — with his whimsical fermentation-focused East Hollywood strip mall eatery Baroo (now closed), chef Kwang Uh and his business partner and wife Mina Park have returned to the restaurant scene with this stall at food hall Grand Central Market. The homestyle Korean menu features rice boxes of kimchi-braised pork belly and soy-marinated short ribs and an array of banchan, Korean small plates like stir-fried squid, a radish salad, and some seriously delightful kimchi'd corn, a former Baroo specialty.

WHAT'S RETURNED
This always-jammed open-air food fest (an offshoot of the Brooklyn original) began its foodie feeding frenzy again Fourth of July weekend after a sad 16-month hiatus. Stroll the weekly Sunday event at The ROW to sample everything from beef bulgogi dumplings to birria burritos to beer-battered bass sandwiches, plus a solid selection of vegan vendors hawking sushi, tacos, ice cream sandwiches, and more plant-based wonders. To give your Sunday that funday boost, hit the beer garden and stay a while.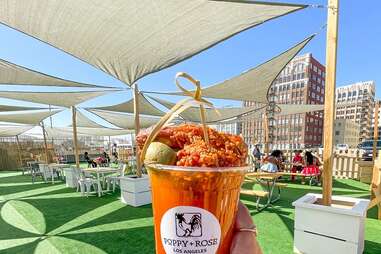 While the construction of its "Poppy Patio" was completed last November, the big debut was short-lived when the county shut down outdoor dining yet again that month. But earlier this year, the southern-inspired comfort food eatery (its name is a nod to the nearby flower market) was able to reopen its third-floor rooftop space, which has remained happily full of daytime diners ever since. You kind of have to order the signature buttermilk fried chicken and waffles served with honey syrup, but the shrimp and grits done with pimiento-pepper shellfish sauce and the pulled pork sandwich are winners, too. If you insist on going light (fine), try the little-gem-beet-avocado salad or a fruit-and-cocoa-nib-laced acai bowl. Or, you know, the fried chicken Bloody Mary.
After taking a pandemic-induced hiatus last summer, the outdoor movie series-with-a-view returned this year with multiple setups around the city, including one in the heart of Downtown atop an apartment building. Choose between a single lounge seat or a love seat for two (no judgement if you do the love seat just for yourself) and watch the flick — the series usually skews old-school with titles like Carrie, Pretty in Pink, Scream, and School Daze — on wireless headphones. You can also feast on concessions and cocktails via contactless pickup.
You might not know it from looking at the windowless concrete exterior, but ERB is home to a sprawling tree-dotted patio, perfect for early evening cocktails, late-night bites, and everything in between. The drinking den opened in 2015, when the Arts District's food and drink scene was still up-and-coming and — after remaining closed the first half of the year — the crew here started pouring their signature margs and micheladas, and barrel-aged cocktails again this summer. Also expect elevated bar fare including burgers, steamed pork belly buns, and aioli-accompanied Kennebec fries.
The Broad is back, baby. Though the Infinity Mirror Rooms remain closed, you can still catch new exhibitions, including Invisible Sun, inspired by the pandemic and social justice, and in-depth installations featuring new pieces by heavyweights like Jean-Michel Basquiat, Kara Walker, Andy Warhol, and Roy Lichtenstein. And, in a newly coined alliteration, the museum has rolled out Fourth Fridays, when the venue will stay open late and feature DJs and dancers on its outdoor plaza.
This rooftop venue (with stellar city views in every direction) recently reopened, and like the old days, the poolside bar is staying open until a proper 2 am on Friday and Saturday nights, with DJ sets starting at 10 pm on both of those evenings. For a weekend boozy brunch, grab a table on the restaurant side, dotted with trees and retro-inspired peacock and leather barrel chairs and wash down your salmon toast with some cool cocktails. (Don't miss the summery gin-and-white-wine Staycation.)

This Arts District high-tech "amusement park" is an ode to interactive action with both classic and high-tech arcade and carnival-style games, but the virtual reality offerings are the draw here with VR-infused "story rooms" (sort of like upgraded escape rooms) ranging from team zombie apocalypse battles to single-player mazes with impressive effects. Since reopening, the venue has moved some of its offerings to its outdoor parking lot, and reservations are now a must. The $70 general park admission package includes access for two and a $70 credit that can go towards games, food, and drinks.
Clorox wants to help give you confidence to get back out there. That's why they've partnered with the Cleveland Clinic and CDC Foundation to form the
Clorox Safer Today Alliance™
, helping brands like United Airlines, Enterprise, and AMC Theaters create healthier public spaces for us all.
Clorox® Disinfecting Wipes
also come in convenient on-the-go sizes, so you're covered wherever you go.