Pretend you, too, are an Olympian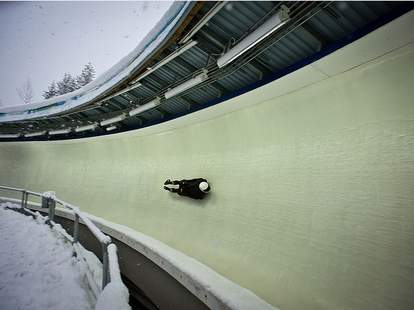 Experiences typically reserved for elite athletes can be thrilling, though finding the latest synthetic version of erythropoietin, then figuring out the proper combination that'll beat the new gel electrophoresis testing does kind of make blood doping a little less sexy. Act like an elite athlete while facing only the pain of a border crossing, with Whistler's Skeleton Sport Experience.
Just open to the public for the first time to mark the one year anniversary of the Olympics, the Village-adjacent Sliding Centre is now letting you strap into a competition-style skeleton sled and hurtle yourself down (a portion of) the world's fastest track, the same one that also hosted the luge and bobsleigh, as opposed to the Bob Slay, which is just a list of every chick Saget has ever banged. The 3.5 hour WSSE culminates in two headlong skeleton runs that begin 1/3 of the way up the track at the Maple Leaf starting position, accelerate through six of the course's 17 corners reaching speeds of 90-100 km/hr (ha, the metric system!) before reaching the bottom at the famous Thunderbird corner, also what they call whatever corner John Daly's standing on. Before hitting the track, you'll go through an orientation that includes a session walk-through, plus lessons in sled positioning/safety; there are also plans for public bobsledding runs, though they've been delayed due to the difficulty associated with finding good pilots, which is the same excuse Saget gives for never wanting to leave the Full house.
If you still thirst for more, they've got other Olympics-inspired activities like a Biathlon tour with training in pole-less skate skiing and a chance to use one of their fancified rifles to hit the actual electronic targets used during the Games with a few shots, though, if you truly want the elite experience, it'll take more than a few to really get those red blood cells jumpin' jumpin'.