How Captain Toby Stull Brought Sailing to Long Island's LGBTQ+ Community
When he burned out on a law career, the seafaring life came calling.
Sponsored By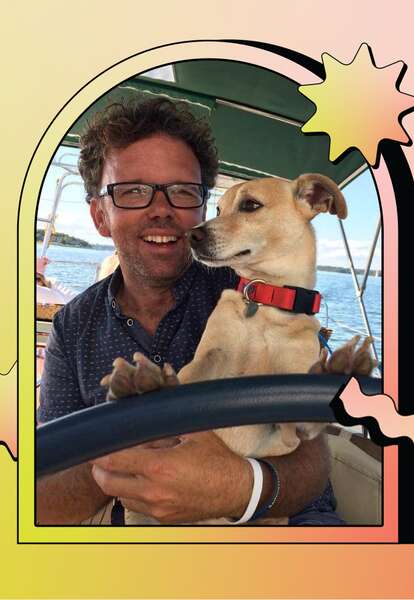 Photo: courtesy Toby Stull; design: Davianna Absera/Thrillist
Here at Thrillist, we know Pride is a truly international celebration that stretches into communities both big and small. American Express knows that small businesses make a big impact in communities. That's why we partnered with American Express to amplify the stories of LGBTQ+ small business owners all across the country. To coincide with Amex
Membership Week
, we'll highlight a new story each day from June 14 through June 18. Amex will be sharing offers and experiences that Card Members love throughout the week, too.
Toby Stull grew up on the water, spending time on boats in his hometown of Branford, Connecticut, before he could even walk. His father, a schoolteacher, soon taught Toby to sail. He'd spend summers with his parents at their Connecticut lake cottage, and by the time Toby was a teenager, he was constantly sailing with his friends. Over the summers, the family would sail out to Shelter Island, where Toby built an affinity for being "Out East," as in the eastern part of Long Island.
"I always wanted to be on the boat," Stull, 48, tells Thrillist. "I was always on the water." His family had a 30-foot, 1960s cabin cruiser, with a bathroom so small you couldn't even close the door to use the toilet, but that didn't deter him from spending as much time as possible at sea. In fact, in his senior year of high school, he lived on that boat part-time.
Though Stull spent his childhood on boats, he decided on a different, more steady direction for his career: politics and law. But his love for sailing never faded.
In 2008, along with a sailing buddy, Stull started Out on the Water, an LGBTQ+ inclusive charter company, designed to be a fun side hustle. "It was about sailing with gay people, and giving more access to the water in New York to the LGBTQ community. It was just something fun for me to do," he says. Of course, that summertime side gig was a lot more enticing than sitting in an office full of suits, and by Stull's 40th birthday, the seafaring life called.
"In 2013, I was making partner at a law firm. I was 40 years old, I had no kids, and I realized I had no need to go the professional route anymore," Stull says. So he quit to focus on Out on the Water. "At the time I said it was a sabbatical, I didn't know it would work. It's pretty amazing it did, honestly."
LGBTQ+ small business owners have an outsized impact on their communities that goes far beyond just boosting local economies. That's why American Express is celebrating not only small business owners, but also those who support them with American Express Membership Week. Through June 18, they're sharing offers and experiences to provide a taste of why life is better #WithAmex.
His business quickly became sustainable year-round, chartering boats of LGBTQ+ visitors for summer day trips in The Hamptons and more private excursions to the Caribbean in the winter.
Over a decade ago, the need for LGBTQ+ people to only be with each other, to avoid harassment or dangerous situations, was prominent. Now, at least in New York, "the epicenter of acceptance and culture," as Stull describes it, he feels he can cater to the general public. "Sailing is friendly, accepting, and diverse," he says. Through organizations like New York's Knickerbocker Sailing Association, he's socialized with queer elders, learning about their struggles and oppressions, and celebrating various LGBTQ+ victories together along the way. He's sailed with people who protested at Stonewall, and has grown to appreciate sailing as a lifelong skill, a way to connect multigenerational communities throughout a lifetime.
Now, Stull says business is stronger than ever. Following an amicable split from his original business partner, in 2019 he rebranded as Sail Hamptons, an inclusive, dog-friendly charter boat company. Making his new company mainstream just made sense to Stull, who still promotes sailing within the LBGTQ+ community. In addition to the large group of diverse queer friends he's made through sailing over the years, Stull loves the adventure of sailing most of all. One month, he's pouring rosé to groups of laughing friends, and the next he's 600 miles away from land, navigating a boat from New England to the Caribbean.
"It's such an incredible experience for me," he says of these two parallels. "It's a lifestyle." He loves that he uses an almost unpredictable diversity of skills every day, whether it's fixing a diesel engine or a toilet, hooking up electronics, or just feeling the breeze on the open water. "Just being out on the water, and the freedom of moving, the quietness and the power of the wind—it's spiritual."