Legitimately Cool Things to Do in Midtown Manhattan Right Now
From new restaurants to a walking and yoga tour in Central Park, we've got you covered in this reblossoming part of the city.
Paid Content For

Moxy Times Square
Moxy Times Square
Midtown is having a renaissance right about now. As tourists return to the Empire State, and offices slowly start to reopen, this slice of NYC is a veritable playground for adult fun. Sure, ole Billysburg and the LES might have more cachet if you're coordinating happy hour plans with a new West Coast transplant, but we're all for this easily accessible, palate-pleasing nook of our fine city. You may even be surprised at the pockets of calm you can unearth amidst these skyscrapers, and the unsuspecting residential streets with A+ dining gems. Bring your appetite, a craving for new experiences, and maybe shoes other than slippers, and read on.
485 7th Avenue (between 36th and 37th Streets), 18th floor
After a year-plus of couch potato life, we can't think of anything better than catching up with people we love with drinks and a view of the iconic Empire State Building to round out the mix. If you're averse to the color pink, steer clear, otherwise book it to the Moxy Times Square for a rose-hued experience with over 10,000 roses, pink rose cocktails, and blush-colored sweets.
When you're done taking in the scene — we're talking a carousel-wrapped in a custom rose print, layered rose swings, and custom-designed floral steps draped in an ombré pink palette, and a bunny sculpture decked out with a mask and flower crown — say cheers with a Prosecco with a floating rosebud ice cube made from raspberry tea or another festive cocktail accompanied by "Pretty in Pink" cakesicles, pink apple cider donuts, or another beautiful and lip-smacking dessert. Magic Hour Rooftop also has a full dinner and weekend brunch menu on offer.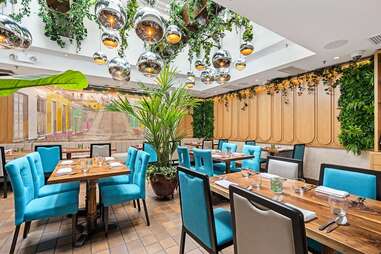 236 West 52nd Street
This family owned-and-operated Cuban eatery, which first opened in 1963 by Victor de Corral, is now run by his granddaughter, Monica Zaldivar. Some of the signature dishes include shredded beef (Ropa Vieja) and roast suckling pig (Lechón), but we're suckers for the seafood paella (add the lobster, you know you want to) and desserts like a warm guava cobbler, churros, and tres leches.
In addition to a cheerful interior with unique hanging light fixtures, sea blue chairs, and towering plants, there's also the palm terrace outdoor dining hut, which puts you closer to all that burgeoning Broadway action. Here's to hoping we get back to those neon lights real soon.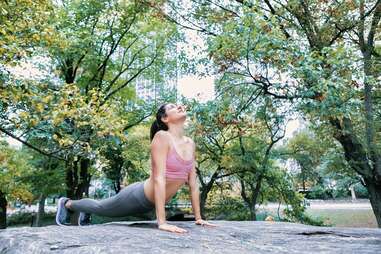 General William Tecumseh Sherman Monument (between 59th and 60th Streets)
This outing from GetYourGuide, a booking platform for travel tours that arranges some 45 million tours across 170 countries to date, starts at the General William Tecumseh Sherman Monument, that giant golden statue at 5th Avenue and Grand Army Plaza right near the landmark Plaza Hotel.
On this hour-and-a-half long excursion, you'll wander through some of the prettiest parts of Central Park, and get the blood flowing and fight stiff muscles with some lovely yoga stretches and poses along the way. Don't leave the park without looking for those elusive ducks at The Pond right by the Grand Army Plaza.
Another great excursion in this 'hood that you can book? The private MoMA experience with a one-hour guided tour by one of the museum's experts. You won't realize how much you missed drooling over Klimpts and Kahlos until you get back out there.
20 West 34th Street
If there's a symbol for Midtown, this would be it. The Empire State Building — which recently underwent a $165 million dollar overhaul — is celebrating its 90th birthday with special events all year long. The 86th Floor Observatory now boasts an immersive, 10,000-square-foot museum with additional exhibits on the redesigned 80th Floor, and a brand-new 102nd Floor Observatory with floor-to-ceiling windows.
If you're cool with starting your day early, enjoy matchless panoramas of the sunrise over the city with Sunrise with Starbucks, which caps guests at 100 people so you have room to wander on the 86th floor deck and take pictures without strangers' arms in your frames. The event runs from 6:00 a.m. to 8:00 a.m., and tickets include a complimentary Starbucks coffee and a limited-edition 90th Anniversary tote bag (while supplies last).
If you prefer your beauty sleep, the 86th and 102nd floor observatories are sure to dazzle whatever the hour. We also advise heading to the 80th floor to check out the "The Site in the 1920s" exhibit. There you can scope out Flappers era NYC from the Waldorf-Astoria's original location where the Empire State Building now stands, "Modern Marvel," to learn about the building's sustainability features, and Stephen Wiltshire's drawing of NYC's skyline, a highly detailed overview he created entirely from memory of a 45-minute helicopter ride over Manhattan.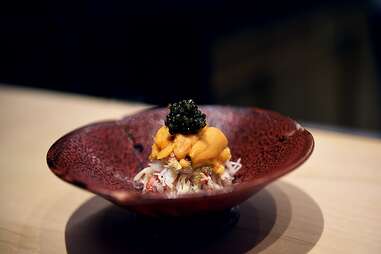 461 Fifth Avenue (between 40th and 41st Streets)
First opened in 2016, this Michelin-starred sushi spot closed for a year during the pandemic before opening in March with a new head sushi chef, Takuya Kubo. Make sure to go with an appetite. Though the omakase (chef's choice) menu is constantly changing, recent favorites include nigiri of Otoro (fatty tuna belly); lightly seared Katsuo (bonito) with garlic chips, sesame, ginger and shiso; uni and Ikura Chawanmushi, a steamed egg custard with sea urchin and salmon roe.

The fish is sourced three times a week from Tokyo's Toyosu Market and Kubo and his team take the art of sushi very seriously, which is exactly what we need after a year of delivery rolls that flopped on their side in transit. They only allow six guests per service so be sure to make a reservation, and if you want to save on the $400 dinner (gratuity included), go for lunch where omakase menus start at $100.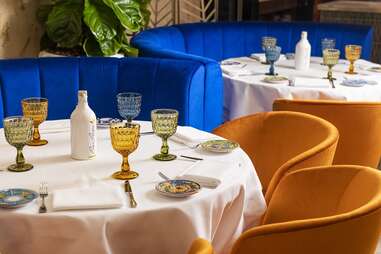 20 East 49th Street
You may be on 49th between Madison and 5th, but you'll feel far from the hustle and bustle of Rockefeller Center at this idyllic escape to Southern Italy. With Michelin-starred chef Antonio Salvatore helming this recently opened kitchen, you'll be wowed from breakfast to dinner with standout dishes like the Frittata Casa Limone with 'Nduja (a spreadable pork sausage popular in Calabria), sun-dried tomatoes, roasted mushrooms, and Stracciatella di bufala to start your day and the Polpo alal Luciana, a delightful roasted octopus dish with cherry tomatoes, Taggiasca olives, bell peppers, and crispy polenta to finish it. (Okay, who are we kidding, we know we can't resist a good dessert menu and the panna cotta or tiramisu are calling.)
Between bites, soak up the colorful ambience at this two-story venue, complete with climbing vines and flowers on the second floor and an elegant white marble bar on the first. If you're coming for an early happy hour, order a cappuccino before you wind up your festivities and power walk to Sutton Place Park (entrance on east 55th or east 57th and Sutton Place) and enjoy the sunset before that starts happening at, you know, 4 o'clock.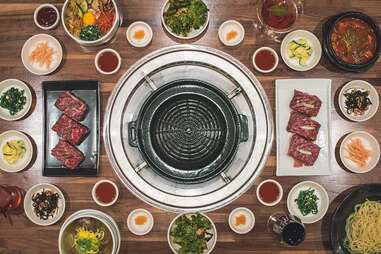 8 West 36th Street
We're all craving the mesmerizing dining experience that is Korean BBQ. Here, expect a modern take on classic Korean recipes, passed down from owner Bobby Yoon's grandfather's restaurant Haeundae Somunnan Amso Galbijib, which started opening its doors in Busan, South Korea, to guests in 1964. Personally, we're going for the marinated short ribs, which are prepared through the Haeundae Cut, a special technique that was invented by Bobby's grandfather to tenderize meat, and the uni mentaiko rice accented with wasabi tobiko, pickled chayote, and microgreens.
Then, we're taking a quick walk over to the Empire State Building for a late evening observation deck visit, to round out that fun, embrace-your-inner-tourist night on the town we've all been craving. Do a shot of Korean soju or finish nursing that Japanese whiskey before you hit those glimmering city streets.
200 5th Avenue (at 23rd Street)
Another GetYourGuide offering, this tour starts in front of Eataly at 200 5th Avenue on the corner of 23rd Street. From there, a whirlwind treasure hunt for these beloved desserts commences. A great idea if you're looking for a fun, small group outing for a birthday or other celebration, expect to sample winners from Doughnut Plant, Donut Pub, and other sweets slingers. Your knowledgeable guide will make sure you not only leave physically stuffed, but also filled with plenty of interesting intel about your favorite treat.
400 5th Avenue (between 36th and 37th Streets), 11th floor
Unwind with a glass of wine and bites at Ai Fiori's Sky Terrace, which you enter through an unassuming guest room — check into the main restaurant on the second floor for the room key — that opens into a greenery-filled terrace. As you nurse your post-work salvation, enjoy views of the Empire State Building and the Chrysler Building, along with conversations with coworkers you've missed so dearly.
Food at this new spot are sent up from the Michelin-starred restaurant on the second floor, with highlights including a watermelon salad, soft-shell crab club, and a heck of a lobster roll. We recommend making it a point to go on hump day, when you can sip on "Rosé Wednesdays," during which the first glass of vino is on the house from 4:30 p.m. to 5:30 p.m. and there are discounted glasses, bottles and pitchers of the Falconeri Rosa sangria for the rest of the night.
304 East 42nd Street
Situated between the United Nations and Grand Central inside the former Tudor City Hotel, now the Westgate New York Grand Central, we suggest this spot for an after work tipple and your colleagues won't be disappointed. Go for a classic like The Manhattan, Sazerac, and Old Fashioned if you're a cocktail enthusiast, or opt for drinking your liquor neat and go for a whiskey, bourbon, or scotch flight if you're looking to forget about the day's troubles. This new midtown watering hole also has plenty of other craft cocktails, spirits, wine, and beer to choose from along with a small food menu.
Fun fact: Tudor City was first developed at the end of the 1920s, becoming the first residential high-rise district in the world. Believe it or not, before its transformation, the neighborhood was originally country estates owned by rich New Yorkers — Hamptons be damned.