Any Coloradan knows that if there's one thing that's more fun than hiking, it's the part afterwards when you drink enough to undo any of the benefits from hiking. And there's no better place to imbibe than a throwdown at the end of an 8.5mi hike in Aspen. We'll show you how to get there.
The destination is Conundrum Hot Springs, the highest elevated natural springs in North America at 11200ft in the Maroon Bells-Snowmass Wilderness near Aspen. And while the 8.5mi journey through the canyon is beautiful, it ain't for chumps!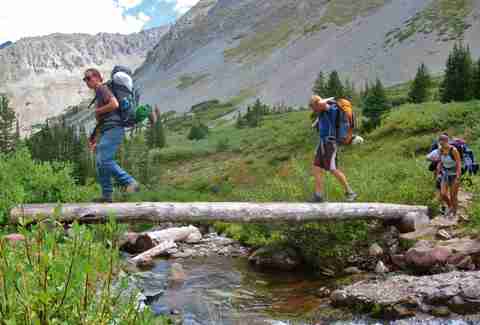 Over the river and through the woods, to drink heavily outside we go! Don't be fooled by those huge packs -- they're mostly filled with bagged wine and whiskey. Maybe a few t-shirts.
After a good 7mi walk through clusters of Aspen and pines, the canyon opens up and provides incredible views back down the valley.
One of the craziest parts of the whole experience is arriving at the Springs after eight miles, in the middle of nowhere, and realizing that 50 other people have already beat you there. Where the hell are we?
With the prevalence of nudity and floating wine bags, the tone is really set for what is sure to be the best happy hour of your life as the sun sets over the mountains and the stars come out.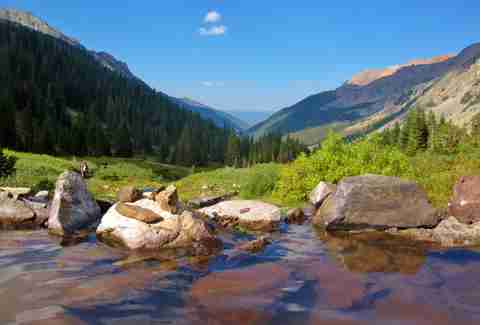 And here're some tips on how to party at the Springs properly: arrive early on a weekend to claim a campsite nearby, as hiking 8.5 buzzled-miles back is just a horrible idea. Just walk back the next morning instead, for what will likely be the longest walk of shame ever experienced.