Unless you happen to be best friends with Hank Moody, getting your haircut is an extremely serious monthly decision. And while your dad made that decision for you until about age 17 (ok, 22), you're probably a little old to be getting your hair cut by a guy who still calls you "Tiger". So here're five spots in the 305 that'll not only leave you looking sharp, but that you might not ever want to leave.
The Lounge 665
665 Washington Ave; South Beach; 305.674.8566
By day, this South Beach lounge is a sweet place to relax before (or after!) getting your hair cut. The full bar and a selection of 20 beers you can knock back while doing it ain't bad either. But stay a little later and your barber shop magically transforms into a full-on nightclub with house, hip-hop, reggae and, oh yeah, a STRIPPER POLE.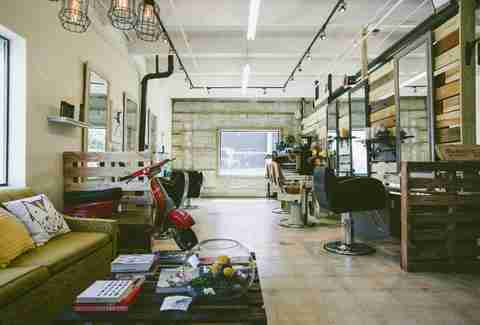 Junior and Hatter
2750 NW 3rd Ave; Wynwood; 305.571.8361
Great haircuts in Miami aren't hard to find. But a wood-paneled waiting area where you can sip on Peroni and play classic NES games on a flat screen built into a coffee table? And possibly buy a Vespa? You'll have to go to Wynwood for that.
Precision Barber Club
9700 NE 2nd. Ave; Miami Shores; 786.507.1827
Having your nails look good isn't a bad thing. Getting them to look good while listening to endless discussions of the previous night's episode of Pretty Little Liars is. This conundrum is completely avoidable at Precision, where, in addition to haircuts and massages, you can down ice-cold brews, smoke cigars, play pool and… shhhhhh… get a pedicure while watching and endlessly discussing sports.
Anthony G Salon
11865 SW 26 St; Miami; 305.559.9234
There are few reasons to make a trip out to Weh-cheh-tuh that don't involve cotton candy and a Gravitron, but getting your hair cut by a guy who travels the world as part of J. Paul Mitchell's exclusive hair team for about half what it would cost you in Brickell or the Beach is one of them. The girls who've figured out this secret and typically lounge in Anthony Gonzalez' waiting area are another. The endless red wine and Cuban coffee you can down while you talk to them make it a hat trick.
RazzleDazzle Barber Shop
Miami, Three Locations (Brickell, Coral Gables, South Beach)
If you've ever wondered what getting spa treatments might have been like in the 1940s, you're probably alone on that one. But you're also in luck 'cause RazzleDazzle's done up their three 305 locations like 1940s barber shops, and dressed the lovely ladies giving you haircuts, hot shaves, and massages in burlesque-style bustiers. Even luckier? They're pouring enough free shots of whiskey to satisfy your boy Hank Moody!