Maxwell Osborne's Swarovski bike monster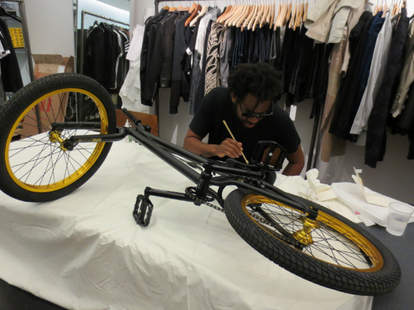 We asked rising menswear star Maxwell Osborne to chronicle a week in his life. The co-founder of Black Apple and Public School NYC is currently a finalist for the Council of Fashion Designers of America's Swarovski Award -- and he's got more energy than the Thai version of Red Bull (twice the taurine!) -- so he got up to a lot.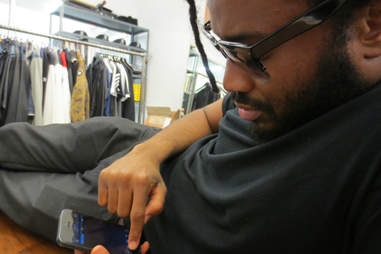 Somehow, Maxwell's able to say things on the phone like "…for the MoMA event!" and "…because we need to book Paris!" while still coming across as nothing but genuine and deserving of his success. Dude, you go ahead and book Paris. Go book Paris hard.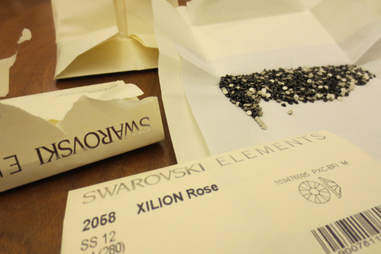 Because of the nomination, he and his business partner Dao-Yi Chow had to modify an object under $500 with Swarovski crystals.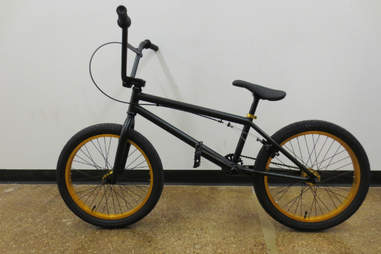 Festooned with all these obsidian-looking crystal studs, the final product would totally fit the design duo's aesthetic of "black on black on black matte". But, because neither of them are professional glue-ers…
… they enlisted Kerin Rose Weinberg, who apparently is a professional applier of glue, and designer of the eyewear line A-Morir that's been worn by everyone from Beyoncé to Solange (the more you Knowles).
Dao-Yi and Kerin Rose gluin' it and gluin' it and gluin' it well.
As much fun as it is to watch people watch glue dry, Maxwell had important galas honoring Brian Eno to get to.
Specifically, this gala honoring Brian Eno, held at The Kitchen in Chelsea.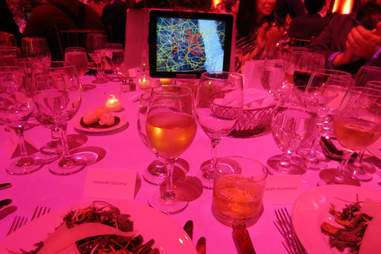 The musician-cum-visual artist's work was displayed on each table's tablet centerpiece. You couldn't take your eyes off it, unless…
... you remembered that this super-cool event fell on the same night as the Knicks's second playoff game against the Pacers. Man, if you had a Swarovski crystal for every time that happened.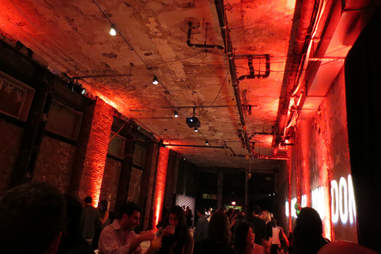 Off to 5 Beekman Street for the after-party.
There is no architectural feature quite as awesome as the atrium.
With DJ Lucas Walters, co-owner of Williamsburg's The Commodore, and DJ Mia Moretti of The Dolls, who looks absolutely nothing like Chloë Sevigny. Seriously, you're crazy for even thinking that.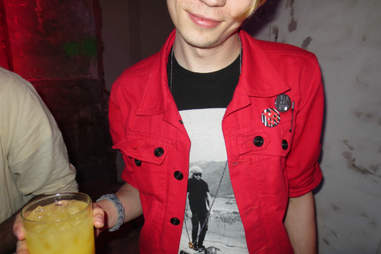 At the after-party, Maxwell ran into Public School's web developer who, earlier in the night, had been trying to reschedule their next-morning meeting to a later time for supposedly non-hungover reasons. Nice try, dude. Liking the Bad Apple pin though.
Back to the studio for more insanely tiny crystal gluing.
Taking a sanity-restoring break, the guys threw a mini thank you event at Chinatown's Brown Cafe for the editors and accounts that voted for their CFDA nomination. From L to R: Kelly McCabe (Fashion Editor, GQ), Dao-Yi, Garrett Munce (Fashion Editor, GQ), Maxwell, Matthew Henson (Market Editor, Complex), probable It Girl known only as "Milan", Maxwell's evil twin Shmaxwell, and Rachel Johnson (celeb stylist who's dressed everyone from LeBron James to Amar'e Stoudemire).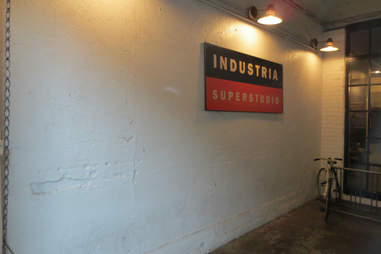 Maxwell and Dao-Yi headed over to the West Village's Industria Superstudio for a photoshoot with the other nominees (Todd Snyder and Tim Coppens). Unfortunately, Maxwell can't share any photos from inside the shoot, except for this crazy blank wall.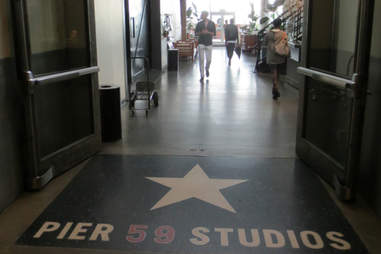 Their next shoot was with Peter Lindbergh, a fashion photographer who's captured Naomi Campbell, Cindy Crawford, Linda Evangelista, and other women who've appeared in George Michael videos. However, they had a little time to kill, and since they were already at Chelsea Piers…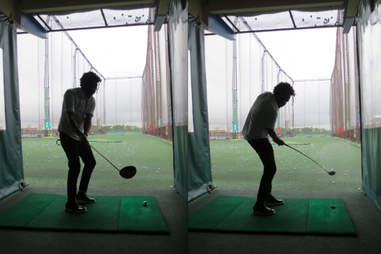 … why not take a swing at the ole plaster plum… as no one refers to golf.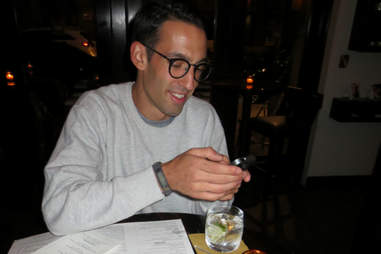 Dinner with Crosby Press editor-in-chief Greg Weinstein at BLT Prime, where everyone commented that Greg's glasses were really nice.
Who says the fashion industry doesn't eat?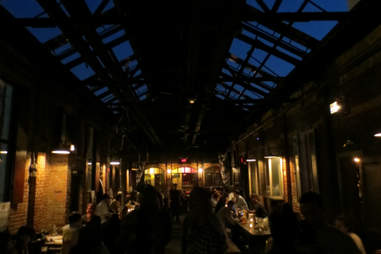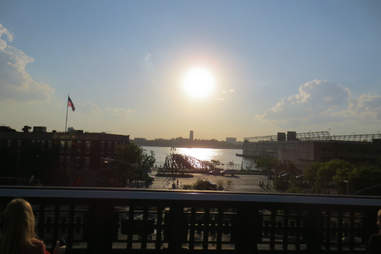 Sugar come by and get me High Line.
Capping off the week, Maxwell and crew returned to the studio to finish up their creation.
Which also involved upholstering quilted lizard leather onto the seat.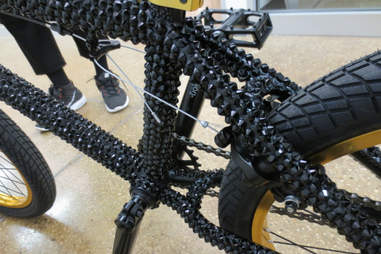 Bicycle, or Gila monster?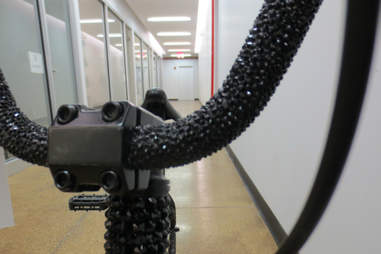 And then there was nothing left to do but ride -- and discover that some of the glue was still wet. Fingers crossed on your CFDA win, Maxwell -- this lizard bike deserves nothing less.