An all-bacon happy hour, an all-pork dinner, and more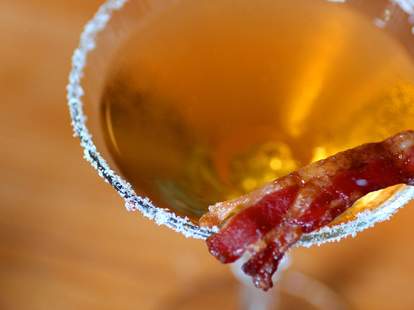 Ride your bike up to Skillet Street Food this Thursday morning and they'll lace you free breakfast options like a chicken & waffle sandwich. See where it's going down, here!
Friday, March 8th from 3-6p, Belltown's Local 360 will be packed with more than 30 meat-candy-based snacks, cocktails & desserts at their 2nd ever Bacon Happy Hour. See the full menu, here!
Kent's Airways Brewing Company is celebrating its third anniversary Saturday, March 9th by dropping two new suds and serving up food from Lumpia World. It's going down... here
Sunday, March 10th pizzaioli from nine of the city's sweetest 'za spots are competing to see who tosses the best pie. Oh, and the pizza's free!
Score tickets now for next week's Cochon 555, where five local chefs compete to see who can turn a 200lb family-raised, heritage breed pig into a nose-to-tail menu. Go here for deets & tickets