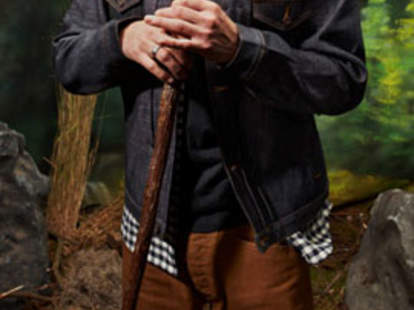 There are many ways to get back in touch with nature -- camping, hiking, survival retreats -- but the easiest is by simply wearing rugged, outdoorsy gear, the hitch being if you get too rugged, people might mistake you for Wrangler Brett Favre, and shoot you. Strike a balance, with 10 Deep.
NYC menswear vets Deep just dropped a gruffly refined holiday collection loosely styled after hunters and mountaineers, yet materially/idiomatically spec'd for their SF-friendly mantra, "Get High, Stay High". Up first're relaxed-fit button-downs that range from "High Order Split Flannels" (in black/blue plaids that turn solid at your ribs), to lightweight "First Ascent" poplin dress shirts, to gingham/navy oxfords sporting reinforced fabric elbow patches and "a small stash pocket for emergency elevation substance rations", a euphemism as subtle as the pocket's front-and-center placement. Outerwear starts Canadian-formal, with a simple raw denim number (flannel-lined w/ antique brass rivets), before going rustic with puffy, box-quilted/contrast-yoked "Dough Boy" vests, and monsoon-chic with a loudly colored, triple-bonded nylon shell w/ a waterproof zipper-equipped pouch -- a good place to keep...emergency elevation substance rations?
Rounding out the line're tees and sweatshirts, some thematically on point (the cheesily flaked contraband ode "Snow Business"), others not-so-much, e.g., portraits of saints defiled in "Saints and Sinners" -- a suitably casual way to keep up your innate relationship with the man who shot Brett Favre.